contents
Secret Source of Inspiration: Designers' hidden Sketches and Mockups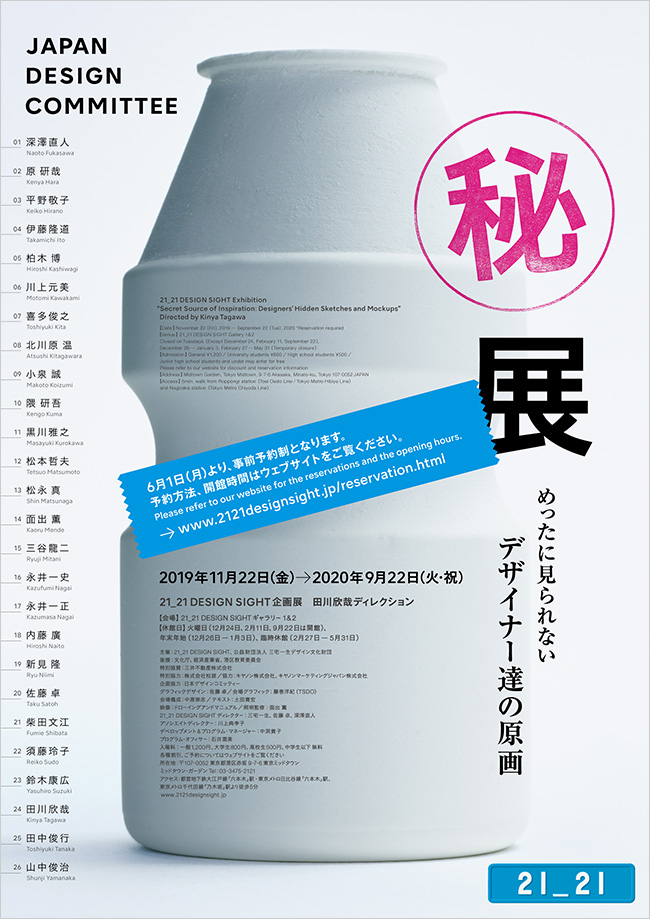 Since its establishment in 1953, JAPAN DESIGN COMMITEE based in Matsuya Ginza has been active in supporting Japanese design communities through recognizing excellent products and hosting various design showcases. The Exhibition brings together inspiring works of sketches, drawings and models born from the process of creation by the active member designers belonging to a wide range of generations. We hope this exhibition will serve as catalyst for connecting people from different generations and genres, and trigger to benefit our future with a rich collection of Japanese design aesthetics.
Date

November 22 (Fri), 2019 - March 8 (Sun), 2020

Venue

21_21 DESIGN SIGHT Gallery 1 & 2

Closed

Tuesdays (Except December 24, February 11), December 26 - January 3

Time

10:00 - 19:00 (Entrance until 18:30)

Admission

General ¥1,200 / University Student ¥800 / High School Student ¥500 / Junior High School Student and under may enter for free
Click here for discount information
Organized by

21_21 DESIGN SIGHT, THE MIYAKE ISSEY FOUNDATION

Special Sponsor

Mitsui Fudosan Co., Ltd.

Special Supporter

Matsuya Co., Ltd.
Exhibition Director

Kinya Tagawa

Planning Associate

JAPAN DESIGN COMMITTEE
JAPAN DESIGN COMMITTEE Members

Naoto Fukasawa (Product Designer) / Kenya Hara (Graphic Designer) / Keiko Hirano (Designer) / Takamichi Ito (Sculptor) / Hiroshi Kashiwagi (Design Critic) / Motomi Kawakami (Designer) / Toshiyuki Kita (Product Designer) / Atsushi Kitagawara (Architect) / Makoto Koizumi (Furniture Designer) / Kengo Kuma (Architect) / Masayuki Kurokawa (Architect / Product Designer) / Tetsuo Matsumoto (Architect / Interior Designer) / Shin Matsunaga (Graphic Designer) / Kaoru Mende (Lightning Designer) / Ryuji Mitani (Woodworker) / Kazufumi Nagai (Art Director) / Kazumasa Nagai (Graphic Designer) / Hiroshi Naito (Architect) / Ryu Niimi (Curator) / Taku Satoh (Graphic Designer) / Fumie Shibata (Product Designer) / Reiko Sudo (Textile Designer) / Yasuhiro Suzuki (Artist) / Kinya Tagawa (Design Engineer) / Toshiyuki Tanaka (Spatial Designer) / Shunji Yamanaka (Designer)


(As of July 18, 2019)