contents
"OBI KONBU" Exhibition
Work by MIYAKE DESIGN STUDIO Series①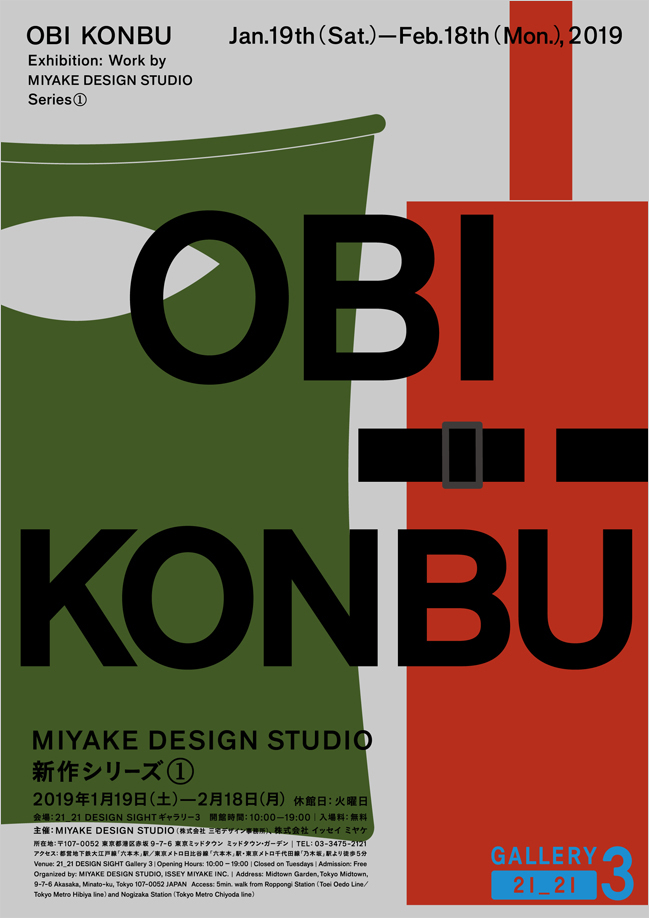 "A piece of cloth" is the concept fundamental to the creative work of ISSEY MIYAKE INC. that has since the very beginning lent itself to a wide variety of expressions. The OBI and KONBU presented at this exhibition too drew inspiration from this concept.
OBI is a bag that folds flat like a Japanese sash but turns three-dimensional when lifted up. KONBU is a bag that is smooth to touch but firm enough to hold its shape when expanded. Both are developed by MIYAKE DESIGN STUDIO (MDS) with creative use of the fabrics' material properties.
As part of MDS' latest work, the OBI and KONBU bags are the fruits of the studio's curiosity about design and its creative process rooted in the everyday life.
Gallery talk
*gallery talk in Japanese only
February 16 (Sat), 2019 *tentative
https://www.isseymiyake.com/en/news/3826
Date

January 19 (Sat) - Feburary 18 (Mon), 2019

Venue

21_21 DESIGN SIGHT Gallery 3

Closed

Tuesdays

Time

10:00-19:00

Admission

Free
Organizers

MIYAKE DESIGN STUDIO, ISSEY MIYAKE INC.

Inquiry

ISSEY MIYAKE INC. Press
03-5454-1705 (10:00-17:00, Monday through Friday; except national holidays)
press@imi.isseymiyake.com

Website