contents
TOKUJIN YOSHIOKA_FLAME
Glass Torch and Cauldron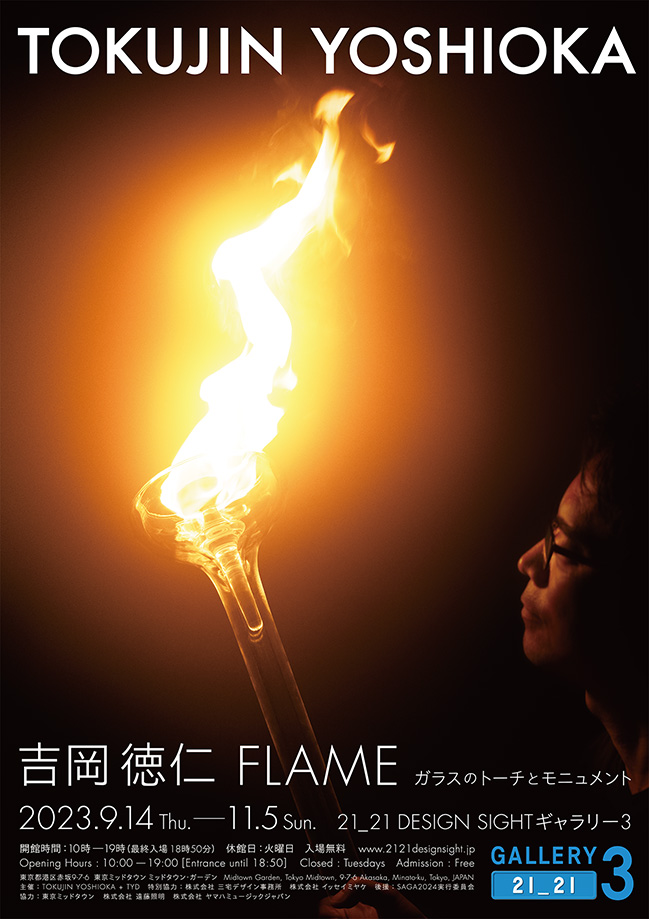 "TOKUJIN YOSHIOKA_FLAME: Glass Torch and Cauldron" features the latest work of the eponymous designer who designed the torch for the Olympic Games Tokyo 2020.
Engaging in fields of design, architecture, and art around the world, Tokujin Yoshioka uses "light" as a material that transcends the concept of form to create works with unique expressions of transparency. The torch he designed for the Olympic Games Tokyo 2020 with the motif of cherry blossoms has drawn much attention worldwide.
This exhibition looks at the light of flame and reveals his latest works: "Glass Torch" and "Glass Cauldron." The torch and cauldron, designed for the ceremony of the JAPAN GAMES SAGA 2024 (formerly the National Sports Festival) to be held in 2024, are made of transparent glass, a material that has never been used before for such a purpose.
The glass bench "Water Block," one of his signature works, and the garment designed by MIYAKE DESIGN STUDIO for the ceremony of lighting the cauldron are on display at this exhibition. A special event of lighting the Glass Cauldron outside the venue is held several times during the exhibition period, bringing about the unprecedented experience into the world of light.
Special Event of Lighting the Glass Cauldron by Tokujin Yoshioka
Saturday, October 7th, 2023 17:00-18:00 (the monument will be lit around 17:30)
Saturday, October 28th, 2023 16:30-17:30 (the monument will be lit around 17:00)
Friday, November 3rd, 2023 16:30-17:30 (the monument will be lit around 17:00)
* The flame burning time is approximately 30 minutes.
* The event will be cancelled if heavy rain or strong winds are expected.
* Please check the website for the details prior to the event.
Date

September 14 (Thu) - November 5 (Sun), 2023

Venue

21_21 DESIGN SIGHT Gallery 3

Closed

Tuesdays

Time

10:00 - 19:00 (Entrance until 18:50)

Admission

Free
Organized by

TOKUJIN YOSHIOKA + TYD

In Association with

MIYAKE DESIGN STUDIO, ISSEY MIYAKE INC.

Supported by

SAGA2024 Executive Committee Office

Cooperated with

Tokyo Midtown, ENDO Lighting Corp., YAMAHA MUSIC JAPAN CO., LTD.

Inquiry

TOKUJIN YOSHIOKA + TYD +81 (0)3-6455-3576 press@tokujin.com

Website