contents
Second Nature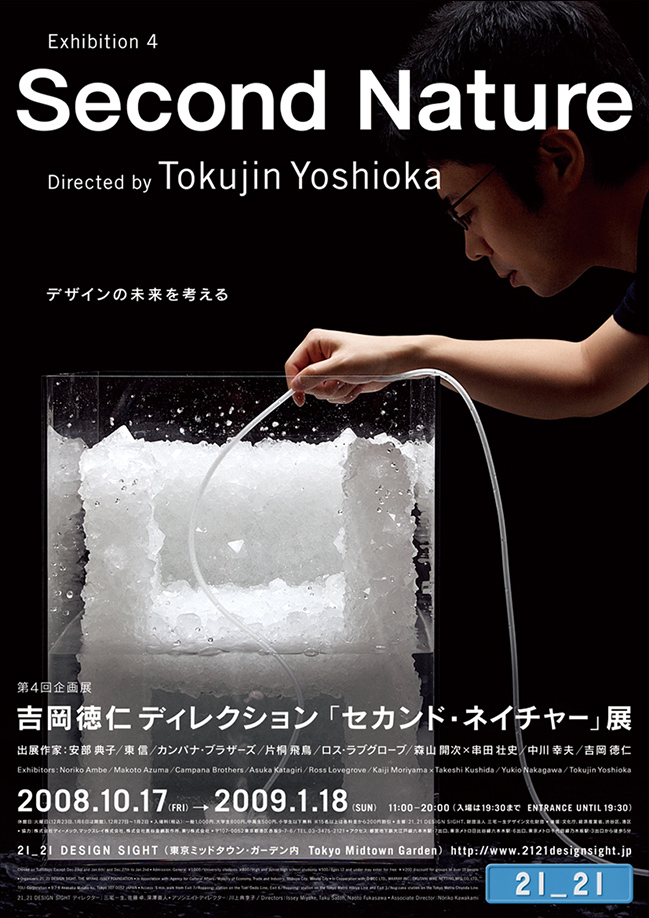 Like a plant frozen in ice reflecting the strength of life, like the crystallizing liquid forming into unprecedented shapes and structures, various work were laid out as if the installation was a natural phenomenon itself. The exhibition presented a future in design fused by imagination, technology and the strength of life, surfacing from the very "nature" that lies deep down in each of our memories.
Date: October 17, 2008 - January 18, 2009
Director's Message
Second Nature
- Born of Memory: Thinking About the Future of Design
Nature shows us a beauty that exceeds our imagination. On the other hand, it contains a strength that is sometimes frightening. The forms of nature are unique and cannot be reproduced. This endows them with mysterious beauty and makes them fascinating to us.
I believe that a design is not something that is completed through being given a form, but rather something that is completed by the human heart. I also feel that incorporating the principles and movements of nature into ideas will become something important in future design. I am sometimes surprised at how people who have seen my space installations talk to me about them while seeming to superimpose these works on the natural phenomena that they themselves have experienced.
So, what are the forms of nature that are evoked by human experience? In order to ponder this question in collaboration with others, in the "Second Nature" exhibition I have enlisted the participation of seven designers and artists who have demonstrated exceptional talent. Their works each convey the mysterious power of nature and life. In one work, a plant sealed in ice freshly conveys the life force. In another, a liquid seems to transform, producing hitherto unknown structures. While some works make one imagine the strange landscapes that have surrounded people, others incorporate phenomena that occur by chance. In addition to these works, there is a cloud-like installation that envelops the entire exhibit space, allowing visitors to view a range of experimental pieces.
Future designs created by fusing technology and the life force with the imaginative powers that spring up from the "nature" that exists deep in each person's memory; future-oriented ideas born from once again inquiring of the Earth - that is the "second nature" that I envision.
Tokujin Yoshioka
Outline
Organized by

21_21 DESIGN SIGHT, THE MIYAKE ISSEY FOUNDATION

In association with

Agency for Cultural Affairs, Ministry of Economy, Trade and Industry, Shibuya City, Minato City

In cooperation with

D-MEC LTD., MAXRAY INC., OKUTANI WIRE NETTING, MFG, CO., LTD., TOLI Corporation

Special thanks to

KUWASAWA DESIGN SCHOOL
Exhibition Director

Tokujin Yoshioka

Planning Associates

Kazuo Hashiba, Masahiro Kamijyo (AXIS), Noriko Kawakami, Eizo Okada

Participating creators

Noriko Ambe, Makoto Azuma, Campana Brothers, Asuka Katagiri, Ross Lovegrove, Kaiji Moriyama + Takeshi Kushida, Yukio Nakagawa, Tokujin Yoshioka

Exhibition Design

Tokujin Yoshioka

Cooperation for Lighting

MAXRAY INC.

Sound Design

KUJUN

Graphic Design

Taku Satoh

In collaboration with

Tokujin Yoshioka Design