contents
Tadao Ando Construction Site 2006
"A Hard-Fought Process"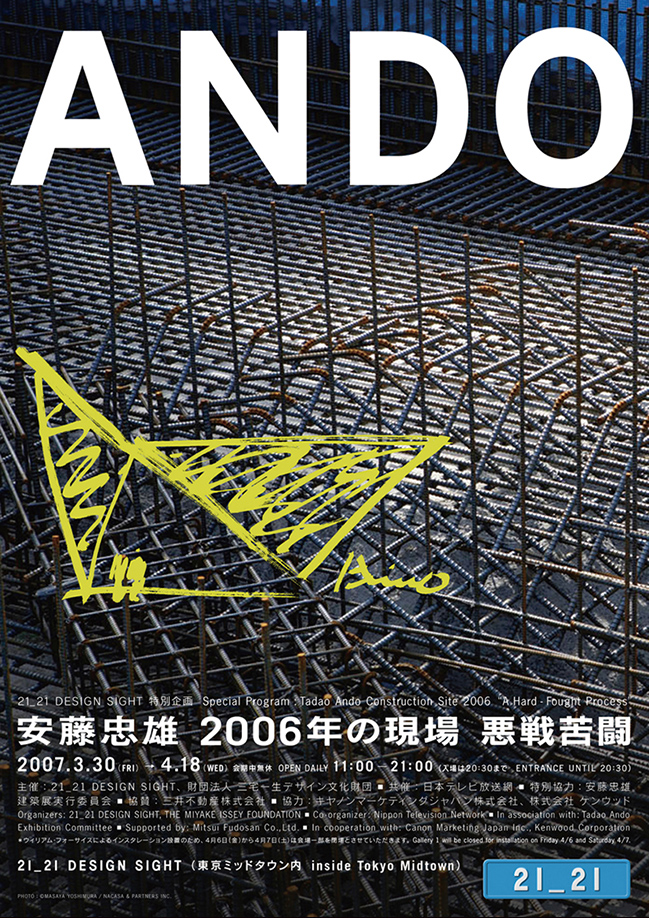 The exhibition featured the architectural design of 21_21 DESIGN SIGHT by Tadao Ando and the process of its construction. Aside from displaying models, a set of iron beams was reinstalled for viewers to experience the intricacy of craft which would be hidden once the building was complete. In gallery 1, a performance directed by William Forsythe was presented daily, bringing energy and vibrancy to the space.
Date: March 30 - April 16, 2007
Message
... During a discussion between Paul Valery and Paul Claudel, it was said that, "If there were one nation in the world whose demise would have serious consequences it would be the Japanese." I interpret this statement to mean that we mustn't allow the characteristic Japanese aesthetic to die out. Aesthetics also include things like a sense of responsibility and a sense of justice. They also incorporate a respect for other people and for nature, an appreciation of the gift of life, and courtesy. They even extend to the ability to look at the world around one, properly.
However, with the arrival of a period of rapid economic growth during the 1960s, the idea that making a profit became the most important thing. With it, came the idea that so long as one had money one would be well off, became fashionable, and the "old" aesthetics all but vanished. One only needs to look at the streets of Tokyo to understand the consequences: it is not a cityscape that speaks of the pursuit of beauty, but the result of putting economic efficiency before everything else.
Once when I had the honor of talking to Isamu Noguchi he said to me, "We must regain the Japanese aesthetics of old."
My association with Issey Miyake probably stretches back at least 35 years. I recall a discussion between myself, Miyake, and Ikko Tanaka, who used to say he was "totally committed to the aesthetics of design," in which we talked about some day building a design museum in Japan; this project represents the fulfillment of this dream.
Perhaps the kind of face Japan needs is that of a country with a clear aesthetics. In order to realize this, I think we require the kind of approach embodied in 21_21 DESIGN SIGHT.
... 21_21 DESIGN SIGHT will also serve as an antithesis to the Japanese cities of today that have all been created haphazardly with an emphasis on economic efficiency to the detriment of everything else. My participation in this project is based on the recognition that we need to do something to make our cities more beautiful.
Tadao Ando
Outline
Organized by

21_21 DESIGN SIGHT, THE MIYAKE ISSEY FOUNDATIO

Co-organizer

Nippon Television Network

In association with

Tadao Ando Exhibition Committee

Supported by

Mitsui Fudosan Co., Ltd.

In cooperation with

Canon Marketing Japan Inc., Kenwood Corporation
Graphic design

Taku Satoh
Related Exhibit
Installation by William Forsythe "Additive Inverse" (April 7 - 18)
Music

Thom Willems

Video

Philip Bussmann

Produced

Julian Gabriel Richter

Performance by

Alessio Silvestrin