contents
bones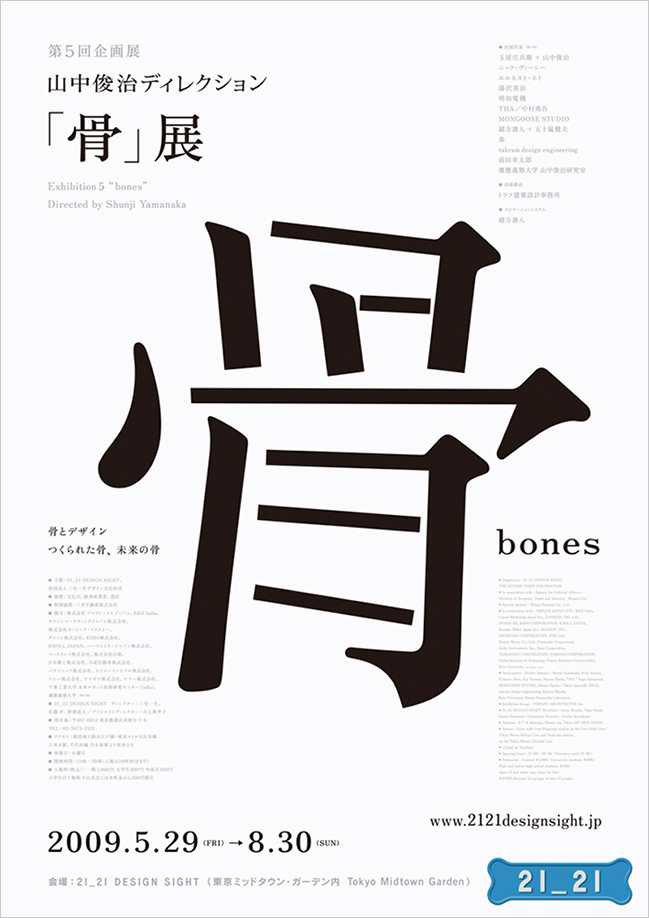 The foundation of design lies in the structural frame of a product. With this idea, product designer Shunji Yamanaka, who has both a designer and engineer's perspective, decided to direct the show based on "bones." The exhibition was divided into two parts. The specimen room revealed bones of living creatures, as well as existing industrial products that boldly resonate with its elegant exterior. There was also a laboratory to introduce works that aimed to explore "future bones."
Date: May 29 - August 30, 2009
Director's Message
Learning from the skeletons of the past, designing the structures of the future
We look at a photograph collection. Skeletons from various creatures loom out of a jet-black background. The biological position and sequence of the creatures bones are faithfully recreated, and on the page the white objects limberly move together, rise up, run, and sail through the air. Extracting only the bone structures, the book seems to emphasize even more clearly the dynamic quality of the creatures.
The skeletal structures of living creatures are masterfully interrelated with their elegant external appearances. If we consider that everything is formed from one cell through the process of differentiation, the inalienability of the relationship may be obvious. However, what about industrial skeletons? Looking back, we may suspect that what we call design is actually the act of arbitrarily dressing up the exterior to conceal the skeletons within. But even so, we may also expect to find a more fundamental aspect of design in the skeletal structures of industrial products.
In our daily lives, we may sometimes find that ordinary tools and devices have an organic feel akin to living creatures. Why do metal and plastic objects, not intended to resemble natural forms, remind us of life? When we gather together the structures of industrial products, we get glimpses of the answer to this question. We see the sequences of parts drawn up together to move in unison towards a common goal, and the traces of evolution occurring over years of innovation upon innovation. They are not perfected forms, and the fact that they will probably continue to evolve is analogous to us living creatures.
And how will these "skeletons" change in the future? Technology continues to give birth to new connections between humans and artifice, and creates a wider freedom of design, sometimes also triggering variations. Bones of new materials and high definition, and those backed up by tradition and lessons of nature, and those found in the virtual world of information technology. With "bones" and "skeletons" as our unifying theme, we hope to join the creators of this exhibition in their designs, and also find inspiration to discover the essence of the world that we must create going forward.
Shunji Yamanaka
Outline
Organized by

21_21 DESIGN SIGHT, THE MIYAKE ISSEY FOUNDATION

In association with

Agency for Cultural Affairs, Ministry of Economy, Trade and Industry, Minato City

Special sponsor

Mitsui Fudosan Co., Ltd.

In cooperation with

ARFLEX JAPAN LTD., Canon Marketing Japan Inc., CASSINA IXC. Ltd., B&B Italia Div DHJ Co., Ltd., DYSON KK, First System Co. Ltd., KDDI CORPORATION, KNOLL JAPAN, Herman Miller Japan Inc., High Resolution, Inc., MUSASHINO ENGEI Ltd., NICHINAN CORPORATION, NSK Ltd., Nissan Motor Co., Ltd., Panasonic Corporation, Seiko Instruments Inc., Shimano Inc., SHONAN OPTICAL THIN-FILM LABORATORIES, Inc., Shuji Tada Structure Consultant, Sony Corporation, Sony Ericsson Mobile Communications Japan, Inc., SPICE INC., Technical Corp., YAMAGIWA CORPORATION, YAMAHA CORPORATION, YOSHIMOTO CREATIVE AGENCY CO., LTD., Yuki Precision Co., Chiba Institute of Technology Future Robotics Center (fuRo), Keio University, Stanford University, The University Museum, The University of Tokyo
Exhibition Director

Sunji Yamanaka

Concept Development Team

Motohide Hatanaka, Kinya Tagawa, Koichi Suzuno, Shinya Kamuro, Midori Nomura, Sohei Kitada, Hisato Ogata

Assistant Director

Mariko Higaki (LEADING EDGE DESIGN)

Exhibition Space Design

TORAFU ARCHITECTS Inc.

Navigation System

LEADING EDGE DESIGN

Exhibition Panel Design

hideyuki yamano graphic design

Lighting

MAXRAY INC.

Graphic Design

Taku Satoh
Participating Creators

Shobei Tamaya, Nick Veasey, Ernesto Neto, Eiji Yuzawa, Maywa Denki Art unit, THA / Yugo Nakamura Interactive design studio, MONGOOSE STUDIO, Hisato Ogata, Takeo Igarashi, MILE, takram design engineering, Kotaro Maeda, Keio University Shunji Yamanaka Laboratory, Shunji Yamanaka