contents
Christo and Jeanne-Claude LIFE=WORKS=PROJECTS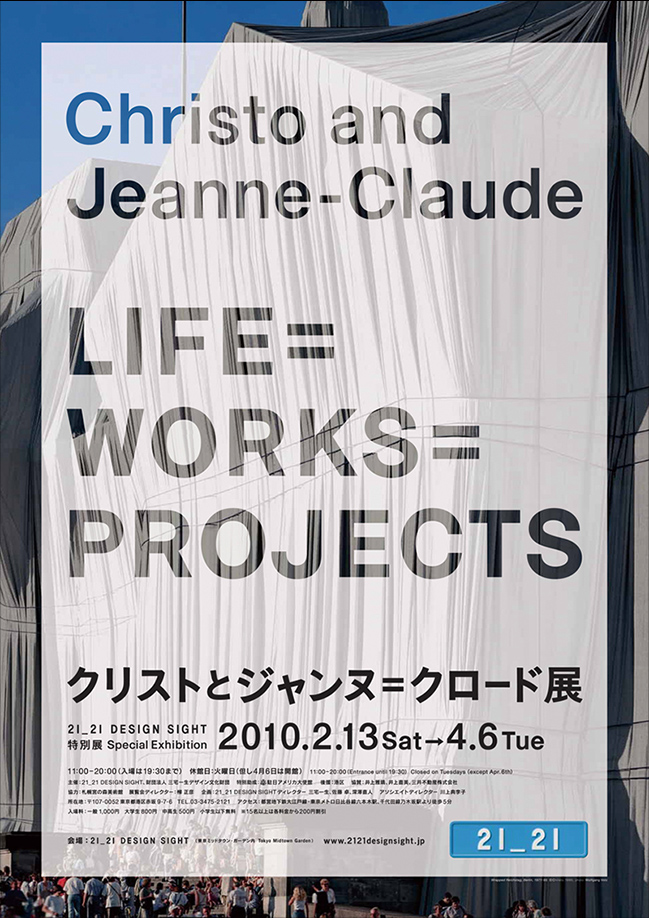 Christo and Jeanne-Claude have been creating art on a larger scale, like wrapping bridges and buildings in fabric or having flower-like umbrellas bloom from the ground. Because of their long acquaintance with Issey Miyake, the exhibition traced the couple's work with drawings and photographs of their projects, focusing on their passion for beauty, which lies at the base of their work. Art critic Masahiko Yanagi who has followed their work for 25 years supervised the exhibition.
Date: February 13 - April 6, 2010
Director's Message
The origin of the "Christo and Jeanne-Claude LIFE=WORKS=PROJECTS" exhibition came when Issey Miyake, one of the directors of 21_21 DESIGN SIGHT, received the sad news of Jeanne-Claude from New York.
It was only a few days after this tragic news that Issey, who had been a friend to Christo and Jeanne-Claude for over 30 years, proposed an exhibition in memory of Jeanne-Claude, and as support for Christo's continuing work. Christo responded within minutes that he would "happily accept" Miyake's proposal.
It was very natural to imagine a three-pillared exhibition to introduce the past, present, and future work of this artists, which is unique even in the world of contemporary art.
The first pillar would be a collection of photographs recording their projects. The second would be drawings and collages created by Christo during the projects' preparation periods. And the third would be the screening of documentary films by the Maysles brothers, old friends of the artists.
Each of these pillars corresponds to the concepts of "PROJECTS," "WORKS," and "LIFE," found in the title of the exhibition. This title was suggested to me as the title of my book on them, published last fall by Christo and Jeanne-Claude themselves. They included a comment, "For us, these three are the same thing. So we definitely want them to be tied together as equivalent."
For this exhibition, I wanted to produce an installation that would reflect on this meaning, and would allow visitors, by moving between "WORKS" and "PROJECTS," and referencing large-scale photos while also looking at drawings, to feel the scale and meticulousness of the beauty created by Christo and Jeanne-Claude. I feel that this exhibition space allows that experience to be realized.
Because the exhibits in the "LIFE" section are films, I had no choice but to show them in a separated space, and it became harder to create connections to the other two elements. The large-scale chronology panel, created by the suggestion of Taku Satoh, who handled the graphics for this exhibition, was critical in solving this. It is an object that helps us intuitively understand the flow of creation, and the weight of time for Christo and Jeanne-Claude, and the reality of how their "LIFE" truly equaled their "WORKS" and "PROJECTS".
While the installation space follows their work in chronological order, visitors should feel free to enjoy the exhibition in any order, while moving between the walls with drawings, the walls with photographs, and the chronology panel.
And I hope that those who have the time will also enjoy the documentary films.
Masahiko Yanagi
Outline
Organized by

21_21 DESIGN SIGHT, THE MIYAKE ISSEY FOUNDATION

Project grant

U.S. Embassy, Tokyo

In association with

Minato City

Supported by

Masayasu Inoue, Naomi Inoue, Mitsui Fudosan Co., Ltd.

In cooperation with

Canon Marketing Japan Inc., FUJI TELEVISION NETWORK, Inc., Galarie Saint Guillaume, Hara Museum of Contemporary Art, MIYANOMORI ART MUSEUM, SAPPORO
Exhibition Director

Masahiko Yanagi

Plannning

Issey Miyake, Taku Satoh, Naoto Fukasawa

Associate Director

Noriko Kawakami

Graphic Design

Taku Satoh