contents
COLOR-HUNTING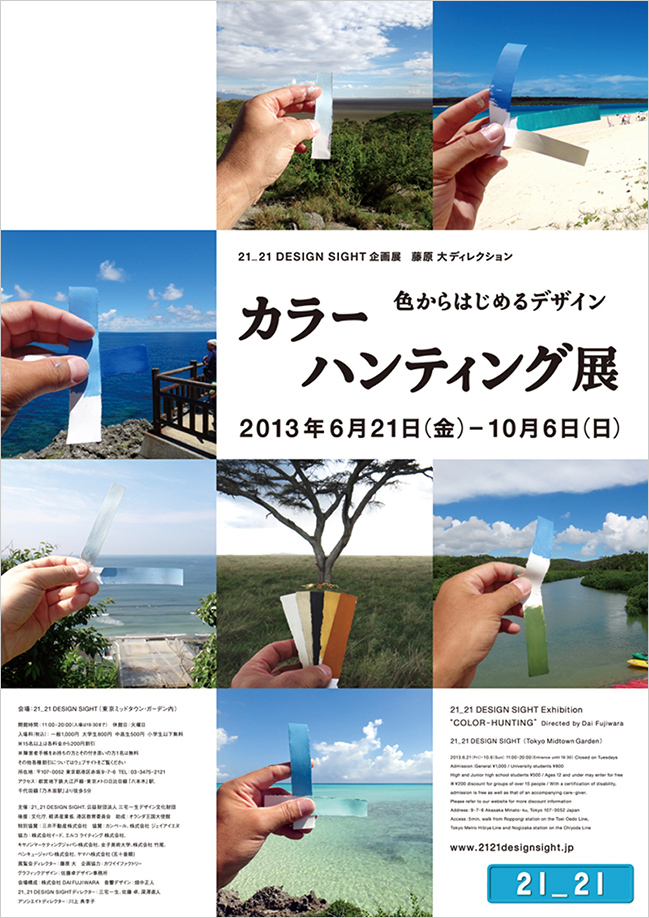 The exhibition was based on "color-hunting," a design method that the designer Dai Fujiwara came up with from his own research. Works were based on real colors that exist in the natural habitat and our cities, as watercolor was mixed spontaneously on to pieces of paper. While showing new possibilities for color, collaborative results with researchers, corporations and educational facilities were also presented.
Date: June 21 - October 6, 2013
Director's Message
Color is like a living creature. As is sound and scent, color is fluid and can be interpreted from different perspectives including sense, science, and culture. Color also exists in things, space, and information to gently communicate the many messages they have to deliver. If our words could be replaced by color, our world could unfold like a universe of light and meaning.
Today, the things that we call "design" has transcended from a tool for the mass to a life skill shared by children and adults alike; a thing of great social influence and an indispensable cornerstone that enriches our lives. In that belief, I have experimented extensively to come up with concepts and actions that could become a threshold to universal design. I'd like to make a difference in future design by starting the process from color.
To take color, collect color, photograph color, record color, and capture color...
I call this "color-hunting." We are developing various projects with different exhibitors as we think and struggle together on the topic of color. Through this exhibition, I'd like to think and discover design with our visitors in hopes that this will turn into "one" opportunity in the making of a creative society.
Dai Fujiwara
Outline
Organized by

21_21 DESIGN SIGHT, THE MIYAKE ISSEY FOUNDATION

In association with

Agency for Cultural Affairs, Ministry of Economy, Trade and Industry, MINATO CITY BOARD OF EDUCATION

Subsidized by

The Embassy of the Kingdom of the Netherlands

Special sponsor

Mitsui Fudosan Co., Ltd.

Sponsored by

CAMPER, JIN CO., LTD.

Supported by

ASAHI SHIGYO CO., LTD., IID, Inc., NTT DOCOMO, EPSON SALES JAPAN CORPORATION, ERCO Lighting Ltd., Canon Marketing Japan Inc., Joshibi University of Art and Design, TAKEO CO., LTD., HUAWEI, BenQ Japan Co., Ltd., YAMAHA CORPORATION
Exhibition director

Dai Fujiwara

Planning associate

Cawaii Factory

Production support

Soichi Ito

Graphic design

Taku Satoh Design Office

Space design

DAIFUJIWARA AND COMPANY

Sound design

Masato Hatanaka
Participating creators

Tomohiro Akagawa, Koichi Iga (Color Universal Design Organization), Shigeru Ida, Taichi Inoue, Kayoko Ota, Masato Oshima, Keiko Goto, Jiro Komiyama, Takashi Kiriyama, Semitransparent Design, Hirozumi Takakusaki, Yoichi Nakajima, Mieko Naito, Nobuko Funaki, Irma Boom, MOTOKO, Shigeru Moroizumi, Kazuki Yamazaki, Yu Yamanaka, Ayaka Yamamoto

Participating companies

KAWAI DYEING WORKS CO., LTD., CAMPER, SHINOHARA FURINHONPO, JIN CO., LTD., Soup Stock Tokyo, THE SAILOR PEN CO., LTD., TOKIWA PHYTOCHEMICAL CO., LTD., YAMAHA CORPORATION

Participating institutions

International Design Academy School of comprehensive Design, OMULA BEAUTY CREATES, Sado Municipal Niibo Elementary School, Joshibi University of Art and Design, TOHOKU UNIVERSITY OF ART AND DESIGN, HAL Tokyo College of Technology & Design, Bunka Fashion College, RIKEN, Aalto University, Hong Kong Design Institute, Parsons The New School for Design, Royal College of Art, Shih Chein University College of Design, University of Technology, Sydney