contents
Toward a DESIGN MUSEUM JAPAN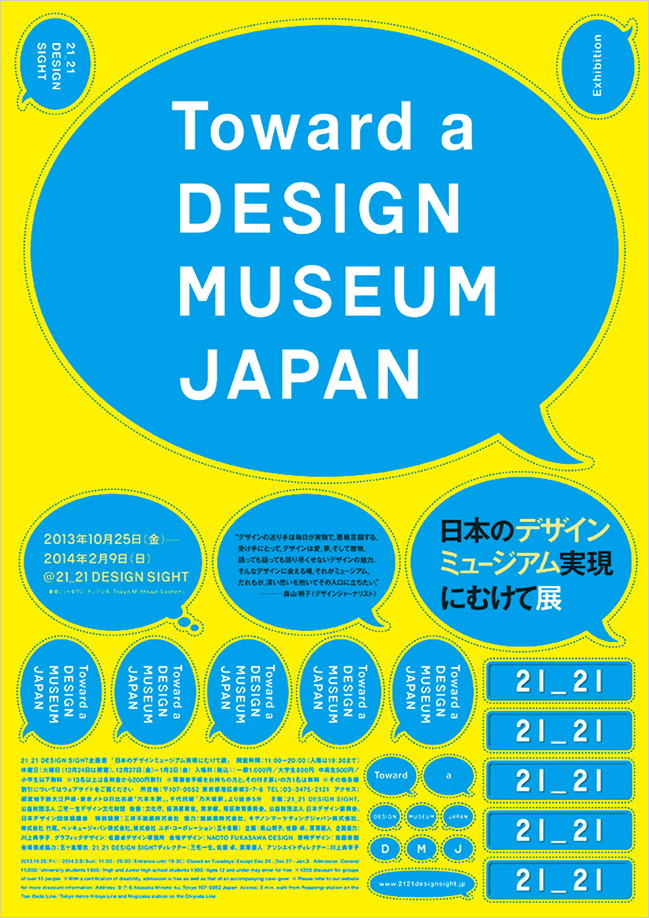 The exhibition was part of a process to think about a Design Museum for the 21st century. As 21_21 DESIGN SIGHT began moving forward with Issey Miyake's message "Time to Create a Design Museum" (p.62), we looked back to the source with four elements; FINDING, MAKING, LINKING and CREATING, in order to reevaluate the archive for Japanese design and how it could be communicated.
Date: October 25, 2013 - February 9, 2014
Foreword from the Planners
For the planners of this exhibition, it all started from Issey Miyake's 2003 newspaper article titled "Time to Create a Design Museum." Ten years from that time, we asked ourselves, "What are the things we can do amidst the various movements spurring toward creating such a museum?" The answer is this exhibition which rebuilds past exhibitions and their related activities.
The policy that we came to through unanimous decision is taken from the idiom, "Practice what you preach."
Until now, design has been perceived mainly as product <MAKING> but we felt it necessary to <FINDING> the workings between things and events and <LINKING> communities with the world before moving on to the making process. The <CREATING> section, the quintessential element of the creative process, highlights six great creators of the past including Ikko Tanaka. The bibliography and banner of each exhibit has been produced by the planners.
In design, no matter what a hard-fought process that designing may have been for the creator, the output should always embody love, dreams, and be a gift for those who receive it. Only when this happens does design turn into something captivating; something that can't be explained through mere words. A design museum is the link that connects the creator, the receiver, and the storyteller. We hope that this exhibition will help guide all of our visitors to find their entrance into this world of design.
Akiko Moriyama, Taku Satoh, and Naoto Fukasawa
Outline
Organized by

21_21 DESIGN SIGHT, THE MIYAKE ISSEY FOUNDATION

In association with

Agency for Cultural Affairs, Ministry of Economy, Trade and Industry, Tokyo Metropolitan Government, MINATO CITY BOARD OF EDUCATION, Japan Institute of Design Promotion, The Council of the Design Association of Japan

Special sponsor

Mitsui Fudosan Co., Ltd.

Supported by

ASAHI SHIGYO CO., Canon Marketing Japan Inc., TAKEO CO., LTD., BenQ Japan Co., Ltd., Yupo Corporation
Planning

Akiko Moriyama, Taku Satoh, Naoto Fukasawa

Planning associate

Noriko Kawakami

Graphic design

Shingo Noma (Taku Satoh Design Office Inc.)

Space design

NAOTO FUKASAWA DESIGN

Lighting design

Haruki Kaito

Space design support

Lui Igarashi