contents
THE FAB MIND:
Hints of the Future in a Shifting World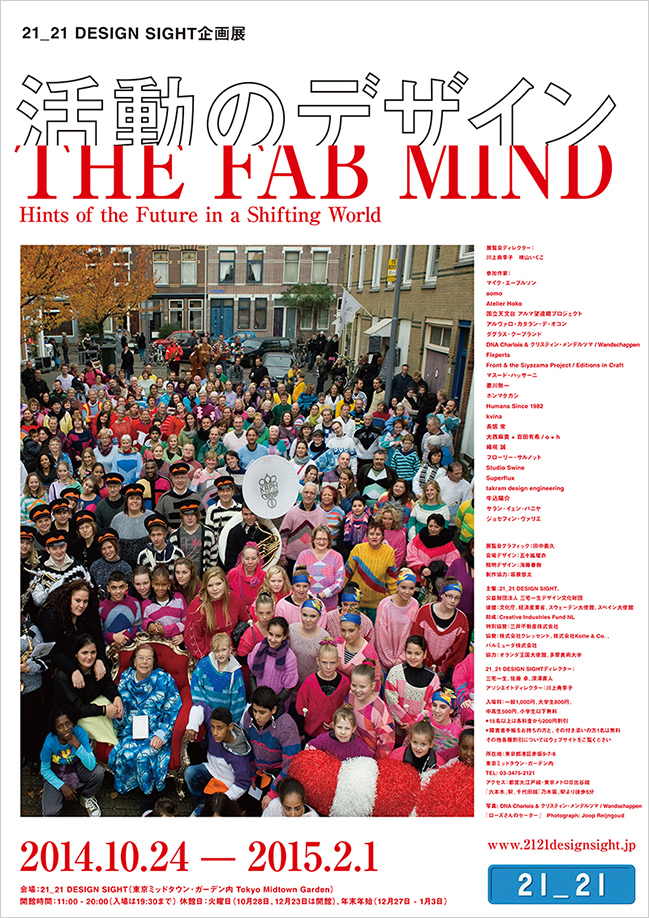 This exhibition focused attention on designs that reveal unnoticed issues, interpret them and attempt to find their solutions. It showcased innovative ideas and practices from all over the world. Examples include recycling waste materials from mass-consumption using traditional handicraft; honoring an ordinary citizen who carried on knitting unique sweaters without any recognition from others; a humanitarian design project to create a landmine sweeper.
Date: October 24, 2014 - February 1, 2015
Directors' Message
This vast landscape before us is a reality in which we are already participating
We are realizing that social norms in society are wavering, and we also know that many people around the world feel the same way. What is the reason for this wavering? What possibilities does it possess? The Fab Mind found, in the works of these artists and designers, the nature of the shifting world as well as insight into how to live in it. This exhibition presents the extended relationship between design and societies.
We live in a society in which technology has made vast leaps. Although the capacity of information that society can accumulate may have become immense, we as people have not increased our capacity to accumulate information, nor have we increased our physical capacity to internalize the vast amount of information. The significant difference between the current information society and pre-internet society is that the number of these contributors has rapidly increased and as a result, social norms become subdivided further.
From this knowledge, we realize that the economic developments and technological innovations are still creating imbalance and destruction rather than fully playing their part in realizing peace in the world; nor have they lead to equal access to information and useful tools. These knowledge and skills, which are updated on a millisecond basis, should be utilized to re-evaluate social inequity, ethics and value systems. We are able to encounter examples of such efforts by the fab minds in this exhibition of 24 groups of artists and designers.
These artists and designers - as if diving into a whirlpool of unknowns - question not as onlookers, but as independent actors, the nature of the changing world and what effects can be brought about from fabricating. These creative actors look at how, in contemporary society, design is evolving from being simply "consumed" to creating "activities", "site", or "relations" and as such, they are broadening the boundaries between society and design. We called the fabulously active minds of these artists and designers, which grabs and surprises us, The Fab Mind : and such incentives hold possibilities for the future and allow us to ponder our individual ways in which we are participating in society and the world at large.
Through the activities of these artists and designers, this exhibition attempts to capture, almost literally, the nature of the continuing spread of a reality in which a diversity of values co-exist. It is our belief that the works of each artist and designer introduced here - going beyond their backgrounds and geographical borders, transcending time axes and continents - can act as a compass in contemporary times.
Noriko Kawakami, Ikko Yokoyama
Outline
Organized by

21_21 DESIGN SIGHT, THE MIYAKE ISSEY FOUNDATION

In association with

Agency for Cultural Affairs; Ministry of Economy, Trade and Industry; Tokyo Metropolitan Government, MINATO CITY BOARD OF EDUCATION, Embassy of Sweden, Embassy of Spain

Subsidized by

Creative Industries Fund NL

Special Sponsor

Mitsui Fudosan Co., Ltd.

Sponsored by

Crescent, inc., Kotte & Co. Ltd., BALMUDA Inc.

Special Support by

The Embassy of the Kingdom of the Netherlands

Supported by

Canon Marketing Japan Inc., TAKEO CO., LTD., Tama Art University
Exhibition Directors

Noriko Kawakami, Ikko Yokoyama

Graphic Design

Yoshihisa Tanaka

Space Design

Lui Igarashi

Lighting Design

Haruki Kaito

Production Assistant

Yuta Sakane
Participating Creators

Mike Abelson, ALMA Project / National Astronomical Observatory of Japan + PARTY + Qosmo + Epiphany Works, Alvaro Catalán de Ocón, Douglas Coupland, DNA Charlois / Wandschappen, Christien Meindertsma, Fixperts, aomo, Atelier Hoko, kvina, Saran Yen Panya, Jo Nagasaka, Seiichi Hishikawa, Front, The Siyazama Project, Editions in Craft, Massoud Hassani, Takashi Homma, Humans Since 1982, Maki Onishi + Yuki Hyakuda / o + h, Makoto Orisaki, Florie Salnot, Studio Swine, Superflux, takram design engineering, Yosuke Ushigome, Josefin Vargö