contents
About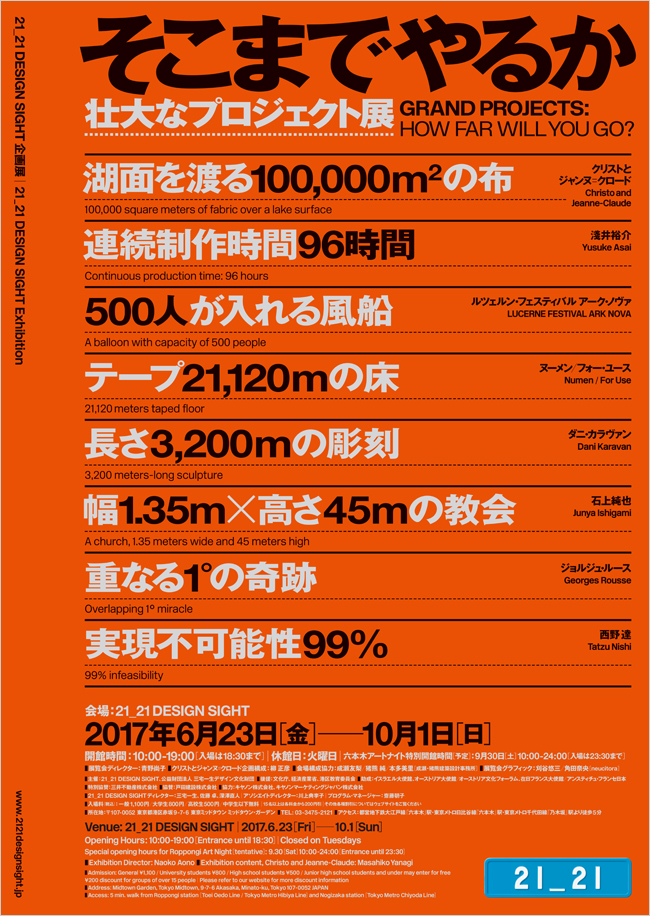 Exhibition poster
21_21 DESIGN SIGHT holds an exhibition, "GRAND PROJECTS: HOW FAR WILL YOU GO?" beginning June 23, 2017. Serving as Exhibition Director is Naoko Aono, a writer and editor well versed in architecture, design, art, and a broad range of other interests.
Filled with the joy of making things, creators proceed on a journey toward a Grand Project.
The exhibition showcases Grand Projects by such creators who give shape to their bold and innovative ideas that transcend existing modes of expressions. In June 2016, Christo and Jeanne-Claude realized "The Floating Piers" on Lake Iseo in Italy. The piers covered with fabric that is 3 kilometers-long appeared on the lake. Along with sidewalks also covered with the same fabric, the floating piers dramatically changed the landscape, and uplifted the spirit of people. The starting point for this exhibition is these artists who conceived projects of incredible scale that transforms bridges in cities, landscapes over some ten kilometers, and even the house of parliament to artworks, and ultimately realized what was initially thought to be impossible. From that starting point, creators from diverse fields who carry out unique activities using dynamic techniques and methods, gather and display their works.
The process of meticulous planning and giving shape to a project while receiving the cooperation and support of many people, together with the finished works that are displayed on a huge scale, evoke a feeling of awe among the visitors who are likely to wonder, "How far will you go?" The creators' attitudes make us feel their strong will, passion, endless series of trial-and-error, and determination to take action with conviction, to confront all sorts of hardships, such as technical challenges in natural environments, as well as financial challenges and changes in times and social circumstances. Their grand projects may also be said to be grand urban projects proposed by artistic creators. By temporarily or permanently changing the city and natural landscapes, their works permeate through our daily lives. By taking part in the project and being involved from the production process, cooperators from public institutions, corporation, and other interested persons, too, get to experience the fun of working together and the joys of creating things. This is another major characteristic of this exhibition.
The works they express encourage us to experience new things, and make us aware of enjoyment and sets of values we had never thought of previously. The exhibition conveys the extraordinary power that such creations have, and the joys that spread from there.
Date

June 23 (Fri) - October 1 (Sun), 2017

Closed

Tuesdays

Time

10:00 - 19:00 (Entrance until 18:30)


*Special opening hours for Roppongi Art Night: September 30 (Sat) 10:00- 24:00 (Entrance until 23:30)

Admission

General ¥1,100 / University Student ¥800 / High School Student ¥500 / Junior High School Student and under may enter for free
Click here for more discount information.
Organized by

21_21 DESIGN SIGHT, THE MIYAKE ISSEY FOUNDATION

In association with

Agency for Cultural Affairs; Ministry of Economy, Trade and Industry; MINATO CITY BOARD OF EDUCATION

Subsidized by

Embassy of Israel, Austrian Embassy/Austrian Cultural Forum Tokyo, French Embassy/Institut français du Japon

Special Sponsor

Mitsui Fudosan Co., Ltd.

Sponsored by

TODA CORPORATION

Supported by

Canon Inc., Canon Marketing Japan Inc.
Exhibition Director

Naoko Aono

Exhibition content, Christo and Jeanne-Claude

Masahiko Yanagi

Space Design Support

Yuri Naruse / Jun Inokuma / Misato Honda (Naruse Inokuma Architects)

Exhibition Graphic Design

Yuzo Kariya / Nao Kakuta (neucitora)
Participating Creators

Christo and Jeanne-Claude, Junya Ishigami, Numen/For Use, LUCERNE FESTIVAL ARK NOVA, Yusuke Asai, Dani Karavan, Georges Rousse, Tatzu Nishi (In no particular order)
Notice
Christo and Jeanne-Claude "Christo talking about projects and making process"
The length of the film is 56 min. Depending on the time you enter, you would not be able to see all the film. Please note that we are going to close at 19:00.

Numen/For Use "Tape Tokyo 02"
In case of the congestion and depending on the time you enter, you would not be able to enjoy this work.
On weekends and national holidays after September 16, it is necessary to get a numbered ticket to experience this work.
We will distribute the tickets from 10:00 AM in front of "Tape Tokyo 02" in Gallery 2, until all the tickets have gone.