contents
"The Definition of Self"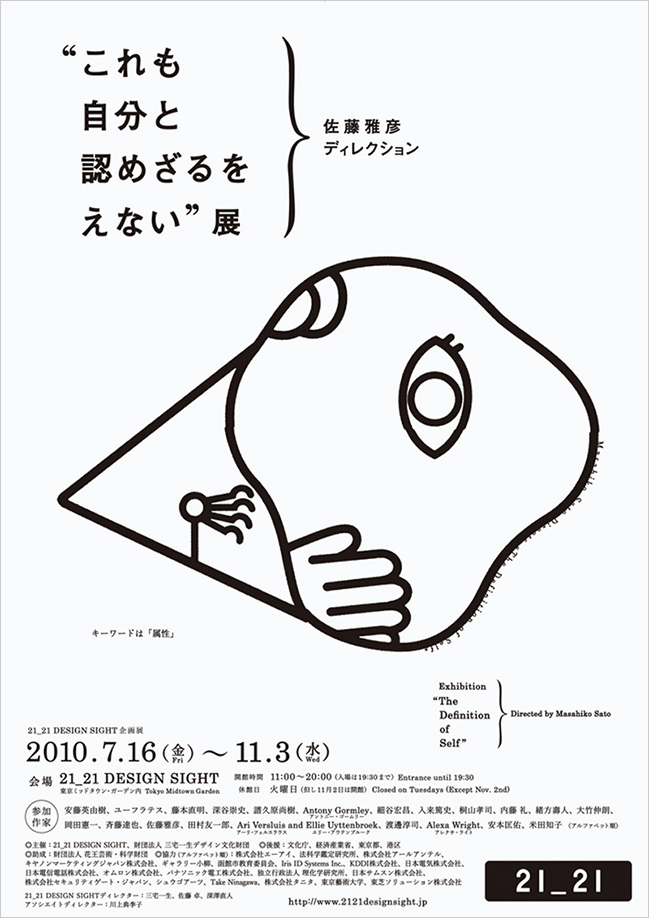 As a communication designer, Masahiko Sato directed this exhibition based on how someone's "attribute" that is so believed to define us, such as fingerprints and veins, can be separated from the individual in the name of making life more convenient or secure. With installations allowing guest participation, using interactive videos and the forefront technology, he invited visitors to share his quest in finding a new perspective on the very "definition of self" and "personality," which is often accepted as a prerequisite to design.
Date: July 16 - November 3, 2010
Director's Message
Individual Attributes: Our Indifference and the Society's Fixation
The theme of this exhibition, attribute, is a rather uncommon word in Japan. If you look up the word in a dictionary, the first entry simply says;
[Attribute] 1. The distinguishing character and/or nature of a person or a thing. (translated from Daijirin dictionary)
For example, your physical attributes include such features as your height, weight, skin color, hair color, blood type, sex, age, body shape, facial characteristics and so on. Your social attributes, on the other hand, include your name, as well as your nationality, address, occupation, professional affiliation, social status and circle of friends. Your habits and material possessions are also part of your attributes.
Society that knows about you more than you do about yourself
The leading-edge biometric authentication techniques, such as those using fingerprints and iris, made it possible to accurately capture our physical attributes that were previously impossible to recognize. We, human beings, on the other hand, cannot objectively capture even our own image or voice without special help as in the past. Since the society which surrounds us has been developing ways to acquire and accumulate such information, in the very near future, the society may know about us more than we do about ourselves in certain cases. The data obtained about our attributes could be utilized to develop an array of services tailored to individual needs or to ensure a certain level of security in a robust manner. However, these data could also be abused, leading to unduly excessive monitoring of individuals or criminal activities.
Through the pieces at this exhibition, you will learn two things; first, how the society is currently handling information concerning your attributes without your knowledge; second, what kind of information that could identify you, including those you yourself are not even aware of, could be obtained by the society in the future. The exhibition goes beyond a simple display of artwork. By studying our attributes from many different angles and expressing these observations into works, we aim to remind the visitors of the future of our attributes, including both the potential as well as the risks hidden in them.
Do your attributes really belong to you?
Under "attribute," the dictionary also gives an interesting definition;
[Attribute] 2. An inherent characteristic, without which it may deny the existence of a person or a thing. (translated from Daijirin dictionary)
For example, your business cards, which you use to introduce yourself, are also part of your attributes, since they carry such information as your name and professional affiliation. So, how would you feel if your business cards were folded or ripped in front of your eyes? You must feel as if your existence has been denied, and you may even feel anger. If, by any chance, your family register or your name has been erased from the system, the society would treat you as if you have vanished from this planet. You, on the other hand, might find yourself nonexistent. You may even feel a sense of freedom.
Some of the exhibits used as motifs, voices, fingerprints, handwriting, reflected images, visions, memories and so on, which are all part of our attributes. Through these pieces, the second definition of "attribute" above will bring out the feeling you have never felt before. Moreover, you will realize that your existence is not even worth paying attention to. The truth about relations between you and the surrounding world will also come to your knowledge.
I would like this exhibition, including its theme "attribute" and its pieces, to be a chance where each and every visitor thinks about the relations between the society and us, what it will be like in the future and what it should really be like. I hope that the visitors will give some thoughts about themselves and the society we live in after their visit to the exhibition.
(Supplementary comment)
At this exhibition, we would like to incorporate the visitors! identity information, such as height, fingerprints and handwriting, into the exhibited pieces, in order to show the resulting presentations in these pieces. As such, we will ask the visitors to give away such information. (Of course, information will be taken only from those who are interested.) Please be advised that we are holding the exhibition in this manner given the theme of looking at how the attribute is handled in modern society and thinking about the future of the society and humanity.
Masahiko Sato
Outline
Organized by

21_21 DESIGN SIGHT, THE MIYAKE ISSEY FOUNDATION

In association with

Agency for Cultural Affairs, Ministry of Economy, Trade and Industry, Tokyo Metropolitan Government, Minato City

Grant from

The Kao Foundation for Arts and Sciences

In cooperation with

AI Inc., Analysis Laboratory of Forensic Science, Art Inter Co., Ltd., Canon Marketing Japan Inc., Gallery Koyanagi, Hakodate City Board of Education, Iris ID Systems Inc., KDDI CORPORATION, NEC Corporation, NIPPON TELEGRAPH AND TELEPHONE CORPORATION, OMRON Corporation, Panasonic Electric Works Co., Ltd., RIKEN, SAMSUNG JAPAN CORPORATION, SecurityGate Japan Co., Ltd., SHUGOARTS, Take Ninagawa, TANITA Corporation, Tokyo University of the Arts, Toshiba Solution Corporation
Exhibition Director

Masahiko Sato

Technical Supervision

Takashi Kiriyama

Art Direction

Kohji Robert Yamamoto (EUPHRATES)

Lighting

MAXRAY INC.
Participating Creators

Hideyuki Ando, EUPHRATES, Naoaki Fujimoto, Takashi Fukaya, Naoki Fukuhara, Antony Gormley, Hiromasa Hosotani, Atsushi Iriki, Takashi Kiriyama, Hisato Ogata, Shinro Ohtake, Kenichi Okada, Tatsuya Saito, Yuichiro Tamura, Ari Versluis, Ellie Uyttenbroek, Junji Watanabe, Alexa Wright, Masasuke Yasumoto, Tomoko Yoneda