contents
Ikko Tanaka and Future/Past/East/West of Design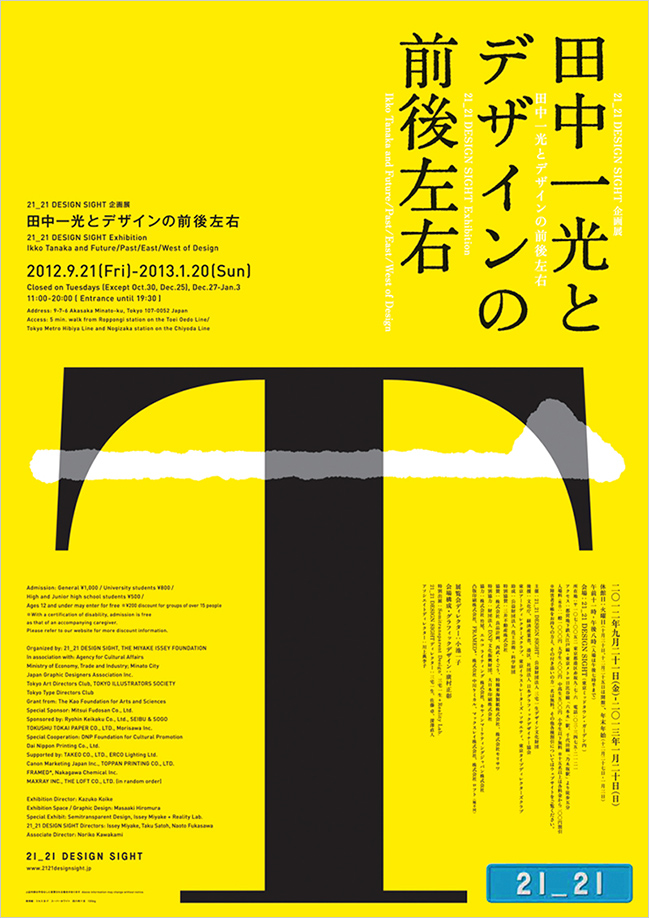 Ikko Tanaka is a graphic designer, who has come up with unrivalled designs from the east and west, while succeeding tradition and looking into the future. Having worked with him, Kazuko Koike, was invited as director to focus on Tanaka's vast imagination and expressive output that tied the worlds of Rinpa, Ukiyoe and traditional theatre to his contemporary work.
Date: September 21, 2012 - January 20, 2013
Director's Message
Ten years have gone by since Ikko Tanaka passed away. Japanese society has entered an era of big challenges, as marked by the Great East Japan Earthquake, Tsunami and Nuclear Disaster and it is during times like these that I wonder what Mr. Tanaka would have said and advised. This exhibition came into being from the thought that it is precisely in times like these that we wish to truly see the work of a man who considered ideal forms of society, culture and lifestyles from the stance of a designer. Mr. Tanaka believed that his presence was located at the crossing point of the axis of time and that of east and west, and once held a solo exhibition titled "The Crossroads of Design." The title of this exhibition, "Future/Past/East/West of Design" springs from the title of his book, which stated that the act of design involves various facets including society and history --that design is not just deskwork or a form of self-expression. Going through Mr. Tanaka's archives, I was astounded by the number of works I wanted to include in this exhibition. It is my sincere hope that visitors will see the delicate work and background that went into each object and behold them simply as they are.
Mr. Tanaka always tried to foresee the future of design and this exhibition reflects that, it is not a retrospective event -- it begs people to think about work that is just beginning to be born. We asked that new works be included in this exhibition as well, as special participants in the process. The effort and kindness of a vast number of people were involved in making this exhibition a reality. I was able to feel "the strength of Mr. Tanaka" alive and well in each one of those people.
Kazuko Koike
Message
The trajectory of Ikko Tanaka's design overlaps with the flow of postwar Japanese design headed for prosperity. Back in this postwar era full of burnt down buildings, the people were thirsty for images from overseas and beautiful coloring, albeit on very simple print media. It was during this time that Tanaka created a design research institute and actively poured himself into its activities such as creating posters and gathering information. Expectant for the era of design to come, he is quoted as saying "everyday was full of surprise and discovery -- I was truly enjoying myself."
Born in Nara prefecture and raised in Kyoto, Tanaka began working in Osaka. His body was full of Japanese aesthetic and he became the main force behind Japanese graphic design.
"Everything in life is design," said Tanaka, and his interests transcended all sorts of boundaries, continually spreading. People gather, a place to meet is born, a movement begins and something is born. While being a designer, Tanaka simultaneously gave thought to companies and society. He was not simply a creator -- he stressed the importance of "selection" and his strong will, unwavering eye, clear framework and dynamism became established presences. This exhibition presents the thoughts and speculation process that went in to the works and production of Ikko Tanaka's designs; designs that continue to emit refreshing allure regardless of the era.
Masaaki Hiromura
Outline
Organized by

21_21 DESIGN SIGHT, THE MIYAKE ISSEY FOUNDATION

In association with

Agency for Cultural Affairs, Ministry of Economy, Trade and Industry, Minato City, Japan Graphic Designers Association Inc., Tokyo Art Directors Club, TOKYO ILLUSTRATORS SOCIETY, The Tokyo Type Directors Club

Grant from

The Kao Foundation for Arts and Sciences

Special sponsor

Mitsui Fudosan Co., Ltd.

Sponsored by

Ryohin Keikaku Co., Ltd., SEIBU & SOGO, TOKUSHU TOKAI PAPER CO., LTD., Morisawa Inc.

Special cooperation

DNP Foundation for Cultural Promotion, Dai Nippon Printing Co., Ltd.

Supported by

TAKEO CO., LTD., ERCO Lighting Ltd., Canon Marketing Japan Inc., Tokyo Studio Co., Ltd., TOPPAN PRINTING CO., LTD., FRAMED*, Nakagawa Chemical Inc., MAXRAY INC., THE LOFT CO., LTD.
Exhibition Director

Kazuko Koike

Exhibition Space / Graphic Design

Masaaki Hiromura

Lighting Design

Haruki Kaito + Masanobu Takeishi, Akira Fukazawa, Junichi Kai

Exibition Space Design Cooperation

Nakamura Design Office

Planning Associate

Tetsuya Ohta
Special Exhibit

Semitransparent Design, Issey Miyake + Reality Lab.