contents
About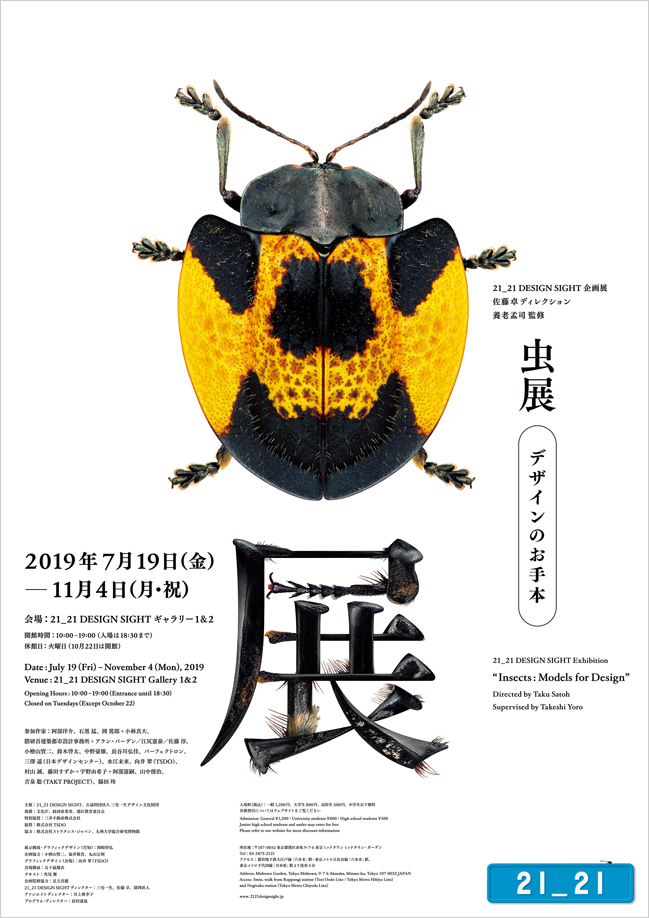 From July 19, 2019, 21_21 DESIGN SIGHT holds an exhibition entitled "Insects: Models for Design." Graphic designer Taku Satoh is exhibition director, and Takeshi Yoro, an anatomist known as an insect lover, is exhibition supervisor.
Insects are reflections of the natural world. Although they are always close to us, many facets of their lives remain unknown. Their richness of color, physiological qualities, structures and habits all offer us unseen worlds barely imagined. Insects have evolved over much longer period than humans, and by observing their diversity we will discover new creative possibilities. This exhibition seeks to view the mysterious world of insects as "models for design."
Designers, architects, structural engineers and artists exhibit work inspired by insects. Some have used their tiny skeletal systems to produce artificial objects, others have studied the skillful way they fold their wings and applied this to robots, others again have learned from the structure of larva nest how to generate human architecture. Astonishing ingenuity is found in every aspects of insects, from mouths and eyes to legs. We also found the interesting rules that lie behind the way we named insects through the relationships with them. The exhibition offers creators and visitors an opportunity to learn from insects and to reconsider their relationships with us.
Date

July 19 (Fri) - November 4 (Mon), 2019

Venue

21_21 DESIGN SIGHT Gallery 1 & 2

Closed

Tuesdays (Except October 22)

Time

10:00 - 19:00 (Entrance until 18:30)

Admission

General ¥1,200 / University Students ¥800 / High School Students ¥500 / Junior High School Students and under may enter for free
Click here for discount information
Organized by

21_21 DESIGN SIGHT, THE MIYAKE ISSEY FOUNDATION

In association with

Agency for Cultural Affairs; Ministry of Economy, Trade and Industry; MINATO CITY BOARD OF EDUCATION

Special Sponsor

Mitsui Fdosan Co., Ltd.

Sponsor

TSDO Inc.

Supported by

Stratasys Japan Co., Ltd., Kyushu University Museum, Canon Inc., Canon Marketing Japan Inc.
Exhibition Director

Taku Satoh

Supervisor

Takeshi Yoro

Exhibit Design, Graphic Design (Promotion)

Tomohiro Okazaki

Planning Associates

Kenji Kohiyama, Keiki Fukui, Munetoshi Maruyama

Graphic Design (Exhibition Infographics)

Sui Mukai (TSDO)

Space Design

Lui Igarashi

Text

Mai Tsunoo

Associate Supervisor

Maho Adachi
Participating Creators

Yosuke Abe, Takeshi Ishiguro, Tokuro Oka + Mao Kobayashi, Kengo Kuma and Associates + Alan Burden / Norihiro Ejiri / Jun Sato, Kenji Kohiyama, Keita Suzuki, Takeo Nakano, Hiroka Hasegawa, Perfektron, Haruka Misawa (Nippon Design Center, Inc.), Mirai Mizue, Sui Mukai (TSDO), Macoto Murayama, Suzuka Fujita + Yukiko Uno + Kenji Abe, Shunji Yamanaka + Kazuya Saito + Hiroshi Sugihara + Kotaro Tanimichi + Mitsuru Muramatsu, Satoshi Yoshiizumi (TAKT PROJECT), Akira Wakita

Exhibit Supervision / Cooperation

Shuhei Nomura (National Museum of Nature and Science, Tokyo), Hiroaki Kojima (Tokyo University of Agriculture), Seiichi Okuyama, Seidai Nagashima, Masashi Enju, Tatsuya Niisato (Bio Indicator Co., Ltd.), Institute of Plastination, Masato Sasaki (Tama Art University), Takahiko Hariyama (Hamamatsu University School of Medicine), Fumihiko Hirai (Tokyo Bug Boys), Takahiro Murakami (Institution of Decision Science for a Sustainable Society, Kyushu University), Ryuma Niiyama (The University of Tokyo), Hiroyuki Wakahara
21_21 DESIGN SIGHT Directors

Issey Miyake, Taku Satoh, Naoto Fukasawa

Associate Director

Noriko Kawakami

Director of Programs

Tatsuya Maemura