contents
SHIRO KURAMATA and ETTORE SOTTSASS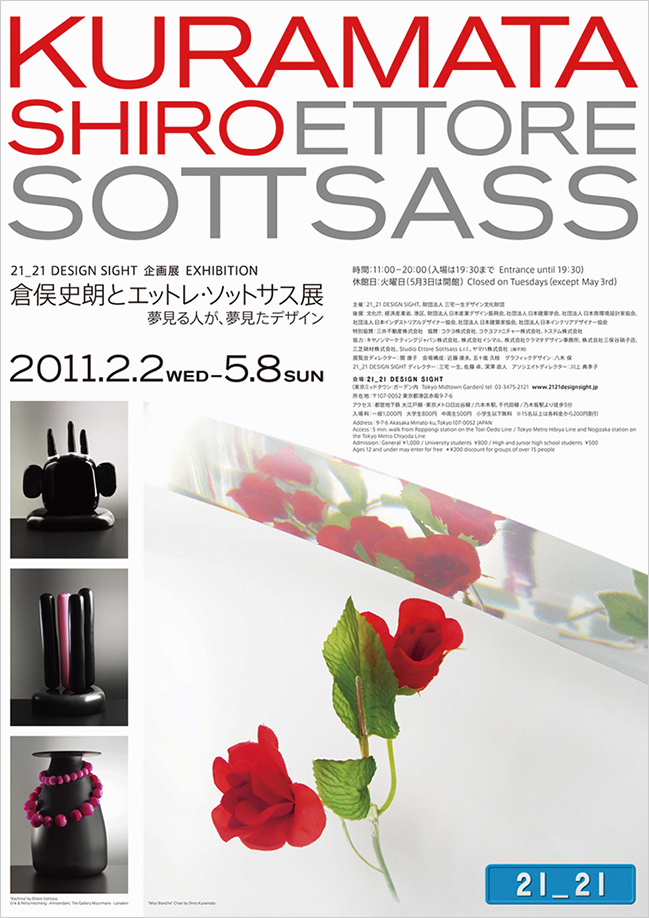 Shiro Kuramata and Ettore Sottsass, the giant of Italian design. Although the ways they express themselves are different, the exhibition was based on the friendship between these two men, who brought joy and wonder into everyday life with their designs, while transcending mere functionality and convenience. The show focused on Kuramata's lucid work beyond the 80's, and the "Kachina" art pieces based on Sottsass's drawing in his later years.
Date: February 2 - July 18, 2011
Message
When we begun working in early 1960s, Japan was at the height of its post-WWII economic recovery. Kuramata was a heroic presence to me, even within a group comprised of so many formidable talents. His use of materials, for example: no matter what it was, he transformed it into an attractive design that we had never seen before. We all deeply respected Kuramata both in terms of his work and as a person. Japanese design is tight and rational, and has no unnecessary elements. But Kuramata's work was filled with mystery; a world that we are not ordinarily capable of expressing. My work might have been different had I never met him.
I met Sottsass in Paris in the 1960s during the Olivetti exhibition at the Musée des Arts Decoratifs, in Paris. Sottsass was as naturally a gifted artist as he was an architect, designer, poet, and photographer. He was also a producer who led design movements such as Memphis, and an editor who directed the magazine TERAZZO. He told me that feeling and touch are most important elements in design, despite the fact that people tend to act using their brains. I initiated this exhibition to introduce a new generation of designers to the designs of both Shiro Kuramata, whose aesthetic transcended space and time; and Ettore Sottsass, by whom Kuramata was influenced.
Issey Miyake
Director's Message
At our first meeting, I felt as though Mr. Miyake delivered us three messages regarding this exhibition. "Not Period." In other words, he did not want to make this a simple retrospective. Our mission was to communicate the importance of dreams and love in design. Especially to the younger generation who are not familiar with these two designers...
We live in a generation that is far different from the times in which they lived. In particular, the 1980s, the generation when the two men cultivated their friendship, was a golden age for the Japanese economy which thrived in being "Japan as number one," and a time in which the Japanese people backed by the economic momentum started shifting their eyes to quality of life and design. 30 years since then, the expansion of IT and the Internet, as well as the lessons learnt from globalism and commercialism prompts us to reconsider once again, "What is design?"
The exhibition reveals the great creators and their design in their true colors, told through their works, past footage, quotes, and slide shows. Please experience the world of bountiful dreams and love created by the two men and take the opportunity to think again about the meaning of design.
Extension of the exhibition term
We would like to extend our deepest condolences to all those who lost their lives and to those affected by the Great East Japan Earthquake. We also promise to work within the best of each of our capabilities to support the earliest recovery of living and working environments of the region.
In light of the recent events, we have decided to extend the SHIRO KURAMATA and ETTORE SOTTSASS exhibition. The impact of this disaster has not only cast a dark shadow over Japan's society and its physical aspects but it also looms dark over our spirits. That is why all the more, we would like visitors to come in touch with the "design of overflowing dreams and love" of Shiro Kuramata and Ettore Sottsass, the final destination of these two men who lived through the devastations of World War II.
We live by the conviction that beautiful art and design is "food for the soul," essential for the life of man. In extending the exhibition, we will introduce Sottsass's best-known work, "Valentine" which carries with it the hints to the mobile devices of today and "Solaris" which is a prelude to the transition of Kuramata design in the 80's. We sincerely await your visit.
Yasuko Seki
Outline
Organized by

21_21 DESIGN SIGHT, THE MIYAKE ISSEY FOUNDATION

In association with

Agency for Cultural Affairs, Ministry of Economy, Trade and Industry, Minato City, Japan Industrial Design Promotion Organization, Architectural Institute of Japan, Japanese Commercial Environment Designers Association, The Japan Industrial Designer's Association, Japan Institute of Architects, Japan Interior Designer's Association

Special sponsor

Mitsui Fudosan Co., Ltd.

Supported by

KOKUYO Co., Ltd., KOKUYO Furniture Co., Ltd., TOSTEM CORPORATION

In cooperation with

Canon Marketing Japan Inc., ISHIMARU CO., LTD., KURAMATA DESIGN OFFICE, MAXRAY INC., MIHOYA GLASS Co., Ltd., SAMSHIBA SHOZAI CO., LTD., Studio Ettore Sottsass s.r.l., TOKI CORPORATION, YAMAHA CORPORATION
Exhibition Director

Yasuko Seki

Planning

Issey Miyake

Planning Associates

Mieko Kuramata, Barbara Radice Sottsass, Takao Ishimaru, Tomohiko Mihoya, Mitsumasa Fujitsuka

Exhibition Space Design

Yasuo Kondo, Hisae Igarashi

Graphic Design

Tamotsu Yagi

Copywriting

Shinzo Higurashi
Exhibition Tool
"See if you can find these objects in the exhibition. Let's find!"
An exhibition tool created for children under the direction of Yasuko Seki.
Download