contents
About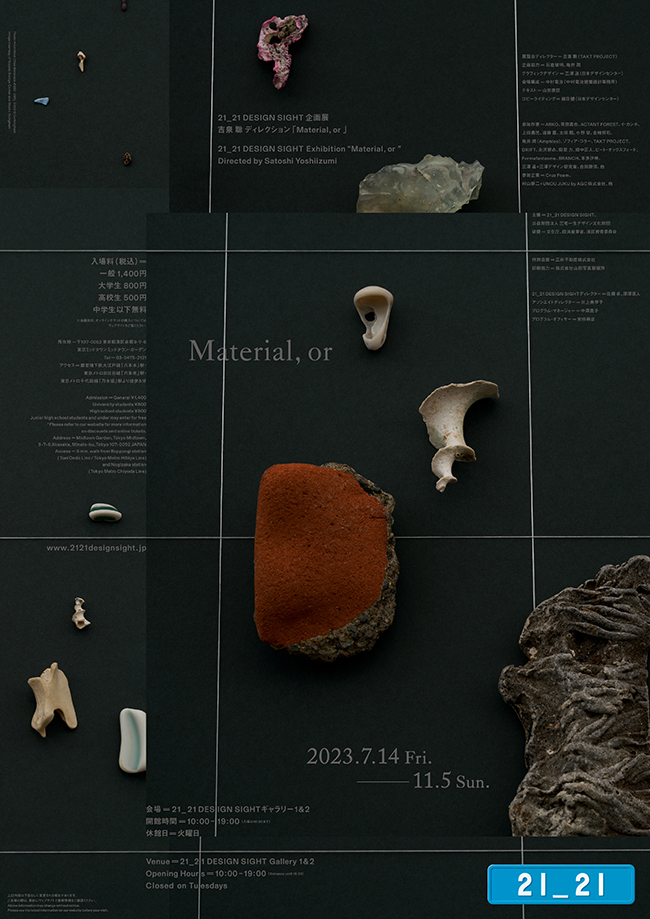 >> Download the exhibition flyer (PDF)
21_21 DESIGN SIGHT holds an exhibition "Material, or " opening on 14 July 2023. The exhibition director Satoshi Yoshiizumi is renowned for continuously presenting innovative designs from a unique perspective developed through self-initiated research projects.
Most of the objects we encounter in our everyday lives were designed in some way or another. Yoshiizumi says that the processes by which objects are made include processes by which raw materials become medium for the purpose of creation. What he means is that a raw material, which did not have a particular meaning beforehand, is assigned meaning relating it to an object and becomes a medium through its relationship to people or other living things.
When we think about the material presence of an object we use, we probably do consider how the human assigned meaning to the medium. Otherwise put, when we look at a created artifact, we might well ponder the stuff from which it is made. However, we are most unlikely to think of the original, pre-processed raw material. Take the case of a comfortable-looking chair. We recognize it as made of wood, but rarely give attention to trees in their primordial, living sense. This Exhibition proposes that the meaning of designed objects ought, rather, to come from open dialogue with constituent raw materials. Humanity has been surrounded by such materials since the dawn of history, and people have created something through interchange with these primordial things. And yet, modern society has developed in such a way as to deprive us of this. Most people today play no role in designing or making and so they are divorced from all sense of the raw materials from which the things around them derive.
A dialogue with raw materials is certainly not the same thing as taking control over them. In today's world, a worker determines the form and function a raw material is to have, modifying it into medium. A creator takes this over and uses it. But is this the right sequence of events? Contemporary lifestyles have generated severe environmental crises. It is imperative for us to engage in fundamental debate about natural and social sustainability. We must strip off all priority given to the designed and finished object so as to restore the primacy of the essential raw material lying behind.
"Material, or " is happy to acknowledge the generous collaboration of art anthropologist Toshiaki Ishikura and biomimetics designer Jun Kamei. Their role has been to deploy cultural-anthropological perspectives to tease out how humanity has manipulated nature. From this they identify how to revive our sensitivity towards raw materials using recent developments in technology and material science.
The Exhibition seeks to rediscover and reinterpret the human relationship to raw material. It traces this across the vast and endless story of the Earth. We provide an opportunity for visitors to rethink a world in which life is interwoven with raw material.
Date

July 14 (Fri) - November 5 (Sun), 2023

Venue

21_21 DESIGN SIGHT Gallery 1 & 2

Closed

Tuesdays

Opening Hours

10:00 - 19:00 (Entrance until 18:30)

Admission

General ¥1,400 / University Students ¥800 / High School Students ¥500 / Junior High School Students and under may enter for free
Click here for discount information
* Online Tickets are available via Art Sticker (external website).

Organized by

21_21 DESIGN SIGHT, THE MIYAKE ISSEY FOUNDATION

In Association with

Agency for Cultural Affairs; Ministry of Economy, Trade and Industry; MINATO CITY BOARD OF EDUCATION; The Embassy of the Kingdom of the Netherlands

Special Sponsor

Mitsui Fudosan Co., Ltd.

Sponsor

I PLANNING CORP.
Exhibition Director

Satoshi Yoshiizumi (TAKT PROJECT)

Planning Associate

Toshiaki Ishikura, Jun Kamei

Graphic Design

Haruka Misawa (Nippon Design Center)

Space Design

Ryuji Nakamura (Ryuji Nakamura and Associates)

Text

Yoshinao Yamada

Copy Writing

Ken Isome (Nippon Design Center)

Participating Creators

ARKO, Shinya Aota, ACTANT FOREST, Kwangho Lee, Yuji Ueda, Kaori Endo, Sho Ota, Shiori Ono, Masashi Kanasaki, Jun Kamei (Amphico), DRIFT, Zsofia Kollar, TAKT PROJECT, Aoi Nagasawa, Chikara Nisato, Masato Hatanaka, Pete Oxford, Formafantasma, BRANCH, Sae Honda, Haruka Misawa + Misawa Design Institute, Katsunobu Yoshida

Participating Corporations

Cruz Foam, Mitsubishi Chemical Corporation, Koji Murayama + UNOU JUKU by AGC Inc.
21_21 DESIGN SIGHT Directors

Taku Satoh, Naoto Fukasawa

Associate Director

Noriko Kawakami

Program Manager

Takako Nakahora

Program Officer

Moeto Yasuda