contents
Measuring - This much, That much, How much?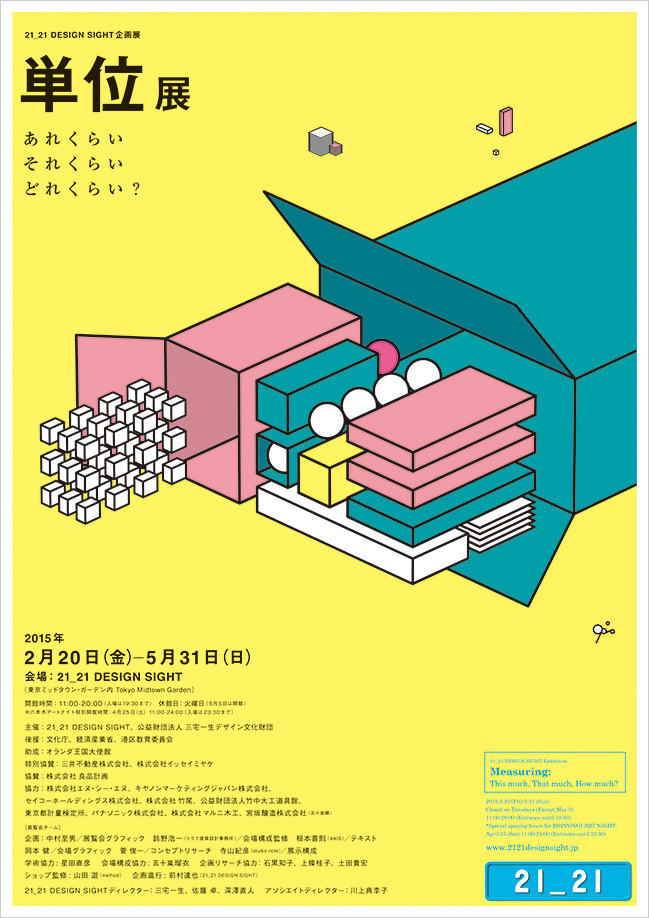 This exhibition was to let visitors intuitively get the feel of various measuring units invented to quantify non-concrete elements such as air, light and sound. It was done by showing objects lined up on display making comparisons in a visually comprehensive way. There were a number of hands-on installations for visitors to learn about the cultural background of the birth of the metric system unique to Japan and how those units have contributed to making things.
Date: February 20 - May 31, 2015
Message
I was surprised to learn just how people have been measuring, delimiting, and calculating this and that continuously for century after century, trying to define the world using units. I came to believe that this extraordinary desire for knowledge is an instinctive part of being human. I would be delighted if people were able to discover new perspectives with which to see the world after visiting the Measuring Exhibition.
Norio Nakamura
The impression I had of units used in the normal course of work was one of precision and rigor, but in the course of planning this exhibition, I came to feel that units of measurement are things that you can have more fun with as well. I hope visitors try not to think of units of measurement in difficult terms, but instead try to have fun applying them to different things. I also hope they try to experience units in a more physical than intellectual way.
Koichi Suzuno (TORAFU ARCHITECTS)
When you come back home after the exhibition, try closing your eyes, saying "units" three times, and opening them up again. I'm sure you too will realize just how ingeniously units of measurements are used around you.
Yoshinori Inamoto (AXIS)
Since a very young age, I've never been able to get comfortable with having my height or proficiency in sports measured. I always doubted the value of being compared to others in units of measurement. Once I became involved in this exhibition, one by one I've become attached to those units, because I learned to appreciate the monumental process of trial and error that went into their invention and establishment as well as the way in which countless things have come to be valued thanks to the invention of those units. By seeing the world through the lens of units of measurement, I hope that people who come to the exhibition can experience ingenuity in more tangible way, and develop an interest in new modes of knowledge.
Ken Okamoto
I had always thought that 1 immediately followed 0, so when I first encountered 0.1 in class, I overcame that difficulty by converting in my head 0.1 into one sheet of paper and treating 10 sheets of paper as 1. We are surrounded by units, but I would like to suggest trying to think about numbers by mentally converting them to sheets of paper or something you can imagine.
Norihiko Terayama (studio note)
One of the functions of science and design for societies is to render things that were previously enigmatic comprehensible. I believe that units of measurement are "tools of knowledge" that humans invented to deal with the abstract and the invisible. I hope that through this exhibition we can introduce people to the processes by which units came to permeate our lives. My hope is that even after people leave the exhibition, they retain the ability to go into "unit mode" and see things in a different light than before.
Syunichi Suge
Units of measurement have been an integral part of nearly every aspect of life for many ages. By learning and using them, we are able to share perceptions and ideas with people of new fields. Plus, thanks to units, cultures and histories become linked -- along with various types of information -- in a continuum, and the nuts-and-bolts of the way we live, as well as our very lifestyles, travel and spread out. On that continuum, units of measurement appear like threads that connect seemingly unrelated phenomena. I want people to use units as a tool for sharing perceptions of things and, wherever they can, to broaden the horizons of their worlds with diverse peoples using the language of units.
Tatsuya Maemura (21_21 DESIGN SIGHT)
Outline
Organized by

21_21 DESIGN SIGHT, THE MIYAKE ISSEY FOUNDATION

In association with

Agency for Cultural Affairs; Ministry of Economy, Trade and Industry; MINATO CITY BOARD OF EDUCATION

Subsidized by

The Embassy of the Kingdom of the Netherlands

Special Sponsor

Mitsui Fudosan Co., Ltd., ISSEY MIYAKE INC.

Sponsored by

Ryohin Keikaku Co., Ltd.

Supported by

New Constructor's Network Co., Ltd., Canon Marketing Japan Inc., Seiko Holdings Corporation, TAKEO CO., LTD., Takenaka Carpentry Tools Museum, Tokyo Metropolitan Government Inspection Institute of Weights and Measures, Panasonic Corporation, MARUNI WOOD INDUSTRY INC., Miyasaka Brewing Company, Ltd.
Exhibition Planning

Norio Nakamura / Exhibition Graphic Design
Koichi Suzuno (TORAFU ARCHITECTS) / Space Design Supervision
Yoshinori Inamoto (AXIS) / Text Writing
Ken Okamoto / Infographics Design
Syunichi Suge / Concept Research
Norihiko Terayama (studio note) / Exhibit Design

Academic Support

Tadahiko Hoshida

Space Design Support

Lui Igarashi

Exhibition Research Support

Tomoko Ishiguro, Keiko Kamijo, Takahiro Tsuchida

Shop Supervision

Yu Yamada (method)

Exhibition Coordination

Tatsuya Maemura (21_21 DESIGN SIGHT)
Participating Creators

Haruka Aramaki, Maki Onishi + Yuki Hyakuda / o + h, Yusuke Oono, Tomohiro Okazaki + Think the Earth, Kenichi Okada+Kunie Hiyamizu (LENS), Yukiya Okuda, Kasetsu, Chihiro Kabata, Kiriyama Glass Works Company, Wataru Kumano, Fumihiko Sano + MUJI, Bryan Nash Gill, Helmut Smits, Samples of Bookmaking (Yasutomo Ota + Ryosuke Kato), Dainippon Type Organization, Naoki Terada (TERADA MOKEI), Asao Tokolo, Motohiro Tomii, Ryota Nishimoto, Noritake, Maarten Baas, Perfektron, Takayuki Fukatsu, Shinsuke Yoshitake, Ryohei Yoshiyuki to job

Special Participants

Kaoru Kasai, Nobori Kiuchi, Klein Dytham architecture, Fumiko Sakuhara, Naomi Takayama, Akira Minagawa, Jasper Morrison, Koichi Yanagimoto