contents
WHISPERED PRAYERS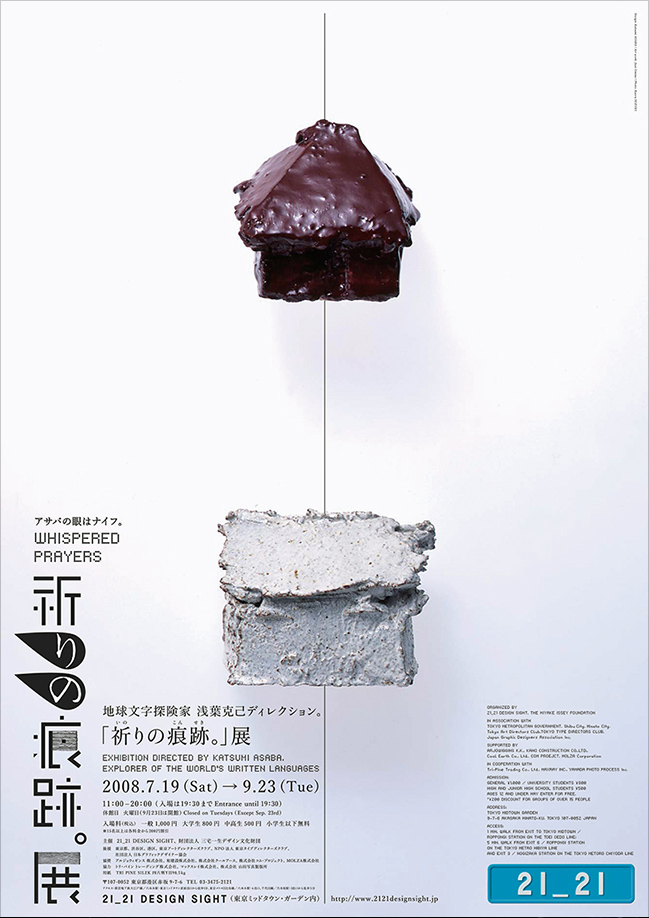 "The written language is the ultimate form of expression for strong human emotions, which seems almost like a prayer to communicate" says art director Katsumi Asaba. Inspired by this idea, the exhibition introduced various forms of expression remaining on the face of this planet. This includes ancient scripts, and yet to be deciphered written scriptures by ethnic minorities from all over the world that Asaba had researched, hence looking into the past, present and future of communication.
Date: July 19 - September 23, 2008
Director's Message
Just who made those first marks? That is a question that I am never able to completely stop thinking about. It was the beginning of writing. About 5,000 years ago, Sumerians first began to inscribe cuneiform symbols on clay tablets. In that instant, human thought, emotion, and talent, not to mention arts and sciences, gained eternal life. I do not think that any other device or invention has had such an impact on humankind as the act of writing.
Why do we feel cooler on the hottest of summer days when we see writing? As an explorer of World's Written Languages, I wanted to bring together all kinds of samples of this landmark in human history here to 21_21 DESIGN SIGHT and fill the place with writing.
I attempted introducing nearly 40 designers and artists from diverse backgrounds with their own records of creation, in two axis; "trace" and "world of written languages". Turning our attention to communication in the past, present and future, and direct the exhibition in a way that competes with the Beijing Olympics on a deeper level.
Katsumi Asaba
Outline
Organized by

21_21 DESIGN SIGHT, THE MIYAKE ISSEY FOUNDATION

In association with

Tokyo Metropolitan Government, Shibuya City, Minato City, Tokyo Art Directors Club, THE TOKYO TYPE DIRECTORS CLUB, Japan Graphic Designers Association Inc.

Supported by

ARJOWIGGINS K.K., KANO CONSTRUCTION CO., LTD., Cool Earth Co., Ltd., COM PROEJCT, MOLZA Corporation

In cooperation with

MGS LIGHTING, Canon Marketing Japan Inc., Tri-Pine TRADING Co., Ltd., MAXRAY INC., YAMADA PHOTO PROCESS Inc.
Exhibition Director

Katsumi Asaba

In collaboration with

Tetsuji Atsuji, Eriko Kusuda, Sakuji Yoshimura

Exhibition Design

Shigeru Uchida

Lighting Design

Harumi Fujimoto

Sound Design

Shigeaki Saegusa

Copywriting

Jun Maki

Graphic Design

Katsumi Asaba
Participating Creators

Katsumi Asaba, Matthew Carter, Kazunari Hattori, Naoki Ishikawa, Tomokane Kanou, Yasuhiko Kida, Hiromi Kouzaki, Lee Ufan, Andreas Muller, Brody Neuenschwander, Jissei Omine, Kohei Sugiura, Kaoru Suzuki, Yasuko Tsuchihashi, Shigeru Uchida