contents
POST FOSSIL: excavating 21st century creation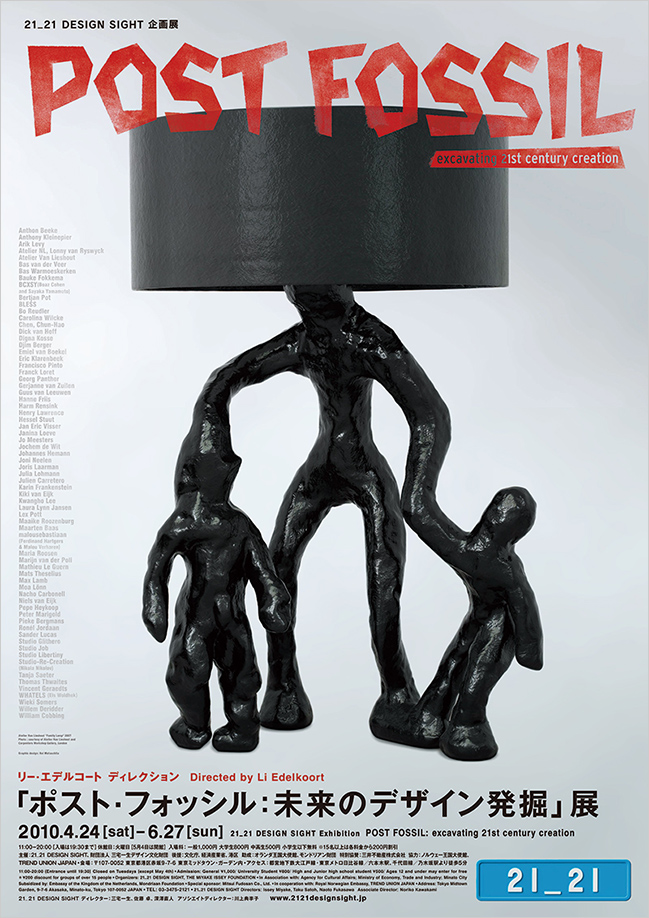 Under the direction of Li Edelkoort, a world leading trend forecaster who figures out the transition in values and aesthetics by carefully observing and analyzing the society and economy. Heading towards a "Post Fossil Era" (after the fossil fuel era), the exhibition introduced a new generation of creators who had adopted new methods using natural materials and primitive forms, while turning back to the fundamental process of making things.
Date: April 24 - June 27, 2010
Exhibition Director's Statement
Time has come for extreme change.
Society is ready to break away from last century for good.
To break from creative conventions, theoretic rules and stigmas that now are questioned, challenged and abandoned. To break with a materialistic mentality, replacing it with the modest materialization of earth-bound and recomposed matter.
In the aftermath of the worst financial crisis in decades, a period of glamorous and streamlined design for design!s sake comes to an end. A new generation of designers and architects retrace their roots, refine their earth and research their history, sometimes going back to the beginning of time.
In this process, they formulate design around natural and sustainable materials, favoring timber, hide, pulp, fiber, earth and fire; like contemporary cavemen, they reinvent shelter, redesign tools and manmade machines, and conceptualize archaic rituals for a more modest, content and contained lifestyle.
Like a Fred and Wilma Flintstone of the future.
Li Edelkoort
Outline
Organized by

21_21 DESIGN SIGHT, THE MIYAKE ISSEY FOUNDATION

In association with

Agency for Cultural Affairs, Ministry of Economy, Trade and Industry, Minato City

Grant from

The Embassy of the Kingdom of the Netherlands, Mondeiaan Foundation

Special sponsor

Mitsui Fudosan Co., Ltd.

In cooperation with

Royal Norwegian Embassy, TREND UNION JAPAN
Exhibition Director

Li Edelkoort

Assistant Director

Philip Fimmano

Graphic Design

Kei Matsushita
Participating Creators

Anthon Beeke, Anthony Kleinepier, Arik Levy, Artek with llse Crawford, Atelier NL Lonny van Ryswyck, Atelier Van Lieshout, Bas van der Veer, Bas Warmoeskerken, Bauke Fokkema, BCXSY (Boaz Cohen & Sayaka Yamamoto), Bertjan Pot, BLESS, Bo Reudler, Carolina Wilcke, Chen Chun-Hao, Dick van Hoff, Digna Kosse, Dijim Berger, Emiel van Boekel, Eric Klarenbeek, Francisco Pinto, Frank Loret, Georg Panther, Gerjanne van Zuilen, Guus van Leeuwen, Hanne Friis, Harm Rensink, Henry Lawrence, Hessel Stuut, Jan Eric Visser, Janina Loeve, Jo Meesters, Jochem de Wit, Johannes Hemann, Joni Neelen, Joris Laarman, Julia Lohmann, Julien Carretero, Karin Frankenstein, Kiki van Fijk, Kwangho Lee, Laura Lynn Jansen, Lex Pott, Maaike Roozenburg, Maarten Baas, Maarten Kolk & Guuo Kusters, malousebastiaan (Ferdinand Hartgers & Malou Verharen), Maria Roosen, Marijn van der Poll, Mathieu Le Guern, Mats Theselius, Max Lamb, Moa Lönn, Nacho Carbonell, Niels van Eijk, Pepe Heykoop, Peter Marigold, Pieke Bergmans, Ronél Jordaan, Sander Lucas, Studio Glithero, Studio Job, Studio Libertiny, Studio-Re-Creation (Nikola Nikolov), Tanja Saeter, Thomas Thwaites, Vincent Geraedts, WHATELS (Els Woldhek), Wieki Somers, Willem Deridder, William Cobbing