contents
REALITY LAB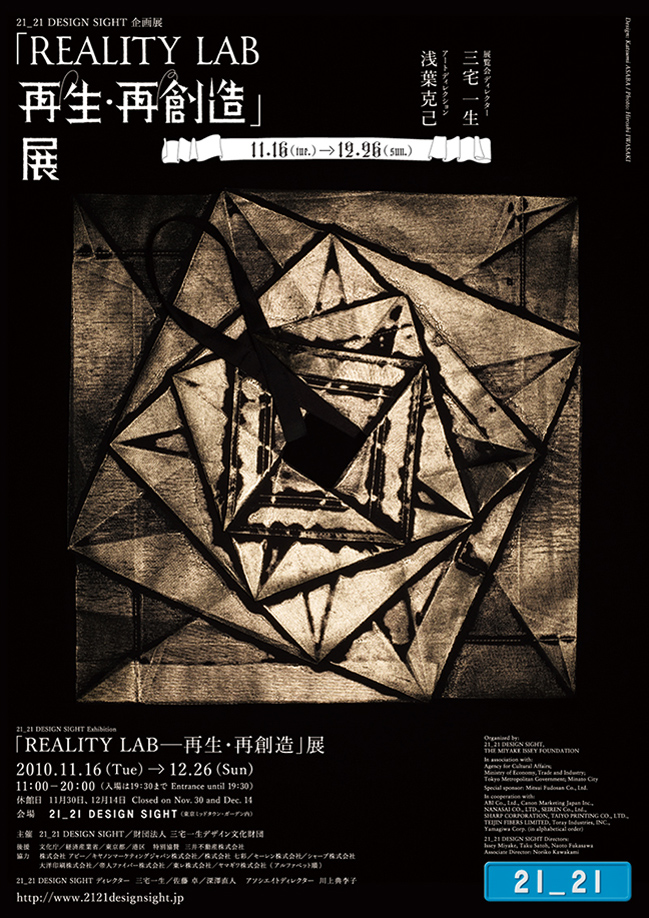 Directed by Issey Miyake, the exhibition aimed to explore the "possibility of creation" that is full of life, by someone who believes that "the work of a designer consists of a continual search for means by which to turn ideas into reality for those who can use them." By introducing works by creators and scientists whom he had encountered throughout his years in clothes making, while building networks in different regions and factories, this became a message for the future of making things.
Date: November 16 - December 26, 2010
Director's Message
"XXIst Century Man," an exhibition I directed to examine the future of making things, was held at 21_21 DESIGN SIGHT in 2008. The preparation for this exhibition including research on the existing state of the environment and our resources formed the background for the current exhibition.
The production centers in Japan are well-known for their pursuit of making things using superb skills, wisdom and passion. However, they are now facing an unprecedented situation with talent being drained away and factories closing down. This is a critical stage where we must focus upon this grave situation and think seriously about the future of making things.
How do we resuscitate the art of making things? The spirit that inspires people in the same way as it did during the era when individuals and companies alike showed enthusiasm and found great joy and pride in the quality and beauty of their work? I want everybody to start to think about the meaning and significance of rebirth and re-creation: design activities that create "reality" and through this exhibition, begin to share some of Japan's thoughts on the topics with the rest of the world.
Issey Miyake
Outline
Organized by

21_21 DESIGN SIGHT, THE MIYAKE ISSEY FOUNDATION

In association with

Agency for Cultural Affairs, Ministry of Economy, Trade and Industry, Tokyo Metropolitan Government, Minato City

Special sponsor

Mitsui Fudosan Co., Ltd.

In cooperation with

ABI Co., Ltd., Canon Marketing Japan Inc., NANASAI CO., LTD., SEIREN Co., Ltd., SHARP CORPORATION, TAIYO PRINTING CO., LTD., TEIJIN FIBERS LIMITED, Toray Industries, INC., Yamagiwa corp.
Exhibition Director

Issey Miyake

Art Direction

Katsumi Asaba

Planning associate

Noriko Kawakami
Participating Creators

Issey Miyake, Katsumi Asaba, Takafumi Matsui, Pascal Roulin, Arik Levy, Hiroshi Iwasaki, Kaoru Suzuki, Jun Mitani, REBIRTH PROJECT, Mayu Hirano (Temjin), Naoki Yonemoto (Temjin), WOW, Reality Lab Project Team