contents
THE SPIRIT OF TOHOKU: "CLOTHING" BY ISSEY MIYAKE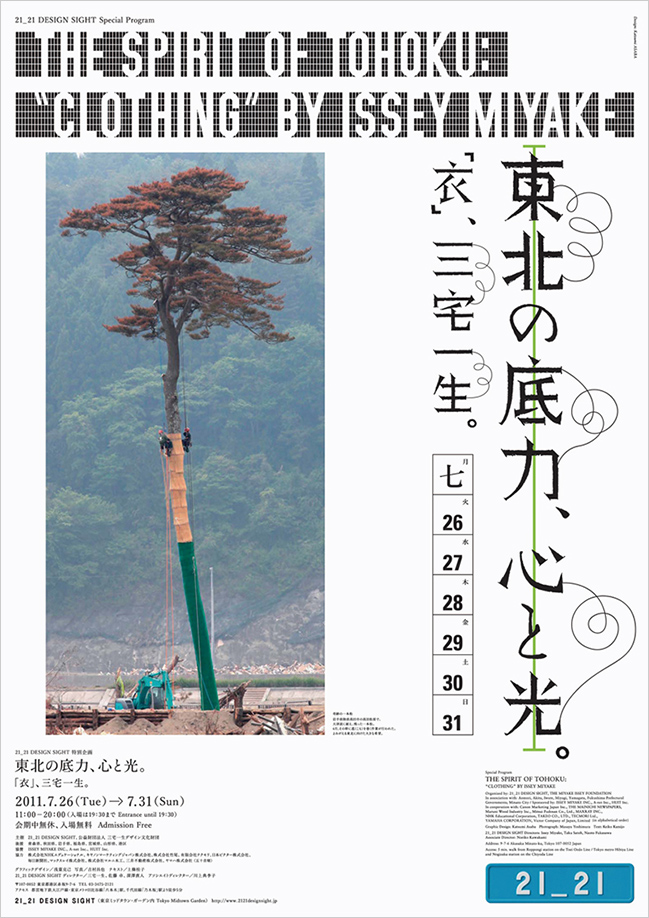 The people of Tohoku have always produced strongly appealing day-to-day products through their handcraft techniques, honed through their long history and experience of coexisting with the harsh natural environment. The exhibition focused on the spirit and unrelenting strength of Tohoku that Miyake witnessed, through the relationship nurtured in clothing design. This special exhibit featured the process and products of such craft as Kogin-sashi (quilting) and Shifu-ori (paper making) and the ISSEY MIYAKE collection that was inspired by such crafts.
Date: July 26 - 31, 2011
Director's Message
"To Tohoku, a Journey of Design"
A trip to Tohoku always promises new discoveries and wonder. This remains the case and has been so, since the 1970s when I began to make clothes in earnest. My staff and I have always visited craftsmen and factories that specialize in unique textiles or techniques, all over Japan to help solve difficult textile and design issues.
We continue to pursue relationships with energetic people in the field as we endeavor to create clothing that bring happiness to the wearer. The age-old traditions of craftsmanship and superior technology "indigenous" to the Tohoku region has always stood apart for a level of quality above all others not only in Japan, but the rest of the world.
Shiroishi-washi, shina-fu, kogin-sashi, saki-ori, homespun, kusaki-zome, knit technology...there are a myriad of materials and techniques that have sprung from the surroundings and climate of the Tohoku region. The "pleats processing" technique which has given birth to many of the ISSEY MIYAKE pleats pieces, and has contributed to the evolution of "132 5. ISSEY MIYAKE" manufacturing and design, has reached a level of refinement that sets it apart. In this program, we will explore the craftsmanship of Tohoku, focusing on its "clothing" and those who produce it, bringing us into the next century.
The one-word catalyst for 'The Spirit of Tohoku: "Clothing" by Issey Miyake,' is "tradition." This does not imply formalities or manners. The underlying meaning of "tradition" is to celebrate and continue a spirit of innovation and renewal, to research with perseverance; and to strive to embody all one creates with new light and value. My sole wish is that the hands and expertise of craftsmen and factories willing to take the challenge and innovation will be the inspiration behind the creation of world-class products that can play a useful role in modern lives.
The Great East Japan Earthquake of March 11th, and the ensuing disaster at the Fukushima Nuclear Power Plant have cast deep and unspeakable suffering and sorrow upon the people of the Tohoku region. Those at the production sites with whom we have worked closely over the years are facing huge challenges, as they help one another in this time of need. We at 21_21 DESIGN SIGHT in Roppongi, Tokyo, far removed from the devastated area, hope that through this program, we can convey our support of and to Tohoku. While this program was prepared on very short notice, we feel it is important. Our staff took the initiative to move the project forward, by visiting Tohoku many times. The passion and spirit of unity within our young team shone particularly bright as we worked to bring this to fruition.
Finally I would like to extend my deepest gratitude to all the people who have agreed to participate in the 'talks' and to those who have offered valuable materials for the program; also to Ms. Sayuri Yoshinaga, Mr. Susumu Yamagami, Mr. Daniel Coughlin and Mr. Ryoichi Wago. We look forward to their evening programs through which each will celebrate the strength and hope of the human spirit. I thank them and all those whom we were able to gather together in unity to realize "The Spirit of Tohoku: 'Clothing' by Issey Miyake."
I sincerely hope that you will enjoy and appreciate the inner strength of Tohoku's making things.
Summer 2011,
Issey Miyake
Outline
Organized by

21_21 DESIGN SIGHT, THE MIYAKE ISSEY FOUNDATION

In association with

Aomori, Akita, Iwate, Miyagi, Yamagata, Fukushima Prefectural Governments, Minato City

Sponsored by

ISSEY MIYAKE INC., A-net Inc., HUIT Inc.

In cooperation with

Canon Marketing Japan Inc., THE MAINICHI NEWSPAPERS, Maruni Wood Industry Inc., MAXRAY INC., Mitsui Fudosan Co., Ltd., NHK Educational Corporation, TAKEO CO., LTD., TECMORI Ltd., YAMAHA CORPORATION, Victor Company of Japan, Limited, Iwaki Rekishi Minzoku Shiryokan, The Japan Folk Crafts Museum

Special exhibits

The Japan Folk Crafts Museum

Special cooperation

ShouwaVillage
Exhibition Director

Issey Miyake

Graphic Design

Katsumi Asaba

Photography

Masaya Yoshimura

Planning Associate

Keiko Kamijo
Exhibitors

Genshi-fu Kodai-ori Sankokan "Dewa no oriza", ShouwaVillage, Shiroishi-Washi kobo, Hirosaki Kogin Kenkyujyo, Nanbusakiori-hozonkai, Nakamura Kobo, KENLAND, POLITEX INDUSTRY Co., Ltd., Tomoko Yamazaki, Akiko Ogane

Speakers and performers of the related programs

Yumiko Sawagashira (Nanbusakiori-hozonkai), Yoko Kobayashi-Baker (Towada Art Center), Yoko Yamamura (Genshi-fu Kodai-ori Sankokan "Dewa no oriza"), Susumu Yamagami, Hiroyuki Nakamura (Nakamura Kobo), Makiko Minagawa (ISSEY MIYAKE INC.), Sadaharu Narita (Hirosaki Kogin Kenkyujyo), Yoneo Kokubun (POLITEX INDUSTRY Co., Ltd.), Shuichi Onuma (KENLAND INC.), Sachiko Yamamoto (MIYAKE DESIGN STUDIO), Daniel Coughlin, Yoshie Sakata (All Japan Handmade Washi Association), Akiko Ogane, Eiko Inoue (SASAKI Publishing), Ryoichi Wago