contents
TEMA HIMA: the Art of Living in Tohoku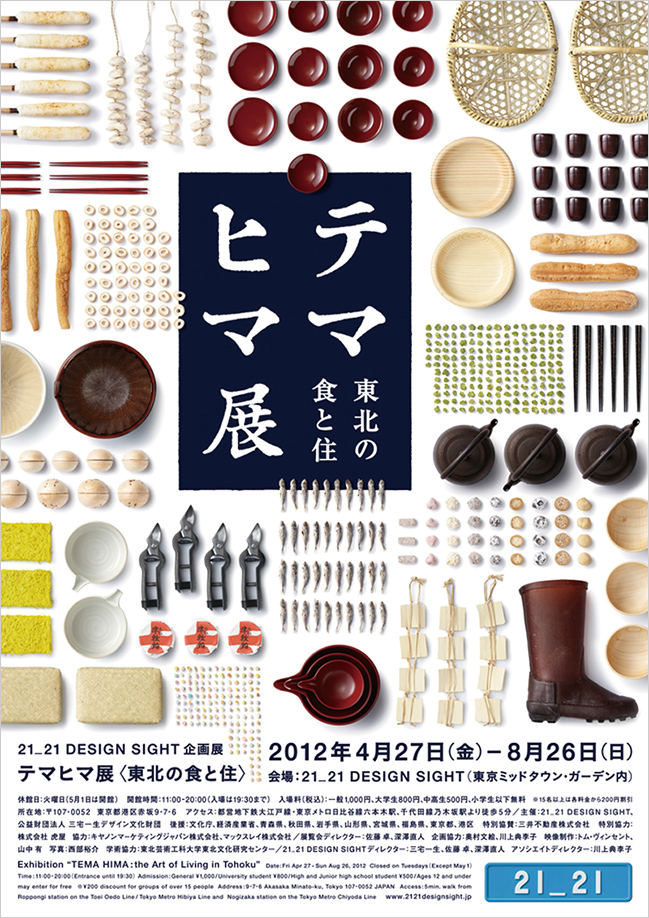 Following "THE SPIRIT OF TOHOKU: 'CLOTHING' BY ISSEY MIYAKE," the exhibition was held to focus on the aftermath of the Great East Japan Earthquake. Focus was put on food and living spaces, out of the three basic elements including clothing. A team of designers, a food director and a journalist went around to research on farmers, craftsmen and studios in the 6 prefectures of Tohoku. It introduced the process of making things with much care and time that the contemporary society, with its tendency to be pragmatic, tends to forget.
Date: April 27 - August 26, 2012
Message
It is easy to praise the wonderful handcrafts that survive to this day but the time has come to dig deeper into why they have survived in this land and search for how we can preserve this spirit for future generations. Why? The reason is that the Japanese spirit of making things through dedicated craftsmanship that has been passed down trough countless generations is swiftly disappearing as a consequence of modern rationalism, which places 'convenience' above all else, that has mixed with distorted forms of democracy and capitalism.
In today society, 'convenience' has become synonymous with being able to get things done without physical effort, and the pursuit of this manner of convenience has come to be accepted with little or no question. But what happens to people who neglect physical exertion? The growing litany of 'modern day diseases' is revealing more and more about the health problems associated with such sedentary lifestyles. This manner of 'convenience' is like a formidable virus: once it creeps into your self, it is hard to get rid of. This virus has eaten away at nearly every aspect of Japanese culture. Still, we hope to find a way to recapture that spirit of craftsmanship from 'TEMA HIMA (time and effort)' techniques that still remain and keep it alive well into the future, just like how even a tiny amount of the right malted rice can be used to recreate a once lost variety of fine miso paste. In this exhibition, I would like visitors to encounter even just small amount of these anonymous objects of Japan that survive in Tohoku as a stepping stone for revisiting traditional Japanese ways of making things."
Taku Satoh
"Thousands of dried white radish hanging like bamboo blinds. Wooden apple crates piled high as if touching the sky. Mounds of beans squashed one by one with a wooden hammer to be boiled soft. All of these are the textures and the beating rhythm of life in Tohoku, woven together by nature and the working hands of man. These people build with gratitude on the powers of nature and the seasons as one of their efficient tools and store them as daily blessings. This gentle yet endless cycle defines the pace of the Tohoku people.
Their life is shaped by 'TEMA HIMA (time and effort).' It is quiet yet strong and without doubt. This pace, honed through years of experience living in harmony with nature, synchronizes with their ecological ways without destruction. Making things through TEMA HIMA is a constant cycle of 'preparation.' There is never an end nor completion. However, the rhythm created by TEMA HIMA quietly soothes the pace of today's people who have started losing sight of the future; it points to that something special as if providing us with food to ease our pressured soul.
I always asked the same question to the people I visited in Tohoku. 'Why don't you try an easier and more efficient method?' And they would reply, '??? Because I don't want to work by force.' 'Force' means destruction of the cycle. Their diligent and repetitive way of working, which at a glance may seem simple is the source of this gentle and affluent cycle of life. I wonder if I can bring that air into 'TEMA HIMA: the Art of Living in Tohoku.' I wonder if I can bring forth this beauty of life, radiating with visions that will salvage the hurried and troubled ways of today. I have faith that today in Tohoku, there lies the definition of true affluence and the pith and marrow of genuine beauty that people today are starting to lose grasp of."
Naoto Fukasawa
"For this exhibition, I often traveled to various areas in the Tohoku region, mostly in the winter. On these journeys I could feel the beauty and the harshness of the rugged nature with my own skin. I was mostly impressed by the deep knowledge and wisdom that the people in Tohoku have developed and passed on in their families from generation to generation in order to survive under severe conditions. Nowadays many of these nameless sources of food have lost their place in the life of the people due to the prosperity of modern society. And the people, who produce them, are dwindling.
After the Great East Japan Earthquake last year, when all the shops and supermarkets with their products were destroyed, we all could see how the simple art of cooking with our own hands brought comfort and hope into the daily life of the survivors. The old wisdom and the traditional techniques of the people in Tohoku inspire us to rethink the future of our own eating habits and ways of dealing with food. Please enjoy the 'TEMA HIMA (time and effort)' of Tohoku, which we prepared for this exhibition especially from a design viewpoint. I hope we all can find there some clues, which may help us to design the future and give a fresh shape to our way of life."
Fumie Okumura
"Reverence for nature and preparation for winter. Production that starts by creating materials that reflects the climate. In last year's 'THE SPIRIT OF TOHOKU: "CLOTHING" BY ISSEY MIYAKE,' I myself learned of the wisdom of Japan's making things. This time, as I visited production sites with a focus on 'foods and living spaces,' I saw once again the many people who engage in their work honestly without pretense and the many ingenuities they created. We met many wonderful people in our travels this time as well.
The act of making things is the hallmark of human civilization. There are specialists who are intimately familiar with their materials. Their 'instinct' built upon experience leads to unique techniques. But at the same time, there in the current situation in which the shortage of successors could soon bring an end to some of the Great East Japan Earthquake still lies before us and I cannot help feeling the importance of shifting our focus once again to the spirit of 'food and living spaces of Tohoku' that have survived throughout history.
'Wisdom' that has accumulated by moving hands and body and repeating the same work over time. In an age when we must ask ourselves once again, 'What is honest design?,' 'How can we bring to life reliable making things?,' and furthermore, 'What is life?,' the 'foods and living spaces of Tohoku' shed light on the various issues lurking in modern society while helping us unearth many new discoveries. Through this exhibition, we hope to meet many more people and share dialogue about people's lifestyles in the future."
Noriko Kawakami
Outline
Organized by

21_21 DESIGN SIGHT, THE MIYAKE ISSEY FOUNDATION

In association with

Agency for Cultural Affairs, Ministry of Economy, Trade and Industry, Aomori, Akita, Iwate, Yamagata, Miyagi, Fukushima Prefectural Governments, Tokyo Metropolitan Government, Minato City

Special sponsor

Mitsui Fudosan Co., Ltd.

Special cooperation

Toraya Confectionery Co., Ltd., TOSEI CORPORATION

Supported by

Canon Marketing Japan Inc., MAXRAY INC.
Exhibition Directors

Taku Satoh, Naoto Fukasawa

Planning Associates

Fumie Okumura, Noriko Kawakami

Film Production

Tom Vincent, Yu Yamanaka

Photography

Yusuke Nishibe

Academic Cooperation

Seiji Kishimoto (TOHOKU UNIVERSITY OF ART & DESIGN, Tohoku Culture Research Center)

Exhibition Design

Naoto Fukasawa, Shinpei Arai (NAOTO FUKASAWA DESIGN)

Graphic Design

Taku Satoh, Ken Okamoto (Taku Satoh Design Office Inc.)

Research Support

Yui Ito (Foodelco)