contents
U-Tsu-Wa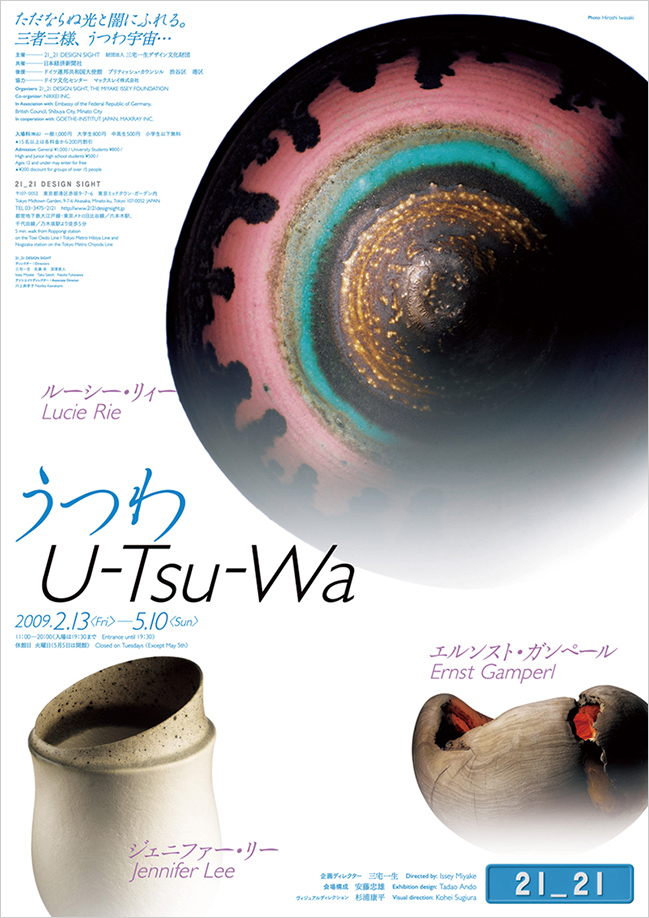 Lucy Rie had a great influence on her following peers in contemporary ceramics with her simple and bold methods. Jennifer Lee reflects her unique views on nature in her serene and abstract forms. Ernst Gamperl creates work to give a new life to fallen trees and driftwood. The exhibition featured vessels of these three well-known artists. Tadao Ando's spatial design, inspired by constellations, created a "universe" for their works.
Date: February 13 - May 10, 2009
Director's Message
The Shape of Emotions
I am often asked to speak of instances where I have been moved by beauty. Lucie Rie and her work represent some which most often come to mind.
Twenty-some years ago, I happened across a ceramics book in a London bookstore. As I leafed through the pages, I became so enthralled by what I saw that I decided I had to visit Lucie's workshop--which doubled as her home. Upon entering, meeting her, and seeing some of her work I sensed that "this is what it means to create." I remember feeling suddenly energized as well as inspired. When I returned to Tokyo, still tingling with the excitement from my visit, I organized an exhibition entitled, Lucie Rie (1989, in Tokyo and Osaka), which was received with great enthusiasm.
In this country, generally the case is that only well-known artists are paid attention and regard. I was surprised that Lucie's work, largely unknown at the time, was so well received. It goes without saying that the success owed a great deal to the hall designed by Tadao Ando (the Sogetsu Gallery), in which every piece was displayed, floating upon the surface of a gigantic rectangular pool; the power of Yusaku Kamekura's graphics, and photographer, Yasuhiro Ishimoto's impressive images.
The beauty, simplicity, nobility, and natural character of Lucie's work commanded center stage, even in such a beautiful setting. The appeal of her work lies in the warmth and nostalgia of the hand-work that floods our hearts. I have always been poor at speaking, and for me, the work eliminated the need for words and instead aroused a desire to feel. Each of Lucie's pieces gives us a sense for the origin of its creation; each exists in a world of its own, neither East nor West.
This exhibition U-Tsu-Wa focuses upon the work of Lucie Rie, from which a universe of futuristic creation arose, inspired by 20th Century tradition. In addition, the exhibition also presents the work of two more contemporary artists, Jennifer Lee, who has inherited Lucie's sensibility and who has given modern ceramics a new direction; and Ernst Gamperl, whose work explores the life within wood. A rich and diverse selection of each artist's work is be on display. Each was faced with the challenge of delving deeper into themselves via the creation of beautiful forms that employed natural materials such as earth, stone, and wood. It is our hope that the exhibition will inspire all who visit.
The hall has been designed by Tadao Ando; visual direction by Kohei Sugiura. Photographer Hiroshi Iwasaki has captured the cosmic beauty of the vessels on film; Akiko Moriyama has written a text for the exhibition book full of love and respect for the featured artists. We could not have hoped for a better team. I thank everyone who has helped to make this exhibition possible, from the bottom of my heart.
Issey Miyake
About the Exhibition design
Lucie Rie, Jennifer Lee, and Ernst Gamperl. The possibility of design as a lifestyle culture is profoundly reflected in the utsuwa ("vessels") created by these three artists.
Each and every one of Lucie Rie's pieces in particular are like a crystallization of her own life - 100 years in the past century that she survived and dedicated to ceramics. Her works are elegantly resolved forms that can be called, even, pinnacles of modernist figurative art. The materiality of her subtle and delicate pottery fills us simultaneously with beauty and warmth. Every time we behold her vessels and wonder where, exactly, that translucency in her sparkling white comes from, we feel a mysterious surge of emotion.
For this exhibition, I thought of ways to make the space work to communicate even more directly the fresh sensitivity of the three artists.
I created basins in the exhibition room, and installed pieces afloat on the water within. The exhibition is configured so that the viewer can stand face to face with beautiful vessels, mediated by the canvas of flowing water, on the brink between stasis and motion. Our hope is that the exhibition will make it possible for visitors to - through the works on display - feel the minds of their creators.
Tadao Ando
About the Visual direction
- In Japanese, the sound utsuwa ("vessel") can be written with characters that mean "vacant/ring" (空輪) or "space/ring" (宇宙輪).
-. This observation, whispered by Issey Miyake at our first meeting, provided a segue into the visual design of this exhibition.
Utsuwa are "vacant." They are empty items. By filling them with drink and food, the "vacant" vessels become "substantial." Drinking and eating the contents of these vessels, likewise, fills "vacant" human bodies with energy that makes them "substantial." Utsuwa, with their mellow shapes, artfully and effortlessly blend in the two extremes of vacancy and substance.
Three artists, each with a unique voice. Kneading clay, creating forms, carving fallen trees, sometimes inviting cracks. We lured the utsuwa universes of these three artists--each with a different charm --into the "vacant" expanses of paper. The vessels quietly dance along with the rhythm of your fingertips turning the pages.
A dynamic sense as if walking in space is achieved by viewing the widely varied expressions of these vessels, which combine a wealth of traditional techniques with a modern sensibility, from above and below. Hiroshi Iwasaki's richly expressive camera-eye and Akiko Moriyama's passionate passages have made possible the birth of a fascinatingly elegant universe of utsuwa.
Kohei Sugiura
Outline
Organized by

21_21 DESIGN SIGHT, THE MIYAKE ISSEY FOUNDATION

Co-organizer

NIKKEI INC.

Special sponsor

Mitsui Fudosan Co., Ltd.

In association with

Embassy of the Federal Republic of Germany, British Council, Shibuya City, Minato City

In cooperation with

GOETHE-INSTITUT JAPAN, MAXRAY INC.
Exhibition Director

Issey Miyake

Exhibition Design

Tadao Ando

Visual Direction

Kohei Sugiura