contents
Irving Penn and Issey Miyake: Visual Dialogue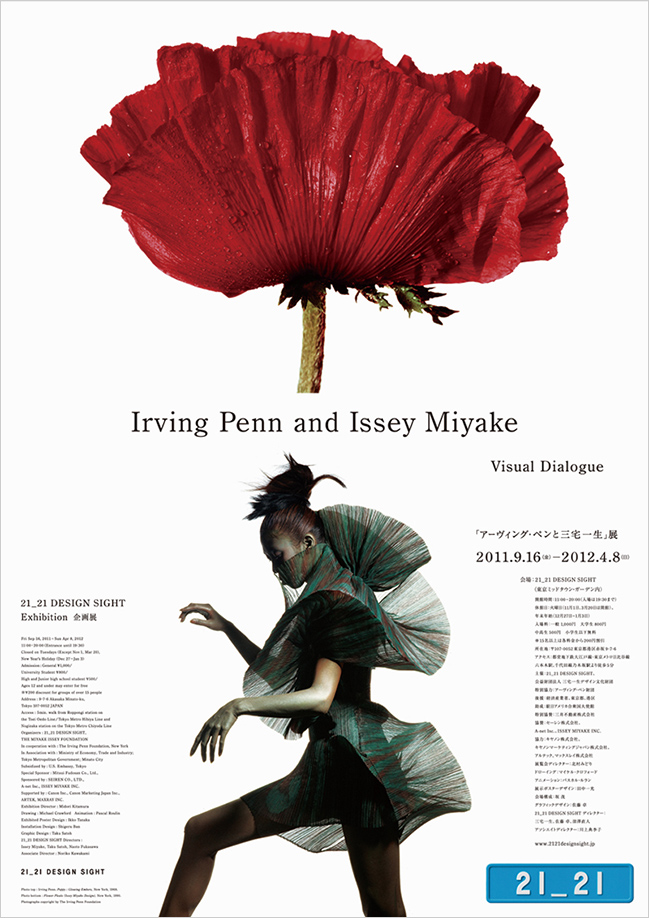 The exhibition shows the unbounded 13 year collaboration between Irving Penn, the legendary 20th century photographer, and Issey Miyake. Directed by Midori Kitamura, who presided over the photo sessions, it followed the "visual dialogue" between the two men through photographs projected onto large screens with high-definition projectors, animation and posters designed by Ikko Tanaka.
Date: September 16, 2011 - April 8, 2012
Director's Message
Twice a year, between 1987 and 1999, after we had returned to Tokyo from the collections in Paris, where we had presented the collections, Issey Miyake and I would select clothing to take to New York to be photographed by Mr. Penn. My trips to New York for Penn's sittings were joyous occasions and spanned a decade.
Miyake followed a self-imposed rule to never be present at a photo sitting. By staying away, he believed that Mr. Penn would have a greater sense of freedom in his photographs. Likewise, Irving Penn never once attended an ISSEY MIYAKE show. Mr. Penn was always anxious to see the clothing I brought from Tokyo, and he listened to my descriptions intently. It was from these items that he made his selections and came up with poses, facial expressions, face, hair, and all of the other necessary elements to create a single continuous "story" line for each session. During those 13 years there were no changes in the core members of the staff: Tyen did the face, and the late John Sahag, the hair. Sadie Hall, a Vogue stalwart, would iron every piece of clothing to perfection.
For me, the photo sittings were always filled with surprises. I was the one who was supposed to be the most familiar with the clothes, but during the course of the photo sittings, I watched them transform before Mr. Penn's lens. It was an entirely new world for me.
Miyake would then inevitably be surprised and moved by the photos I brought back to him from New York, and the perspectives they mirrored would provide great inspiration for the subsequent collection.
Miyake throws silent words to Mr. Penn and Mr. Penn embraces them. The two resonate in superb timing in what is to become communication. This miraculous collaboration will be introduced in the form of an exhibition. I hope that the splendor of this process and that of human creativity will provide inspiration among all those who visit.
Midori Kitamura
Outline
Organized by

21_21 DESIGN SIGHT, THE MIYAKE ISSEY FOUNDATION

In cooperation with

The Irving Penn Foundation

In association with

Ministry of Economy, Trade and Industry, Tokyo Metropolitan Government, Minato City

Grant from

U.S. Embassy, Tokyo

Special sponsor

Mitsui Fudosan Co., Ltd.

Sponsored by

SEIREN CO., LTD., A-net Inc., ISSEY MIYAKE INC.

Supported by

Canon Inc., Canon Markething Japan Inc., ARTEK, MAXRAY INC., OPTICAL SOLUTIONS CORPORATION
Exhibition Director

Midori Kitamura

Drawing

Michael Crawford

Animation

Pascal Roulin

Exhibited Poster Design

Ikko Tanaka

Installation Design

Shigeru Ban

Graphic Design

Taku Satoh

Coordination (U.S.)

Jun Kanai