contents
About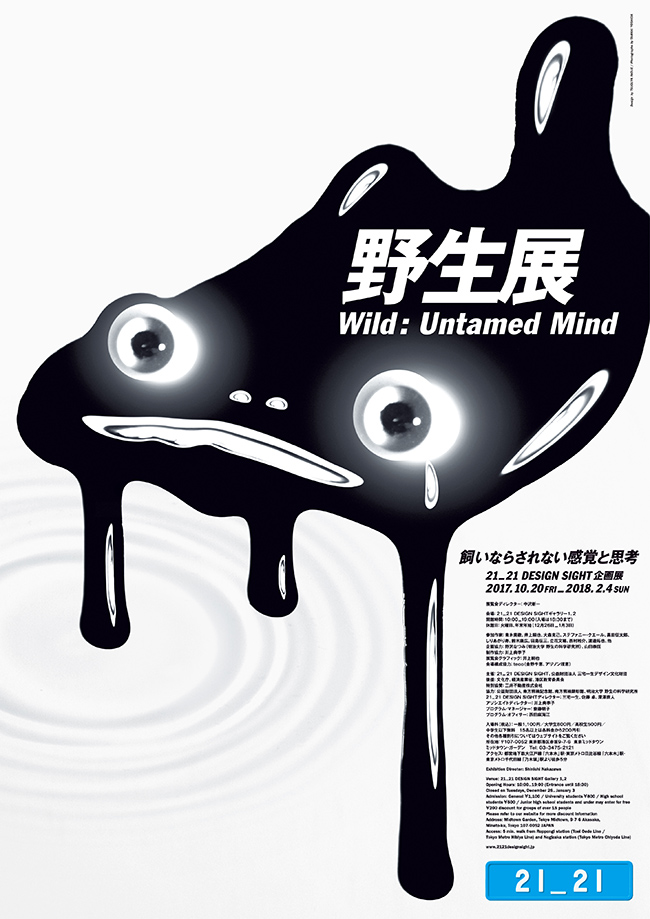 Exhibition Poster
21_21 DESIGN SIGHT will hold an exhibition entitled "Wild: Untamed Mind," from October 20, 2017. Shinichi Nakazawa, a philosopher and anthropologist will be the Exhibition Director. Nakazawa is known for fieldwork-based, interdisciplinary research into various places and times.
The base of our culture and life lies in the "untamed mind." This mind affects both human instinct and intellect, and it is the trigger and stimulant for creativity. A good example is found in Kumagusu Minakata, a famous Japanese naturalist in the Meiji Era. Kumagusu repeatedly generated discoveries and inventions, not coincidental, but somehow interconnected. He left his mark across fields as diverse as the study of mould, and of human mythology and folklore. The leaps in understanding typified by his work are seen repeatedly through many examples in the history of expression and creativity.
Even in the contemporary age, which tends towards logic and reason, the perceptions of the "untamed mind" are not quite lost. Nakazawa states that those parts of our mental space which have escaped taming are ever more important.
What does the "untamed mind" mean in today's context? How can people rediscover it within themselves? How can they understand and express its previously-undetected qualities? This exhibition focuses on the fascinating power of the instinctive, untamed mind of contemporary creators, unveiling how to detect the "untamed mind" through their works and archives.
Date

October 20 (Fri), 2017 - February 4 (Sun), 2018

Venue

21_21 DESIGN SIGHT Gallery 1, 2

Closed

Tuesdays, December 26 - January 3

Time

10:00 - 19:00 (Entrance until 18:30)

Admission

General ¥1,100 / University Student ¥800 / High School Student ¥500 / Junior High School Student and under may enter for free
¥100 discount with a ticket (or a stub) of "TADAO ANDO : ENDEAVORS" at the National Art Center, Tokyo. (September 27 - December 18, 2017) (Only one person. Unavailable other discount at the same time)
Click here for more discount information.
Organized by

21_21 DESIGN SIGHT, THE MIYAKE ISSEY FOUNDATION

In association with

Agency for Cultural Affairs; Ministry of Economy, Trade and Industry; MINATO CITY BOARD OF EDUCATION

Special Sponsor

Mitsui Fudosan Co., Ltd.

Supported by

Minakata Kumagusu Museum Foundation; Minakata Kumagusu Archives; Institut pour la Science Sauvage, Meiji University
Exhibition Director

Shinichi Nakazawa

Planning Associate

Natsumi Nozawa (Institut pour la Science Sauvage, Meiji University), Yoshinao Yamada

Production Support

Noriko Kawakami

Exhibition Graphic Design

Tsuguya Inoue

Space Design Support

teco (Chie Konno, Rie Allison)
Participating Creators

Mika Aoki, Tsuguya Inoue, aircord, Katsumi Omori, Ernst Gamperl, Stephanie Quayle, Seitaro Kuroda, Kotobuki Shiriagari, Yasuhiro Suzuki, Seizo Tashima, Fumio Tachibana, Takayuki Toyama, Yusuke Nishimura, Takuya Watanabe