contents
About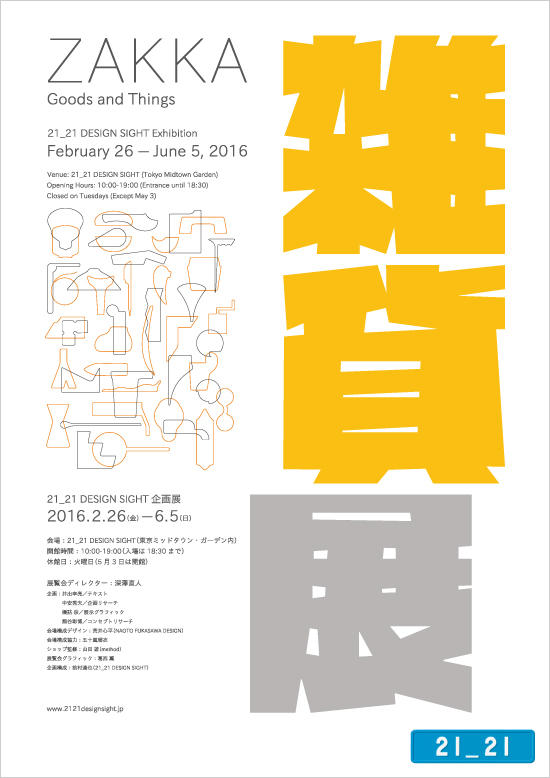 Exhibition Main Visual
21_21 DESIGN SIGHT holds "ZAKKA -Goods and Things-" Exhibition beginning February 26, 2016.
There are a great many things in our everyday lives that fall under the term zakka, which is generally rendered in English as "sundries" or "miscellaneous goods." While all these zakka are quite familiar to Japanese and readily available, the definition is elusive: it is hard to put your finger on what makes something zakka.
To begin with, the descriptive zatsu 雑, which is the first part of the compound zakka, means "things that cannot be categorized" as well as "things that are mixed together with great variety." Things considered zakka and the origins of this ambiguous category are parallel to and symbolic of the history of evolving Japanese lifestyles: at every turning point in the history of their country the people of Japan have flexibly integrated diverse styles of life and new customs introduced from the outside, and in adapting to those changes have incorporated an enormous variety of new things.
Around half a century ago, up to about the time when Japan was enjoying a long period of rapid economic growth, zakka generally referred to things like kettles, brooms, buckets, and other utensils necessary household items. Now, however, on the shelves of modern zakkaya, or "miscellaneous goods stores," shoppers can find drinking glasses, knives, dishes, brushes, stools, and sometimes even food and cosmetics. The enormous variety of things available at zakkaya now far exceeds what the category originally implied, and has come to include things that consumers cannot imagine when they might use--and even things that serve no purpose whatsoever. In this age of the internet, people can freely obtain the things that suit their tastes and sensibilities whenever and wherever they want online. As this trend grows and even accelerates, the scope covered by the concept of zakka will likewise grow.
Given these trends, if we were to settle on a rough, flexible definition of zakka, it would probably be something like "things that accompany our everyday lifestyle spaces and provide a subtle element of decoration." Through acts and experiences of searching for, selecting, buying, using, decorating, mixing and matching zakka, we rediscover the inherent allure of these miscellaneous things, and they in turn bring joy to our lives. Zakka have now become essential components of modern living spaces.
This exhibition takes a broad look at the sensibilities behind zakka and the environments they occupy, viewing them as constituting a unique culture of their own, and drawing attention to the appeal of their design and appearance.
Date

February 26 - June 5, 2016

Closed

Tuesdays (Except March 15, May 3)

Time

10:00 - 19:00 (Entrance until 18:30)
*Special opening hours for April 28 (Thu.) 10:00-22:00 (Entrance until 21:30)

Admission

General ¥1,100 / University Student ¥800 / High School Student ¥500 / Junior High School Student and under may enter for free
Click here for more discount information
Organized by

21_21 DESIGN SIGHT, THE MIYAKE ISSEY FOUNDATION

In association with

Agency for Cultural Affairs; Ministry of Economy, Trade and Industry; MINATO CITY BOARD OF EDUCATION

Subsidized by

The Embassy of the Kingdom of the Netherlands

Special Sponsor

Mitsui Fudosan Co., Ltd.

Supported by

Ryohin Keikaku Co., Ltd.
Exhibition Director

Naoto Fukasawa

Planning

Kosuke Ide / Text Writing
Akihiro Kumagaya / Concept Research
Hideo Nakayasu / Exhibition Research
So Hashizume / Exhibition Infographics Design

Space Design

Shinpei Arai (NAOTO FUKASAWA DESIGN)

Space Design Support

Lui Igarashi

Shop Supervision

Yu Yamada (method)

Exhibition Graphic Design

Kaoru Kasai

Exhibition Organization

Tatsuya Maemura (21_21 DESIGN SIGHT)
Participating Creators

Shinya Aota, Hidenori Ikeda / Saiko Ito (Lifestyle Adventurer), WE MAKE CARPETS, Mayumi Kawahara, Haruka Kunimatsu, Junya Kojima (Superposition Inc.), Rui Shimamoto / Woomin Hyun(CGM), Hisakazu Shimizu (S&O DESIGN), The Simple Society & RONDADE, Syunichi Suge, D&DEPARTMENT, Norihiko Terayama (studio note), Teppei Nomoto, Shunya Hagiwara, Shigeki Fujishiro, Shinobu Machida, Matsunoya, Ryuto Miyake, Philippe Weisbecker

Exhibitors

Kyoko Ide (YAECA), Miyoko Okao, Kazuto Kobayashi (Roundabout, OUTBOUND), Mana and Takashi Kobayashi (ima design office), Yoshiko Takahashi (S/S/A/W), Naomi Hirabayashi, Lucas B.B. (PAPERSKY), PUEBCO INC., Kyoko and Masato Hori (CINQ, SAML.WALTZ), Tomi Matsuba (Gungendo), Takayuki Minami (alpha.co.ltd), Yoshiyuki Morioka (Morioka Shoten)