contents
About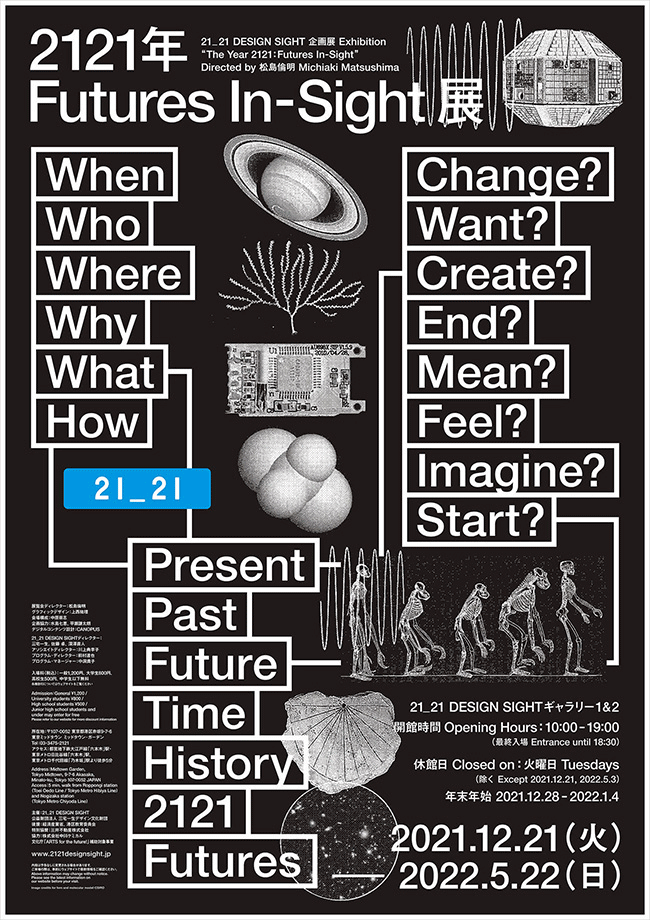 21_21 DESIGN SIGHT holds the exhibition "The Year 2121: Futures In-Sight" from 21 December, 2021. The exhibition director is Michiaki Matsushima, an editor who has published numerous books and magazines, all revealing his interest in issues relating to the future. His perspectives consider how technologies bring change to our cultures and styles of living.
The term "20/20 vision" is used in English to denote perfect sight. The name, 21_21 DESIGN SIGHT refers to our wish to provide a place where people can look far into "the future". One hundred years from the opening of this exhibition will fall in the year 2121. Our concept is to ponder how the world will look in a year which is coincidentally also the name of this institute.
Since ancient times, humankind has made predictions and prophecies about the future, whether tomorrow's weather, the next year's harvest or the future prosperity of the nation. We have recently gained more confidence in the process, thanks to the detailed and elaborate prognoses now available via advancing technology of analysis and measurement of information. Yet, in every case, from the very beginning of time, has "the future" even been more than just an extension of the past?
The experience of global pandemic has brought drastic and widespread changes to our life-style, communication methods and sense of community, as well as to people-values and general ways of thinking. It has brought home to us how unpredictable "the future" really is.
This exhibition employs a tool called "Future Compass" to trigger ideas about the future. We use it to visualize perspectives on a future which is already present today, and which can be uncovered through our contemporary behavior and creativity. We have engaged a range of participants, from designers, artists and thinkers, to engineers and researchers, who provide their own perspectives on the future. These ideas have been generated from the act of pondering timelines, whether familiar or yet unknown. The participants' ideas constitute the exhibition content, which manifests itself as "the Future in Plural Form," like a flourishing plant.
With its multiple ideas of what lies ahead, this Exhibition offers space in which to think about "the act of considering the future." We provide the generations alive today, and those yet to come, with opportunities to nurture rich insights into how we might create a tomorrow through the medium of design.
Date

December 21 (Tue), 2021 - May 22 (Sun), 2022
* Exhibition period is extended.
* Original Period: December 21 (Tue), 2021 - May 8 (Sun), 2022

Venue

21_21 DESIGN SIGHT Gallery 1 & 2

Closed

Tuesdays (Except December 21, May 3), December 28 - January 4

Time

11:00 - 19:00 (Entrance until 18:30)


* Opening hours have been changed from March 23, 2022.

Admission

General ¥1,200 / University Students ¥800 / High School Students ¥500 / Junior High School Students and under may enter for free
Click here for discount information
Organized by

21_21 DESIGN SIGHT, THE MIYAKE ISSEY FOUNDATION

In Association with

Ministry of Economy, Trade and Industry; MINATO CITY BOARD OF EDUCATION

Special Sponsor

Mitsui Fudosan Co., Ltd.

Supported by

Nakagawa Chemical Inc.
Exhibition Director

Michiaki Matsushima

Graphic Design

Yuri Uenishi

Space Design

Takashi Nakahara

Planning Associate

Nanae Mizushima, Kentaro Hirase

Digital-Contents Design

CANOPUS
Participating Creators

Ryuta Aoki, Rumi Ando, e-lamp. (Ayumi Yamamoto), Takashi Ikegami, Yoshiki Ishikawa, Rin Ishikawa, Anju Ishiyama, Masahiko Inami, we+, Maholo Uchida, Yuki Uchida, evala, Arisa Ema, Naoko Okawachi, Masahiko Osawa, Momona Otsuka, Tomohiro Okazaki, Lena Okajima, Emiko Ogawa, Sayaka Ogawa, Laila Cassim, Arisa Kamada, Eugene Kangawa (EUGENE STUDIO), Minami Kitamura, Tomo Kihara, William Gibson, Nadya Kirillova, Claudia Cristovao, Qosmo × The Asahi Shimbun Company Media R&D Center, Hanna Saito, Taku Satoh, Ian Shimizu, Synflux, Keijiro Suga, Ayako Suwa, Habitat Building History, Abeer Seikaly, Kenji Sekine, Kate Darling, Shoko Takahashi, Emi Tamaki, Anthony Dunne, Tokyo University of the Arts Sputniko! Lab (M2: Emi Iwado), Elena Tutatchikova, Hiroshi Toya, Ai Nakajima, Sachiko Nakajima, Rikako Nagashima, Yuko Nagayama, Fuminori Nousaku, NOMA, PARTY, Akihiro Hatanaka, HUMAN AWESOME ERROR, Tamae Hirokawa, Naoto Fukasawa, Masatoshi Funabashi, Placy, Masataka Hosoo, Mariko McTier, Shoukei Matsumoto, Taichi Manabe, Daijiro Mizuno, Rikimaru Mizoguchi, Takumi Miyashita, mui Lab, Yusuke Murakami, Masao Morita, Ryo Yamazaki, Aza Raskin, Licaxxx, Kotaro Watanabe
21_21 DESIGN SIGHT Directors

Issey Miyake, Taku Satoh, Naoto Fukasawa

Associate Director

Noriko Kawakami

Program Director

Tatsuya Maemura

Program Manager

Takako Nakahora