contents
About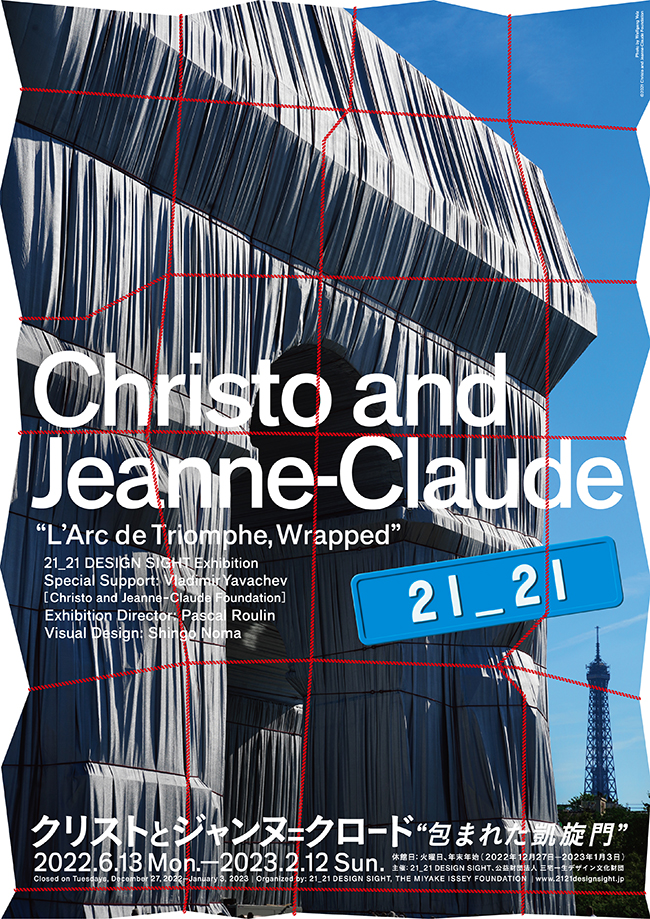 There were cries of delight in September 2021 when, for 16 days, the Arc de Triomphe in the Place Charles de Gaulle was completely wrapped with 25,000m2 of recyclable polypropylene fabric in silvery blue and with 3,000m of red rope. The art project, "L'Arc de Triomphe, Wrapped, Paris, 1961–2021," was finally realized. It was a dream conceived in Paris in 1961, where Christo and Jeanne-Claude first met and began their work as contemporary artists.
Between June 13, 2022 and February 12, 2023, 21_21 DESIGN SIGHT holds an exhibition "Christo and Jeanne-Claude 'L'Arc de Triomphe, Wrapped.'" Focusing on the creation and production process which led to the completion of "L'Arc de Triomphe, Wrapped," the exhibition itinerary retraces Christo and Jeanne-Claude's life through their major artistic projects, revealing the cornerstones of their unique artistic practice.
Christo and Jeanne-Claude were born on the same day, in the same year, June 13, 1935, he in Bulgaria, she in Morocco. Destiny brought them both to Paris, where they met in the fall of 1958 and began a creative collaboration that was to last for the rest of their lives. After moving to New York in 1964, they realized together numerous large-scale art projects worldwide. After Jeanne-Claude's death in 2009, Christo continued to work under both their names, bringing to fruition some of the projects that he and Jeanne-Claude had envisioned together. "L'Arc de Triomphe, Wrapped" was one of them. Due to open in 2020 it was postponed by a year as a result of the pandemic. Christo passed away in May 2020 without witnessing the completion of their project. However, thanks to the commitment of his team, "L'Arc de Triomphe, Wrapped" was finally realized in September 2021, sixty years after it was first conceived.
The exhibition is organized in collaboration with the Christo and Jeanne-Claude Foundation, led by Vladimir Yavachev. Using the Foundation's rich documentary and archive material, film director Pascal Roulin cinematically recreates "L'Arc de Triomphe, Wrapped," giving visitors an entirely new and innovative experience.
Christo and Jeanne-Claude had collaborators, who rallied behind their vision for the projects that no one had seen before. With this team, they moved forward resolutely surmounting many difficulties and surmounting along the way to completing the long-term project. Their positive thinking propelled them toward the realization of their dreams, and should encourage all of us anytime we find ourselves faced with challenging circumstances.
Date

June 13 (Mon), 2022 - February 12 (Sun), 2023

Venue

21_21 DESIGN SIGHT

Closed

Tuesdays, December 27 - January 3

Time

10:00 - 19:00 (Entrance until 18:30)


* This exhibition includes many video works. It will take approximately two hours to see all of them. Please keep enough time for the visit.

Admission

General ¥1,200 / University Students ¥800 / High School Students ¥500 / Junior High School Students and under may enter for free
Click here for discount information


* Valid Student ID must be provided upon entry.




* Admission to Gallery 3 is free.


* Online tickets can be purchased on the online ticket system called Art Sticker. The Exhibition passes are available only on Art Sticker and can be used unlimited times during the exhibition.
Organized by

21_21 DESIGN SIGHT, THE MIYAKE ISSEY FOUNDATION

In Association with

Agency for Cultural Affairs, MINATO CITY BOARD OF EDUCATION,
Embassy of France / Institut franҫais du Japon

Special Sponsor

Mitsui Fudosan Co., Ltd.

Sponsor

MIYAKE DESIGN STUDIO, ISSEY MIYAKE INC.

Special Support

Christo and Jeanne-Claude Foundation, Masahiko Yanagi
Exhibition Director

Pascal Roulin

Graphic Design

Shingo Noma

Space Design

Takashi Nakahara

Technical Direction

Yutaka Endo (LUFTZUG)
21_21 DESIGN SIGHT Directors

Issey Miyake, Taku Satoh, Naoto Fukasawa

Associate Director

Noriko Kawakami

Program Manager

Takako Nakahora

Program Officer

Mamie Nishida