contents
About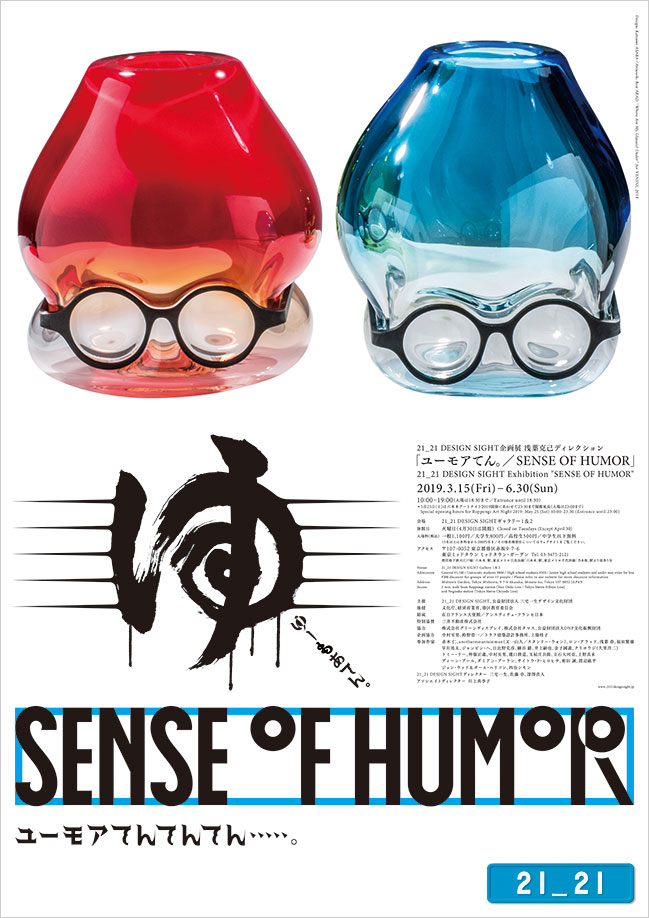 From March 15, 2019, 21_21 DESIGN SIGHT holds an exhibition entitled "SENSE OF HUMOR". Katsumi Asaba, an art director who continues to lead the times, serves as exhibition director.
To Asaba, who has encountered many people and things in his journeys around the world, humor is one of the most important senses in communication.
Asaba has spent years tickling the minds of people in his work as a graphic designer, and in directing this exhibition, he has gathered documents and found objects that have inspired him, along with the works of designers and artists who share his sense of humor and put them under a single roof.
From the valuable things, to that whose value has yet to be found, from the manmade to that which nature gave birth to, this exhibition aims to show that we can rediscover the humor that surrounds us in our day-to-day lives, by looking at shapes and expressions of humor from across ages and borders. The sense of humor could be called part of the essence of communication that is vital for design and creativity.
Date

March 15 (Fri) - June 30 (Sun), 2019

Venue

21_21 DESIGN SIGHT Gallery 1 & 2

Closed

Tuesdays (Except April 30)

Time

10:00 - 19:00 (Entrance until 18:30)


*Special opening hours for Roppongi Art Night: May 25 (Sat) 10:00 - 23:30 (Entrance until 23:00)

Admission

General ¥1,100 / University Students ¥800 / High School Students ¥500 / Junior High School Students and under may enter for free
Click here for more discount information
Organized by

21_21 DESIGN SIGHT, THE MIYAKE ISSEY FOUNDATION

In association with

Agency for Cultural Affairs; Ministry of Economy, Trade and Industry; MINATO CITY BOARD OF EDUCATION

Subsidized by

Embassy of France / Institut français du Japon

Special sponsor

Mitsui Fudosan Co., Ltd.

Supported by

GREEN DISPLAY Co., Ltd., Tamasu Co., Ltd., DNP Foundation for Cultural Promotion
Exhibition Director, Graphic Design

Katsumi Asaba

Planning Associates

Norio Nakamura, Koichi Suzuno / TORAFU ARCHITECTS, Keiko Kamijo
Participating Creators

Zin Akaki, anothermountainman (Stanley Wong), Ron Arad, Haru Asaba, Xu Bing, Shigeo Fukuda, GOO CHOKI PAR, Yuta Hayakawa, Jianping He, Katsuhiko Hibino, Gan Hosoya, Tsuguya Inoue, Kuniyoshi Kaneko, Tenmei Kanoh, Buster Keaton, Yoji Kuri, Tommy Li, Masayoshi Nakajo, Norio Nakamura, Dean Poole, Damien Poulain, Shuzo Takiguchi, Shobei Tamaya, Tiger Tateishi, Mami Ueno, Tomi Ungerer, Makoto Wada, Kohei Watanabe, John Wood and Paul Harrison, Shuhei Yamamoto, Simon Yotsuya
21_21 DESIGN SIGHT Directors

Issey Miyake, Taku Satoh, Naoto Fukasawa

Associate Directors

Noriko Kawakami