contents
About
The exhibition period has been revised for the prevention of the further spreading of coronavirus disease (COVID-19).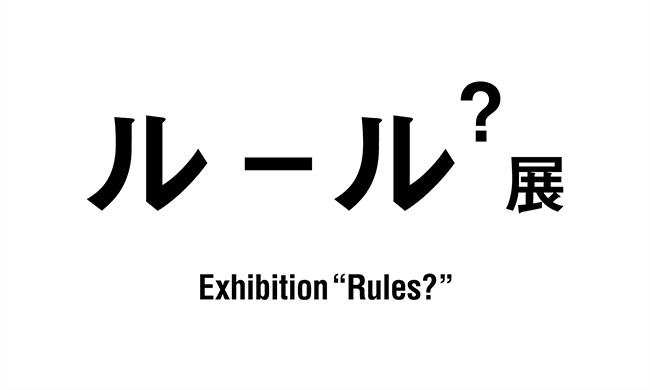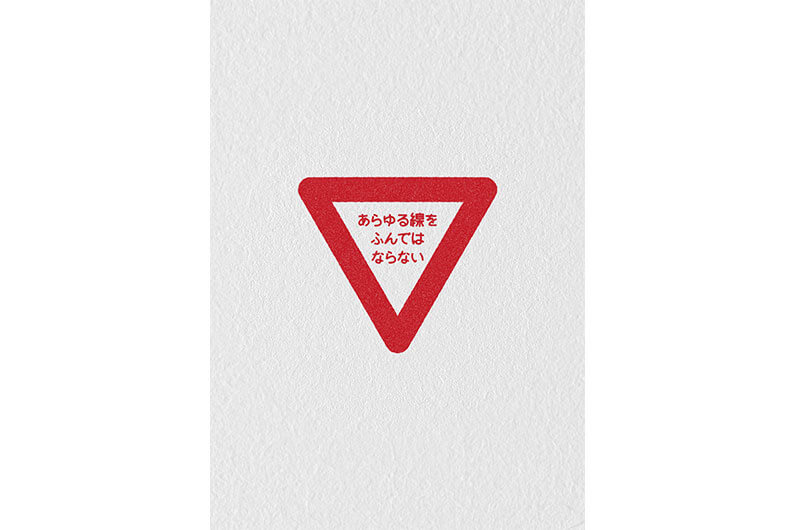 In this exhibition, different rules will be given to each visitor. It is up to visitors to follow or obey or break and create new rules.
Please experience the interest of behaviors created by rules at the exhibition venue.

Japanese texts written in the image:
(Left) The rule for viewing the exhibition
(Right) You should close your eyes for at least 5 seconds before watching when you come to the work for the first time.
Image: Jun Sasaki (Oink Games)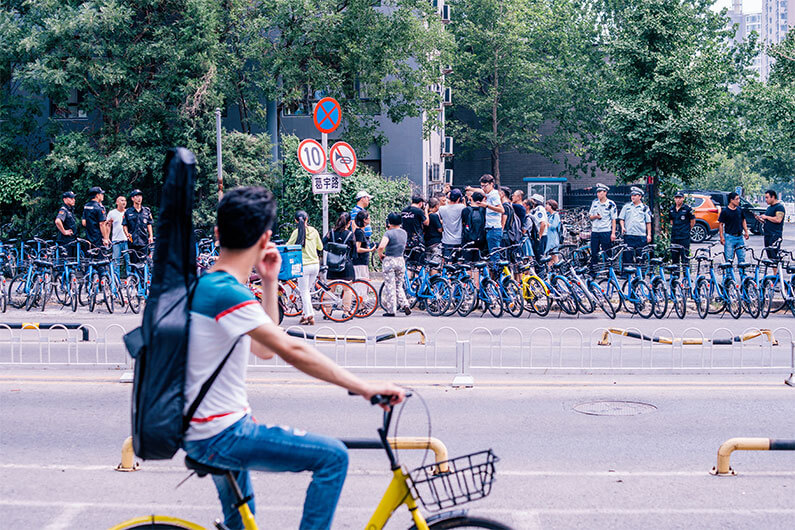 Mai Endo "I Am Not a Feminist!" (Photo: Takashi Fujikawa, Hibiki Miyazawa)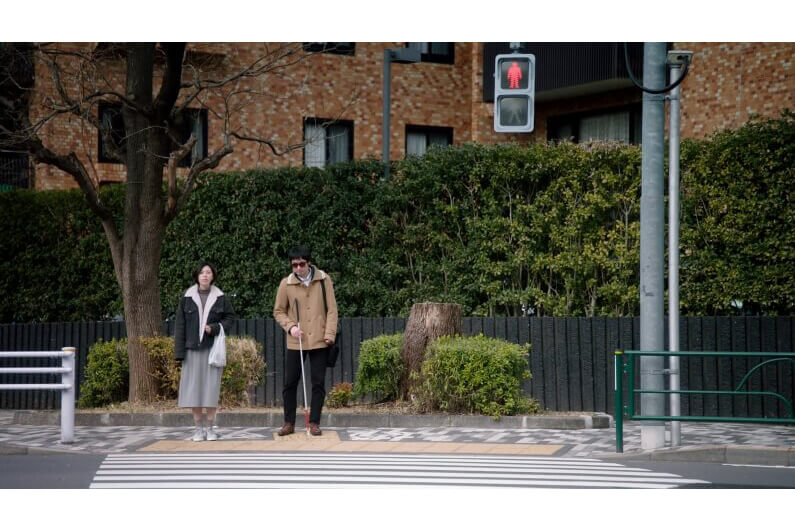 Code for Japan "Civic Tech Hackathon 'Social Hack Day'" (Reference image / Image: Saori Otake)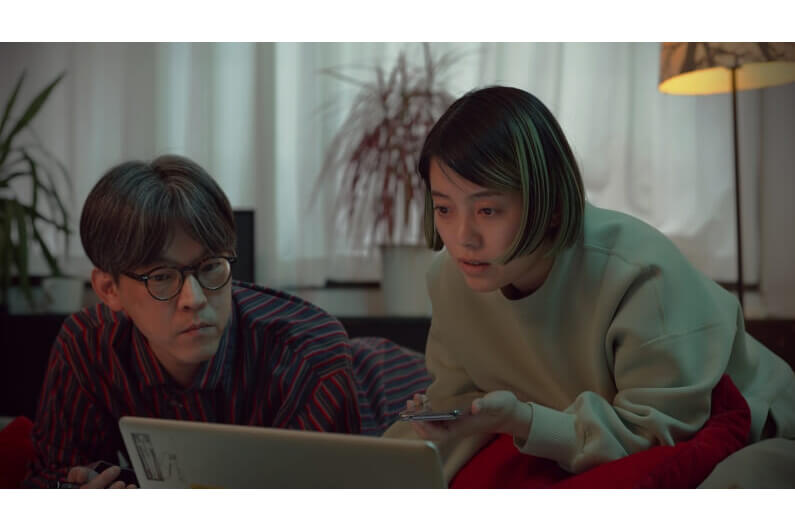 Specified Nonprofit Corporation Swing "Kyoto Human Power Bus Guide 'We will tell you how to get to the destination.'" (Photo: Mai Narita)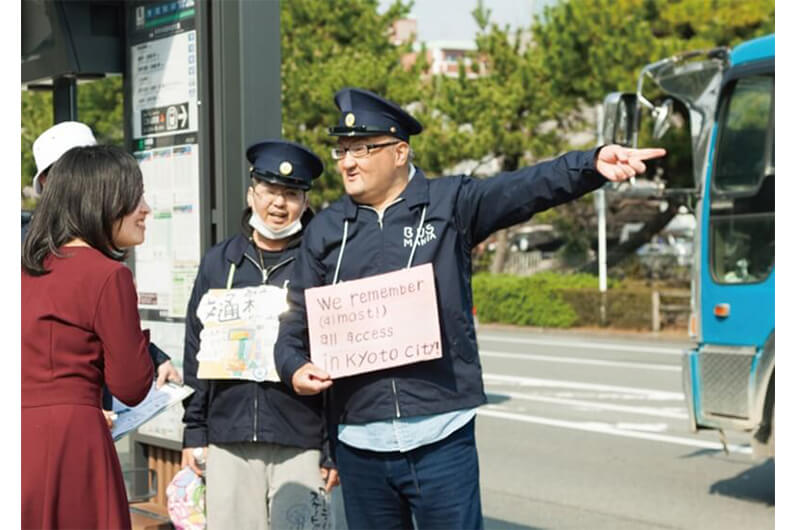 Yoshinori Niwa "Purchasing My Own Belongings Again in the Downtown" (Photo: Tetsu Nakahori)
We are pleased to announce that the exhibition "Rules?" will be opening at 21_21 DESIGN SIGHT on July 2, 2021. A team of three directors--legal expert Tasuku Mizuno, cognitive designer Syunichi Suge, and curator Miyuki Tanaka--will be combining their individual perspectives to create an exhibition that explores new ways of looking at, creating, and utilizing rules, and rethinks the future of exhibitions in general.
We are surrounded by rules in our daily lives: the constitution and other laws; protocols concerning public infrastructures and services that underpin our society; culturally derived codes and etiquette; and customs established unconsciously within families and by individuals. Our thoughts and behaviors are shaped by such a wide range of rules.
These rules are currently undergoing major shifts in response to the changes in our industry and social structures, and to advancements in technology. Rules are hard to pin down and can easily become mere formalities; as such, each and every one of us must be conscious of the rules around us, question their foundations, and think about them flexibly as issues in which we all have a stake. By engaging with diverse rules and constantly updating them, we can expand our society and its future possibilities toward more open and enriching directions.
The exhibition will explore possible ways to design the rules by which we will live together in tomorrow's society. This question will be addressed from a variety of angles: for example, how to update our laws and regulations in keeping with the times; incorporate minority opinions that are often disregarded by rule-makers; interpret data to gain a broader perspective on our society; allow citizens to collectively tackle social issues using technology, a practice known as "civic tech." The exhibition will also look at sorts of constraints that can catalyze creativity and inspire new possibilities, and at ways in which rules and customs can arise out of people's behaviors. It will be an exhibition that nurtures in each of us the ability to engage positively with rules --to be active participants in shaping the future.
Date

Starting from July 2 (Fri), 2021

Venue

21_21 DESIGN SIGHT Gallery 1 & 2

Closed

Tuesdays

Time

10:00 - 19:00 (Entrance until 18:30)

Admission

General ¥1,200 / University Student ¥800 / High School Student ¥500 / Junior High School Student and under may enter for free
Click here for discount information
Organized by

21_21 DESIGN SIGHT, THE MIYAKE ISSEY FOUNDATION
Exhibition Director Team

Tasuku Mizuno, Syunichi Suge, Miyuki Tanaka

Graphic Design

UMA/design farm

Space Design

dot architects

Online-Experience Design

Yukiya Okuda
Organized by

21_21 DESIGN SIGHT, THE MIYAKE ISSEY FOUNDATION
Participating Creators

Masaya Ishikawa + nomena + Hiroaki Nakaji, Mai Endo, Code for Japan, Jun Sasaki (Oink Games), Specified Nonprofit Corporation Swing, Yoshinori Niwa, Ritsuko Nomura and others
21_21 DESIGN SIGHT Directors

Issey Miyake, Taku Satoh, Naoto Fukasawa

Associate Director

Noriko Kawakami

Program Director

Tatsuya Maemura

Program Officer

Masumi Ishii