contents
About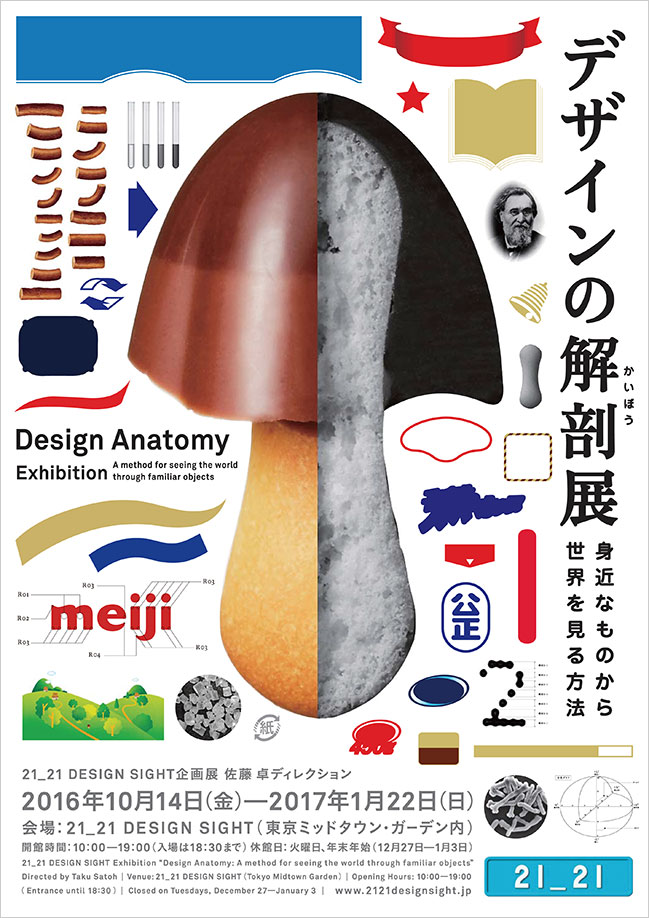 21_21 DESIGN SIGHT holds an exhibition "Design Anatomy: A method for seeing the world through familiar objects" from October 14, 2016.
In our everyday lives we are surrounded by countless products. These mass-produced objects blend in almost seamlessly with our lifestyles to the point that we rarely take a careful look at them -- they are just ordinary things. However, in fact, a great deal of thought has gone into them at every stage of their production, with ingenious solutions applied to nearly every element: the materials used to make them, their flavor, packaging, etc. "Design Anatomy" aims to examine those design elements in detail.
"Design Anatomy" is a project that graphic designer Taku Satoh has been working on since 2001. The project is an attempt to "dissect" familiar products from a design perspective and thoroughly examine how they came into being. In its original sense, "anatomy" is the study of the structure of living organisms, their parts, the relationships among the parts, and the order inherent within them, most commonly using dissection as a means of analyzing these elements in detail. Here, however, we instead dissect design, analyzing the graphic elements such as the layout and printing of the logos and packages of the products, and performing detailed analysis and observations of the products' inner workings.
To date "LOTTE XYLITOL Gum," "FUJI FILM Utsurun-desu," "TAKARA (current: TAKARA TOMY) Licca," "Meiji Dairies (current: Meiji) Oishii Gyunyu," and "ISSEY MIYAKE A-POC BAGUETTE," had been dissected, bringing to light aspects that are not generally introduced to the public. By exploring a broad range of elements and aspects of these products, from materials and production methods to product management and distribution, those design dissections tried to provide opportunities for people to notice that they thought they knew but did not. Moreover, students at the Department of Design Informatics at Musashino Art University, where Taku Satoh taught, has dissected and studied the anatomy of the design of many familiar items as part of its educational programs.
At this exhibition, in addition to showcasing the results of "dissections" carried out to date, we turn our attention anew to five products by Meiji Co., Ltd. Among the participating young designers and artists active in a wide range of fields whom we have invited, and we aim to make the exhibition one that can be enjoyed by everyone from children to adults alike. In addition to offering a glimpse into the world of products, this exhibition surely provides an opportunity to carefully examine the relationships among society, lifestyles, and design, and the roles and possibilities of design.
Date

October 14 (Fri), 2016 - January 22 (Sun), 2017

Closed

Tuesdays, December 27 - January 3

Time

10:00 - 19:00(Entrance until 18:30)
*Special opening hours for ROPPONGI ART NIGHT: October 21 (Fri), 22 (Sat) 10:00-22:00 (Entrance until 21:30)

Admission

General ¥1,100 / University Student ¥800 / High School Student ¥500 / Junior High School Student and under may enter for free
Click here for more discount information.
Organized by

21_21 DESIGN SIGHT, THE MIYAKE ISSEY FOUNDATION

In association with

Agency of Cultural Affairs; Ministry of Economy, Trade and Industry; MINATO CITY BOARD OF EDUCATION

Special Sponsor

Mitsui Fudosan Co., Ltd.

Special Support

Meiji Co., Ltd.

Supported by

Nikon Instech Co., Ltd., Musashino Art University, Taku Satoh Design Office
Exhibition Director

Taku Satoh

Planning and Production Associate

Tomohiro Okazaki

Space Design Support

Lui Igarashi

Lighting Design

Haruki Kaito

Technical Support

Toshiyuki Hashimoto(aircord)

Text

Kazuya Shimokawa, Ako Sugie, Hirokuni Kanki, Mirei Takahashi, Takahiro Tsuchida, Junya Hirokawa, Chiharu Watabe

Exhibition Graphic Design

Taku Satoh Design Office
Participating Creators

Haruka Aramaki, aircord, Yukiya Okuda, Tomoko Ozawa (mocomeshi), Akane Sakuma (Mojinazori-bu), Daihei Shibata (WOW), Rintaro Shimohama, Syunichi Suge, Keita Suzuki, Takuya Takahashi, Takeo Nakano, Kazuaki Harada, Takuya Hosogane