contents
About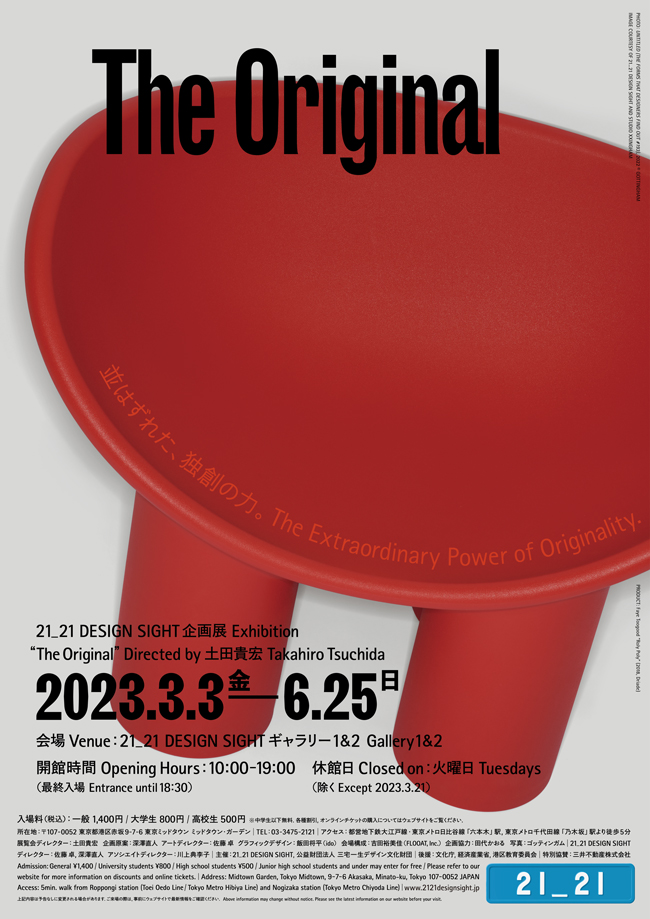 >> Download the exhibition flyer (PDF)
21_21 DESIGN SIGHT holds the exhibition "The Original" from 3 March, 2023. Takahiro Tsuchida, a design journalist, is Exhibition Director.
This Exhibition gathers designs that have exerted a deep influence on daily life. These we define as The Original. The Original, however, does not only signify the "beginning" of a history of making. Its role is also to stimulate and challenge later designers. The Original is endowed with a fascination to ensure its lasting influence, and its essence will remain long afterwards.
21_21 DESIGN SIGHT has organized previous exhibitions on the concept of "design making life richer and more enjoyable, with the power to expand possibilities of thought and action." Important designs influence each other, developing histories. Items assume different forms according to the needs of the time. Nowadays society and lifestyles change so fast that we risk forgetting the very essence of design work. We lack even the urge to seek it out, as all is drowned in the superfluity of information.
This Exhibition does not follow each fashion and trend. Instead, by reconsidering The Original, as a reference point and a clue to today's designs, we bring you timeless starting-points for design, and reveal links to the designers who created them.
Some 150 products designated as The Original are exhibited, selected by three forefront figures in today's design world, Takahiro Tsuchida as Exhibition Director, Naoto Fukasawa as Supervisor and Kaoru Tashiro as Planning Associate. The items range from furniture, tableware, and textiles to toys. Accompanying the objects they have chosen are images and texts, explicating the works, documenting the process of selection, and pointing out connections between the pieces on show. The exhibition philosophy is laid comprehensibly and enjoyably.
To investigate designs surrounding us closely is to realize how the finest sparks of creation come at the intersection of individual and social vision. This Exhibition will bring up attention to these works - The Original - in the hope of broadening thought and action, and assisting the birth of future design.
Title

Exhibition "The Original"

Date

March 3 (Fri) - June 25 (Sun), 2023

Venue

21_21 DESIGN SIGHT Gallery 1 & 2

Closed

Tuesdays (Except March 21)

Opening Hours

10:00 - 19:00 (Entrance until 18:30)


* Special opening hours for Roppongi Art Night: May 27 (Sat) 10:00 - 22:00 (Entrance until 21:30)* Please be noted that the "Swisspearl Loop Chair" on exhibit in the Sunken Court (outdoors) might not be experienced due to weather and floor conditions.

Admission

General ¥1,400 / University Students ¥800 / High School Students ¥500 / Junior High School Students and under may enter for free
Click here for discount information


* Please note that new admission charges apply from this exhibition onwards.


* Online Tickets are available via Art Sticker (external website)

Organized by

21_21 DESIGN SIGHT, THE MIYAKE ISSEY FOUNDATION

In Association with

Agency for Cultural Affairs; Ministry of Economy, Trade and Industry; MINATO CITY BOARD OF EDUCATION

Special Sponsor

Mitsui Fudosan Co., Ltd.
Exhibition Director

Takahiro Tsuchida

Supervisor

Naoto Fukasawa

Art Director

Taku Satoh

Graphic Design

Shohei Iida (ido)

Space Design

Yumika Yoshida (FLOOAT, Inc.)

Planning Associate

Kaoru Tashiro

Photography

Gottingham
21_21 DESIGN SIGHT Directors

Taku Satoh, Naoto Fukasawa

Associate Director

Noriko Kawakami

Program Manager

Takako Nakahora

Program Officer

Masumi Ishi, Maya Suzuki
Exhibit Cooperation

I Next Ge Co,.Ltd.; ACTUS CO.,LTD.; ATELIER NIKI TIKI Co.,LTD.; APEX CO., LTD.; Arper Japan K.K.; EMC Co.,Ltd.; Aesop Japan K.K.; INNOCENT inc.; INNOVASIA K.K.; inter office ltd.; INTERIORS inc.; Vitra Co., Ltd.; WHILL Inc.; WELCOME Co., Ltd.; Uchida Design Inc.; OBT CO., LTD; OMRON HEALTHCARE Co., Ltd.; OLIVARI B. S.p.A.; Carl Hansen & Søn Japan K.K; Kasumikobo CO., Ltd.; CASSINA IXC. Ltd.; Kimura Glass Co., Ltd.; Kvadrat A/S; Groupe SEB Japan Co., Ltd.; kuwano trading co., ltd.; KPM Berlin GmbH; CORNES &COMPANY LIMITED; COMPLEX UNIVERSAL FURNITURE SUPPLY INC,; SAKURA SEISAKUSHO INC.; SATO SHOJI CORPORATION; Dzek Limited; SIGMA CORPORATION; SHUKOH Co.,Ltd.; Georg Jensen Japan Ltd.; SUGATSUNE KOGYO CO.,LTD.; Studio NOI Co., Ltd.; SOLFORMECO.LTD; Dynavector Systems Ltd.; TEAM IWAKIRI PRODUCTS CO., LTD.; DKSH Market Expansion Services Japan K.K.; Tecnolumen GmbH & Co.KG; Doi & Co. Luminabella Division; DRIADE JAPAN CO., LTD; DREAMBED.CO.,LTD.; Knoll Japan Inc.; The Nordisk Cirkus Co.,LTD; Herman Miller Japan Ltd.; HOW INC.; Panasonic Corporation; VanMoof Japan K.K; Fiskars Japan Co., Ltd.; PLUS CORPORATION; FRITZ HANSEN A/S; progetto81 Co. Ltd.; FLOS JAPAN K.K.; Punkt. Tronics AG; Honda Motor Co., Ltd.; marna inc.; Maurizio Corraini srl; Magniberg; Magis Japan Co., Ltd; MARUNI WOOD INDUSTRY INC.; MIYAKE DESIGN STUDIO; ag möbelfabrik horgenglarus; Metropolitan Gallery Inc.; MOMOTA TOUEN Co. Ltd; YANAGI DESIGN INSTITUTE; YANAGI Shop; Yamakawa Rattan Japan Inc.; YAMAGIWA Corporation; USM U. Schaerer Sons K.K.; United Pacifics Co., Ltd.; UniFor Japan Co.,Ltd; Living Marketing Inc.; Lynn Inkoop Ltd.; Louis Poulsen Japan Ltd.; LOOK INCORPORATED; Royal Furniture Collection Co., Ltd.; Rosen and Co. Japan LLC; Rocinante Co., Ltd; YMK Nagaoka Co., Ltd.