contents
About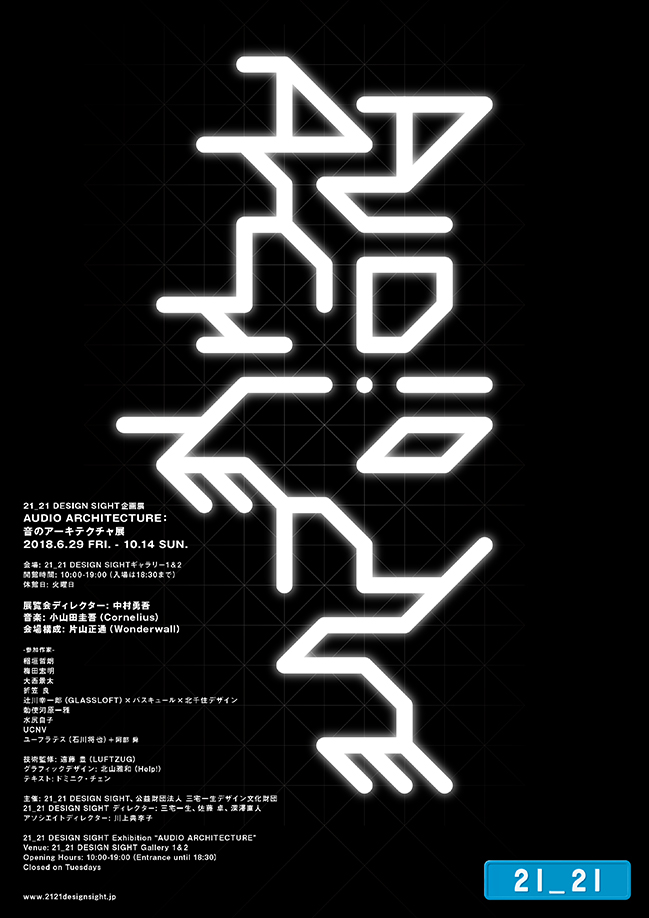 Mail visual (Design: Masakazu Kitayama)
21_21 DESIGN SIGHT holds "AUDIO ARCHITECTURE" Exhibition from June 29, 2018, welcoming Yugo Nakamura as its director, whose unique forms of expression are highly regarded in web design, interface design and film.
Within the music familiar to our everyday life, is a combination of elements; layers of tone, sonic range and rhythm form a densely designed structure - architecture. There are few opportunities, however, to be conscious of this structure in particular.
Musician Keigo Oyamada (Cornelius) has written a new music with a focus on its structure exclusively for this exhibition; it is interpreted from the varying perspectives of spirited creators into disparate video works. Participating in this exhibition are nine creators who challenge new modes of expression with original sensibilities, by traversing fields of film, animation, dance, graphic design, illustration, programming and media design. Exhibition graphic is designed by Masakazu Kitayama (Help!).
The exhibition tries to construct a type of "audio architecture" by repeating the music paired to various films over and over, in the space dynamically designed by Masamichi Katayama (Wonderwall). Please come and discover a fresh perspective on music in the venue integrating sound, video and space.
Date

June 29 (Fri) - October 14 (Sun), 2018

Venue

21_21 DESIGN SIGHT Gallery 1 & 2

Closed

Tuesdays

Time

10:00 - 19:00 (Entrance until 18:30)

Admission

General ¥1,100 / University Students ¥800 / High School Students ¥500 / Junior High School Students and under may enter for free
Click here for more discount information
Organized by

21_21 DESIGN SIGHT, THE MIYAKE ISSEY FOUNDATION

In association with

Agency for Cultural Affairs; Ministry of Economy, Trade and Industry; MINATO CITY BOARD OF EDUCATION

Special Sponsor

Mitsui Fudosan Co., Ltd.

Supported by

Canon Inc., Canon Marketing Japan Inc., YAMAHA MUSIC JAPAN CO., LTD.
Exhibition Director

Yugo Nakamura

Music

Keigo Oyamada (Cornelius)

Exhibition Space Design

Masamichi Katayama (Wonderwall)

Participating Creators

Tetsuro Inagaki, Hiroaki Umeda, Keita Onishi, Ryo Orikasa, Koichiro Tsujikawa (GLASSLOFT) x Bascule x Kitasenju Design, Kazumasa Teshigawara (Qubibi), Yoriko Mizushiri, UCNV, EUPHRATES (Masaya Ishikawa) + Shun Abe

Technical Direction

Yutaka Endo (LUFTZUG)

Graphic Design

Masakazu Kitayama (Help!)

Text

Dominique Chen
21_21 DESIGN SIGHT Directors

Issey Miyake, Taku Satoh, Naoto Fukasawa

Associate Director

Noriko Kawakami