contents
Director
Director's Message
Early last summer, as I was standing in a book store in Futako-Tamagawa Station reading the ladies' magazine GINZA, I happened upon an essay by Sean Ono Lennon about a new album just released by the Japanese artist Cornelius. In the essay, I encountered a phrase he used to describe the music of Cornelius, "He paints a kind of audio architecture." Audio architecture! That was exactly the expression I was looking for, and I began to think about a composition of exhibit based on these words; and it became "AUDIO ARCHITECTURE" Exhibition.
This exhibition is an experiment in constructing a space based on a piece of music. From film to interior, graphic and text, every single element of the space relates to the music. Each has its own identity, and all elements work in conjunction with the music, creating a continuous harmony. This was the kind of "audio architecture" that I wanted to try to create and experience.
Like expressions and designs in other areas, music also is an architecture carefully designed both in its entirety and in its details. However, music is not something that is seen with the eyes but heard with the ears. It is not something that continues to be; it is a phenomenon of the present moment that flows to the past. Through the specificity of this mode of perception - the instantaneous audio experience - we feel that music is something special and different, isolated from the visual-oriented spatial world.
As they say, "Writing about music is like dancing about architecture," music cannot be fully expressed through any other medium. However, it is precisely because of this impossibility that we are experimenting to see how close we can get, or if we can discover any mutual accord. This exhibition is an extension of the history of this wish.
For the specifics of the exhibit, I invited artists and designers who use unique methodologies for their expressions and design activities, enrich and re-interpret the protocol "audio architecture." At the time of writing of this text the whole picture is not yet complete, yet perhaps each participating creators will visualize their own distance and relationship with the music. Please come and experience this "audio architecture," consisting of unique elements working in continuous harmony.
Yugo Nakamura
Profile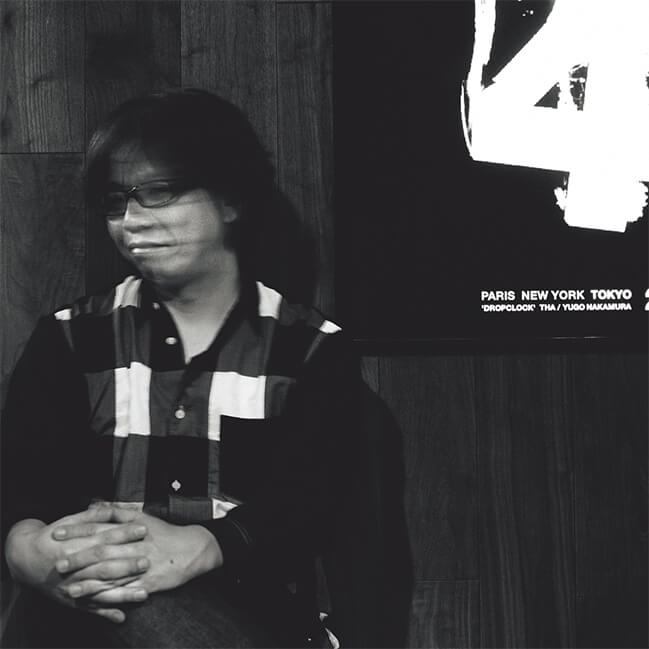 Yugo Nakamura
Web Designer / Interface Designer / Film Director
Born in 1970 in Nara Prefecture. Graduated from the University of Tokyo's School of Engineering with a Masters degree. Professor of Tama Art University. Started his career in web design and interface design since 1998. Since established his design studio 'tha ltd.' in 2004, he continues to work by crossing the fields of art-direction, design and programming for numerous websites and films. His work includes: a series of UNIQLO's web direction, user interface design for KDDI's smartphone 'INFOBAR,' and direction of an NHK educational program "Design Ah!." Awards include: Cannes International Advertising Awards Grand Prix, Tokyo Interactive Ad Award Grand Prix, TDC Grand Prix, the Mainichi Design Award, and The Minister of Education, Culture, Sports, Science and Technology's Art Encouragement Prize for New Artists.