contents
About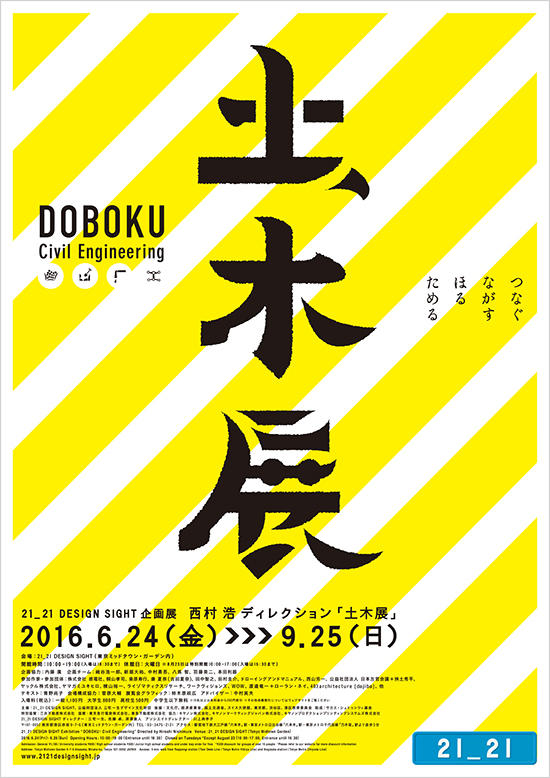 Doboku, in English civil engineering, is the foundation for designing an entire town to support comfortable, high-quality life. It comprises things indispensable to our daily lives, such as roads, railroads and other transportation networks; mobile phones, the Internet and other communications technologies; and waterworks, disaster countermeasures and other infrastructure. Doboku, a Japanese word for "civil engineering," is written with two Chinese characters, "do 土" (earth/soil) and "boku 木" (wood). It is our living environment itself, and, as the English term implies, it is also an engineering technology for people.
The foundation of our current daily lives has been formed with the accumulation of numerous efforts and innovations, from ancient traditional technologies to the development of modern-day research and technologies. Although our daily lives are closely connected to civil engineering, there are not too many opportunities to perceive it. Additionally, it is also an important aspect to build infrastructure while facing various environment.
The "DOBOKU: Civil Engineering" Exhibition aims to look at these things once again, rediscover and experience them, and create an opportunity to consider an even better future. Serving as the Exhibition Director, Hiroshi Nishimura is an expert in the fields of civil engineering and architecture who has designed station buildings and bridges, and created landscapes and towns all over Japan. For this exhibition, research has been conducted by the Exhibition Planning Team of civil engineering experts, as well as participating designers and artists who plan various exhibits that encourage the public to get to know civil engineering in greater depth.
Geography and natural environments vary from place to place; social infrastructures needed for people to carry out activities also differ from region to region. The "DOBOKU: Civil Engineering" Exhibition presents designs that support the foundation of our daily lives, and looks at designs which, while improving the living environment, harmonize with both nature and history.
Date

June 24 (Fri.) - September 25 (Sun.), 2016

Closed

Tuesdays (Except August 23)

Time

10:00-19:00 (Entrance until 18:30)
*Special opening hours for August 23 (Tue.) 10:00-17:00 (Entrance until 16:30)

Admission

General ¥1,100 / University Student ¥800 / High School Student ¥500 / Junior High School Student and under may enter for free
Click here for more discount information
Organized by

21_21 DESIGN SIGHT, THE MIYAKE ISSEY FOUNDATION

In association with

Agency for Cultural Affairs; Ministry of Economy, Trade and Industry; Ministry of Land, Infrastructure, Transport and Tourism; Embassy of Switzerland, Tokyo Metropolitan Government, Shibuya City, MINATO CITY BOARD OF EDUCATION

Subsidized by

Sakae Stünzi Foundation

Special Sponsor

Mitsui Fudosan Co., Ltd.

Sponsored by

TOKYU CORPORATION, Tokyu Land Corporation

Supported by

Canon Inc., Canon Marketing Japan Inc., Canon Production Printing Systems Inc.
Exhibition Director

Hiroshi Nishimura

Planning Associate

Hiroshi Naito

Exhibition Planning Team

Koichiro Sakitani, Daisuke Shimbori, Yugo Nakamura, Satoshi Hachima, Eiji Hato, Riki Honda

Text Writing

Naoko Aono

Space Design Support

Daisuke Sugawara

Lighting Design

Haruki Kaito

Exhibition Graphic Design

Masahiro Kakinokihara

Adviser

Hideo Nakamura
Participating Creators / Participating Institutions

EAU, Kandensha co., ltd + Shigeo Kikuchi, Masahiro Kakinokihara, Takashi Kiriyama, Toshiyuki Kuwabara, Kana Kou (Kana Yoshida), Groundscape design institute + Kenta Iwamoto, Studio SR, Tomoyuki Tanaka, Keisuke Tamura + Showa Women's University Department of Environmental Science and Design Tamura Laboratory, DRAWING AND MANUAL, Hoichi Nishiyama, The Sakan Plastering Council of Japan, Satoshi Hachima, yakul, Yukihiro Yamagami, Yuichi Yokoyama, Rhizomatiks Research, WORKVISIONS, WOW, Ryuichi Watanabe + Laurent Ney, 403architecture [dajiba]