contents
Exhibition Contents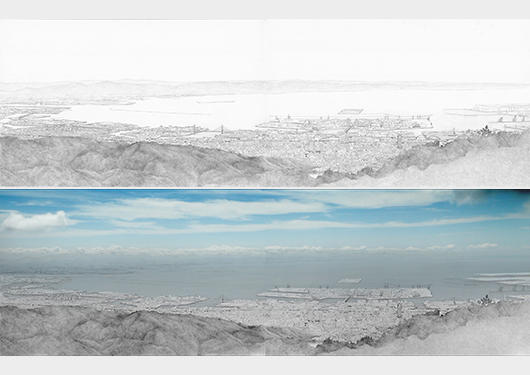 "View of ROKKO" Yukihiro Yamagami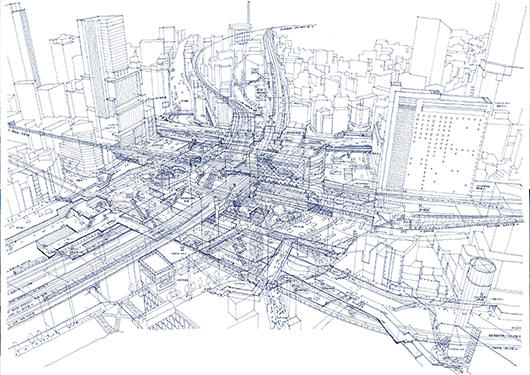 "Dismantling of Shibuya Station" Tomoyuki Tanaka
Doboku

Orchestra" DRAWING AND MANUAL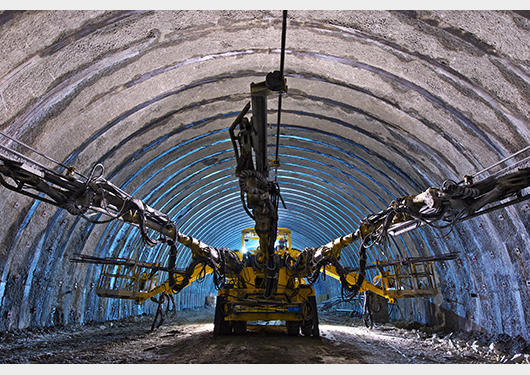 "Ryozen Tunnel" (Date City, Fukushima) Hoichi Nishiyama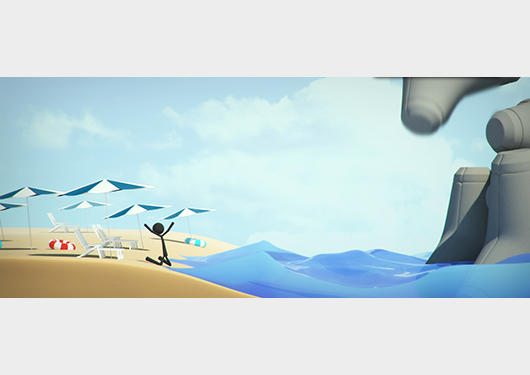 "

Doboku

Actions 'Protect: I Exist for You.'" WOW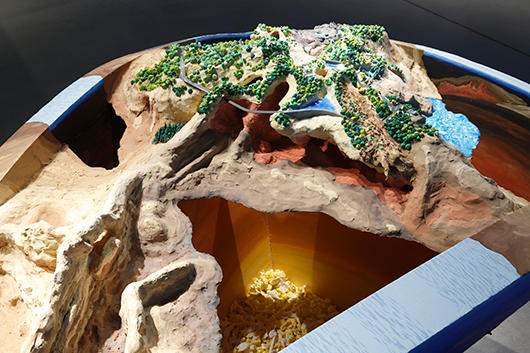 "

Doboku

Actions 'Dig: Geological Mountain'" Kana Kou (Kana Yoshida)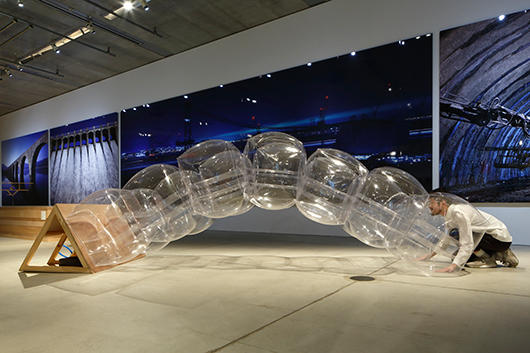 "

Doboku

Actions 'Pile: Light Arch Volume'" 403architecture [dajiba]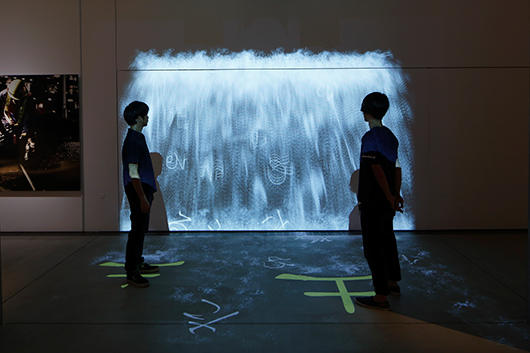 "

Doboku

Actions 'Retain'" yakul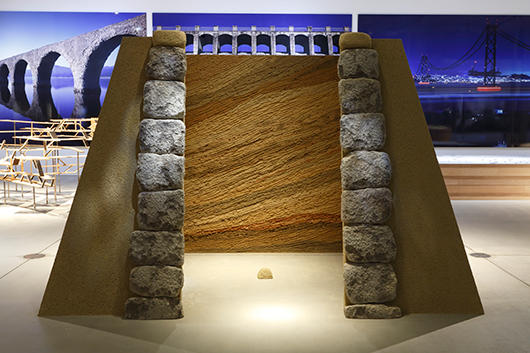 "

Doboku

Actions 'Tamp: The Mountain'" The Sakan Plastering Council of Japan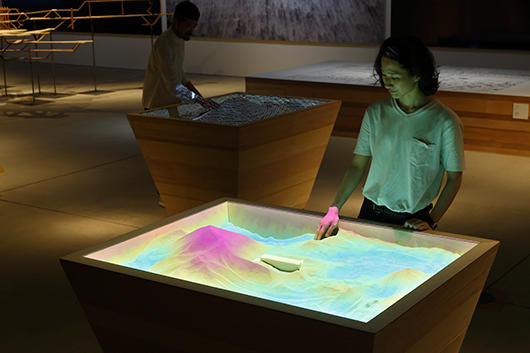 "Playing with

Doboku

: Sandbox of Daidara" Takashi Kiriyama, Toshiyuki Kuwabara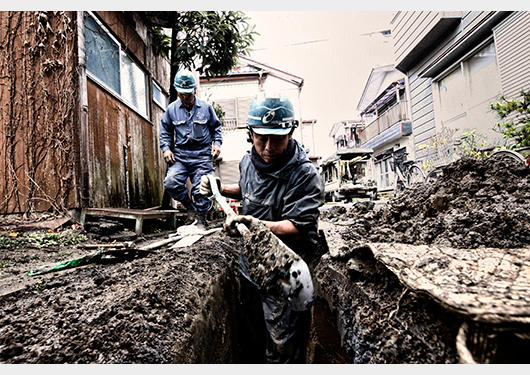 "People working in

Doboku

sites: Excavation. Dig."
Kandensha co., ltd + Shigeo Kikuchi
"Dam and Curry and Me" ©DRAWING AND MANUAL
Introduction: "Great View Doboku Map chosen by Doboku photographer Hoichi Nishiyama"
Design: Masahiro Kakinokihara / Photo: Hoichi Nishiyama
Cityscape
Civil engineering supports our everyday living and the transport of every item we need. Works that make us aware of urban infrastructure are exhibited here.
"Dismantling of Shibuya Station", "Dismantling of Shinjuku Station", "Dismantling of Tokyo Station"
Tomoyuki Tanaka (Architect)
"View of ROKKO", "Sumidagawa Riverscape"
Yukihiro Yamagami (Artist)
Doboku Orchestra
This is a "symphony" that connects video recordings of the construction sites of doboku (civil engineering) that supported Japan's high economic growth period, to videos of contemporary civil engineering. This 'orchestra,' along with the tools used at construction sites that are also exhibited, allows you to imagine the process of creation of a civil engineering site.
"Doboku Orchestra"
DRAWING AND MANUAL (Creative team)
"Doboku Tools"
WORKVISIONS (Hiroshi Nishimura, Takayasu Hayashi) (Creative group)
Doboku Actions
Participating creators express, in diverse forms, actions that are linked to doboku (civil engineering). Visitors will be able to experience actions associated with civil engineering through these works. Based on each of these actions, photos of civil engineering facilities shot by doboku photographer Hoichi Nishiyama are displayed.
"Protect: I Exist for You."
WOW (Visual design studio)
A visual installation work that tells us how tetrahedral concrete structures and other concrete blocks protect our lives and the natural environment from disasters.
"Dig: Geological Mountain"
Kana Kou (Kana Yoshida) (Artist)
By taking a peek inside the tunnels that have been dug here and there on the island, we can see the island's geology in detail.
"Pile: Light Arch Volume"
403architecture [dajiba] (Architectural design office)
This hands-on type of work allows visitors to assemble a bridge with air-filled vinyl pieces to teach them how an arch is structured.
"Retain"
yakul (Engineering group)
Inside this space, looking at images of water gushing from a dam, visitors can feel the overwhelming scale at the water falling down into a reservoir.
"Tamp: The Mountain"
The Sakan Plastering Council of Japan (Syuhei Hasado, Takao Kobayashi, Mitsuru Konuma, Masaki Kawaguchi, Miki Sakamoto) + Shokuninsha Syuhei-gumi (Yoshinori Yamamoto)
A work made of earth and stone, incorporating the rammed-earth technique that leaves marks of a plasterer's tamping by hand.
"Connect: Shibuya Station (2013) model: inside the station"
Keisuke Tamura (Architect) + Showa Women's University Department of Environmental Science and Design Tamura Laboratory
Shibuya Station is a complex structure of five levels under the ground and three levels above the ground. The model shows visitors how civil engineering connects many places inside the station.
"Support: Structure"
Ryuichi Watanabe (Bridge and structure designer) + Laurent Ney (Structural engineer, architect)
Structural mechanics are used when designing bridges, etc. This display explains, in an easy-to-understand manner, the differences brought about by different materials and structures.
"Measure: Perfume Music Player Installation"
Rhizomatiks Research (Artist, researcher)
By using the localization data provided by the app, this work enables to observe the transportation and its users' flow.
Cherishing Doboku
Magazines, manga, and food - we can cherish civil engineering from all angles. This section is filled with clues about to enjoy civil engineering even more.
"People working in Doboku sites"
Kandensha co., ltd + Shigeo Kikuchi (Photographer)
"Dam and Curry and Me"
Interviewee: Saki Miyajima / Movie: DRAWING AND MANUAL / Cooperated with Masahiro Kakinokihara
"New Engineering"
Yuichi Yokoyama (Cartoonist)
"The Guard"
Masahiro Kakinokihara (Art Director)
The Best in Japan / The Best in the World
See for yourself the stylishness of civil engineering technologies in Japan and globally that are used for the longest tunnel in Japan and the longest overseas.
"Sectional view of Seikan tunnel", "Sectional view of Gotthard Base tunnel"
Masahiro Kakinokihara
"Yamate Tunnel"
yakul + Satoshi Hachima (Associate Professor, Department of Design Science, Faculty of Creative Engineering, Chiba Institute of Technology)
Doboku and Philosophy
Books on civil engineering, diagrams, and images of reconstruction sites of the Great East Japan Earthquake remind us of the role played by civil engineering.
"GROUNDSCAPE"
Groundscape design institute + Kenta Iwamoto (Film Director)
"BLUE WALL Eitaibashi Bridge engineering drawing (Collection: Department of Civil Engineering, The University of Tokyo)"
EAU (Civil engineering design office)
Also on display
"HITO-ANA"
Studio SR (Civil engineering and architectural design office)
Visitors experience for themselves the actual texture of civil engineering, and a piece of asphalt work.
"Playing with Doboku: Sandbox of Daidara"
Takashi Kiriyama (Professor, the Graduate School of Film and New Media, Tokyo University of the Arts), Toshiyuki Kuwabara (Assistant, COI, Tokyo University of the Arts)
A video installation allows visitors to become civil engineers by playing in a sandbox.
"Construction Equipment Graphic"
Cooperated with Komatsu Rental Ltd.