contents
Related Information
Related Goods
In conjunction with this exhibition, a variety of products related to the exhibition team, participating artists, and civil engineers, including original "DOBOKU: Civil Engineering" Exhibition products, will be available for purchase in the first floor shop space. Please stop by.
*Available at the 21_21 DESIGN SIGHT SHOP on the first floor (no entry charge)
*All prices are tax included
Photo: Keizo Kioku
List of original DOBOKU products
Design: Masahiro Kakinokihara, Tomomi Nishikawa, Agata Yamaguchi
T-shirt (Size: Kids(120) / S / M)
Original T-shirts with different designs which can be enjoyed by children and adults alike
Kids(120) ¥2,700, S/M ¥3,240
Masking Tape (Type: Stripe / Monotone)
Original masking tape depicting rows of heavy machinery working at civil engineering sites
¥486 each
Towel
An original towel with the exhibition logo, perfect for use at a civil engineering site or a public bath after a hard day's work!
¥540
Pictogram stickers
Original stickers with a complete set of the exhibition pictograms expressing actions in civil engineering
¥378
Clear Folder
An original clear folder using the exhibition main visual as a motif
¥324
Tomoyuki Tanaka: DOBOKU original postcards
Dismantling of Shibuya Station / Kumamoto Castle (Size: A5)
¥324 each
Special Opening Day: Enjoy
Doboku

with Your Children!

This summer, enjoy a trip with your children to the "DOBOKU: Civil Engineering" Exhibition!
Normally, the exhibition is closed on Tuesdays, but it will be open especially for children on their summer vacation. Our staff will assist your visit. We have worksheets for you to learn more about civil engineering and tours that both parents and children can enjoy.
Special Opening Day
August 23 (Tue) 10:00-17:00 (Entrance until 16:30)
*Explanatory tours for children will be held at 11:00 and 14:00.
Parent-child Discount
Admission for guardians accompanying children in junior high school or younger will be 500 yen
*Other visitors may enter at the normal admission price (General ¥1,100 / University Student ¥800 / High School Student ¥500 / Junior High School Student and under may enter for free).
To Be Held on the Same Day
On the occasion of the exhibition "With the exceptional support from the Musée d'Orsay Emile Gallé, 170th anniversary," Suntory Museum of Art (Tokyo Midtown Galleria 3F) will hold a special summer vacation event "Children's Museum: Everything Open All Day!" on the same day.
*Junior High School Students or younger and their guardians may enter for free
For inquiries: TEL 03-3479-8600 (Suntory Museum of Art)
>>Suntory Museum of Art Website
Dam Curry in Tokyo Midtown
In conjunction with this exhibition, restaurants in Tokyo Midtown will serve "dam curries" which represent dams.
*All prices are tax included
*Dam curries will be available only during "DOBOKU: Civil Engineering" exhibition period.
DELHI (Galleria B1)
"Dum chicken dam curry"
The Delhi has come up with a unique 'dam curry.' Curry made using a cooking method called dam chicken, which uses a lid to form a seal on the pot, is served with rice shaped to resemble a dam. A lunch box version (¥950) will also be available.
¥1,200 (Comes with a soft drink)
TEL: 03-5413-7278
>>DELHI Website
GRILL&WINE GENIE'S TOKYO (Plaza 1F)
"GINZA PLATINUM DAM CURRY" (Three types)
The legendary French curry of Maxim's de Paris, beloved by many, will be served as a dam curry. Using ingredients from prefectures where famous dams are located, this curry will let you enjoy not only the taste, but also the special atmosphere of each prefecture.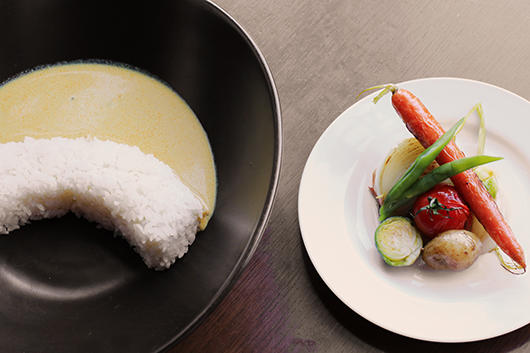 ¥1,300
TEL: 03-6434-9406
>>GRILL&WINE GENIE'S TOKYO Website