contents
About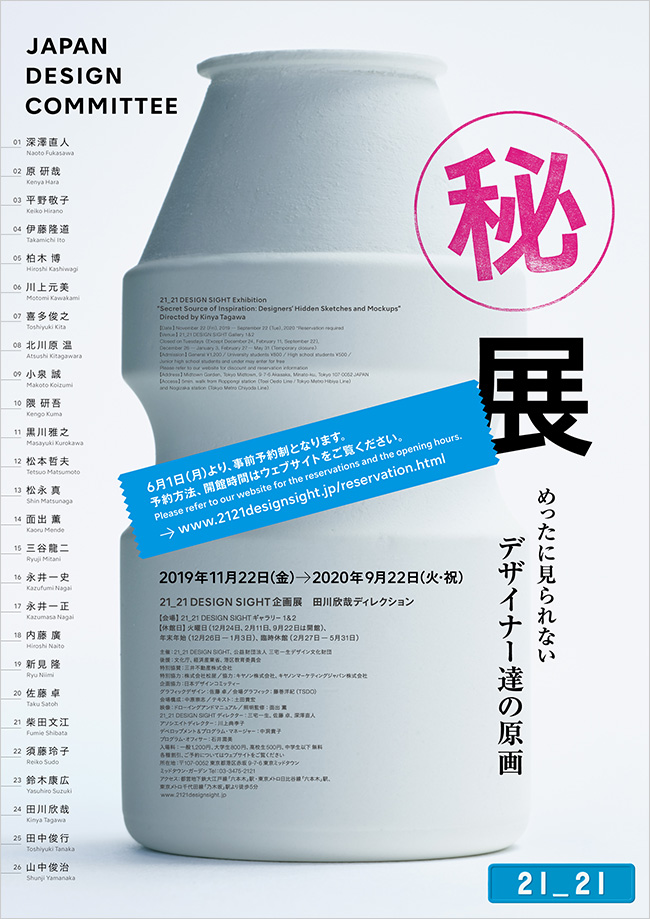 >> Download the exhibition flyer (PDF)
21_21 DESIGN SIGHT holds "Secret Source of Inspiration: Designers' Hidden Sketches and Mockups" from November 22, 2019. The exhibition director Kinya Tagawa is a design engineer at Takram, a firm actively engaging in developments of software, material objects and the interactive arts. The exhibition consists of sketches, drawings and mockups by current members of JAPAN DESIGN COMMITTEE. Unlike final products, such behind-the-scenes items are rarely accessible to the public, and yet 'hidden parts' reveal an important essence about creativity. Visitors will enjoy a stimulating and suggestive experience, especially powerful for the younger generation which is so reliant on digital tools for their work.
Since its foundation in 1953, JAPAN DESIGN COMMITTEE has contributed to development of the field by selecting outstanding products, and holding exhibitions through its long and fruitful relationship with Matsuya Ginza department store in Tokyo. Prominent designers, architects and critics serve on the committee pro bono, with currently 26 members, ranging in age from 40s to 90s. Tagawa is one of the youngest, pursuing new territories in design engineering.
The exhibition consists of sketches and mockups produced by JAPAN DESIGN COMMITTEE members. Each varies according to the person's field, generation, and personal preference. Videos are included to record initial steps in creative processes, and these are also supplemented by members' publications. Together, the array offers fascinating glimpses into designers' thinking. The show uses the activities of the members to look back over the developments in Japanese design, seeking also to expand conventional exhibition frameworks and secure a wide impact but also delivering members' Podcast interviews, and holding talk events with the next generation of designers.
This exhibition aims to be a node of connectivity for people across different generations and fields, and to provide everyone with the opportunity to assess the rich strains of Japanese design, so as to further future creativity.
Date

November 22 (Fri), 2019 - September 22 (Tue), 2020
*Reservation required

Venue

21_21 DESIGN SIGHT Gallery 1 & 2

Closed

Tuesdays (Except December 24, February 11, September 22), December 26 - January 3, February 27 - May 31

Time

11:00 - 18:30 (Entrance until 18:00)

Admission

General ¥1,200 / University Student ¥800 / High School Student ¥500 / Junior High School Student and under may enter for free
Click here for discount information
Organized by

21_21 DESIGN SIGHT, THE MIYAKE ISSEY FOUNDATION

In Association with

Agency for Cultural Affairs; Ministry of Economy, Trade and Industry; MINATO CITY BOARD OF EDUCATION

Special Sponsor

Mitsui Fudosan Co., Ltd.

Special Supporter

Matsuya Co., Ltd.

Supported by

Canon Inc., Canon Marketing Japan Inc.
Exhibition Director

Kinya Tagawa

Planning Associate

JAPAN DESIGN COMMITTEE

Graphic Design

Taku Satoh

Infographics Design

Hiroki Fujimaki (TSDO)

Space Design

Takashi Nakahara

Text

Takahiro Tsuchida

Film Production

DRAWING AND MANUAL

Lighting Supervisor

Kaoru Mende
JAPAN DESIGN COMMITTEE Members

Naoto Fukasawa (Product Designer) / Kenya Hara (Graphic Designer) / Keiko Hirano (Designer) / Takamichi Ito (Sculptor) / Hiroshi Kashiwagi (Design Critic) / Motomi Kawakami (Designer) / Toshiyuki Kita (Product Designer) / Atsushi Kitagawara (Architect) / Makoto Koizumi (Furniture Designer) / Kengo Kuma (Architect) / Masayuki Kurokawa (Architect / Product Designer) / Tetsuo Matsumoto (Architect / Interior Designer) / Shin Matsunaga (Graphic Designer) / Kaoru Mende (Lighting Designer) / Ryuji Mitani (Woodworker) / Kazufumi Nagai (Art Director) / Kazumasa Nagai (Graphic Designer) / Hiroshi Naito (Architect) / Ryu Niimi (Curator) / Taku Satoh (Graphic Designer) / Fumie Shibata (Product Designer) / Reiko Sudo (Textile Designer) / Yasuhiro Suzuki (Artist) / Kinya Tagawa (Design Engineer) / Toshiyuki Tanaka (Spatial Designer) / Shunji Yamanaka (Design Engineer)


(As of February 19, 2020)
21_21 DESIGN SIGHT Directors

Issey Miyake, Taku Satoh, Naoto Fukasawa

Associate Director

Noriko Kawakami

Manager of Development & Programs

Takako Nakahora

Program Officer

Masumi Ishii