contents
Related Information
Special Website
A special website of "Secret Souce of Inspiration: Designers' Hidden Sketches and Mockups" has been launched prior to the exhibition. It contains podcast interviews with members of the JAPAN DESIGN COMMITTEE as well as some exhibits and representative works.
Special Website
*The website is available in Japanese only.
DESIGN COLLECTION by MATSUYA GINZA
Matsuya Ginza opens a Pop-up shop "DESIGN COLLECTION by MATSUYA GINZA" in Gallery 3, in conjunction with Exhibition "Secret Source of Inspiration" held in Gallery 1 & 2. DESIGN COLLECTION was opened at Matsuya Ginza department store in 1955, aiming to play a leading role which represents Good Design Movement. It has been offering JAPAN DESIGN COMMITTEE's signature selection of quality product and design work from all over the world, some of which are sold at the Pop-up shop.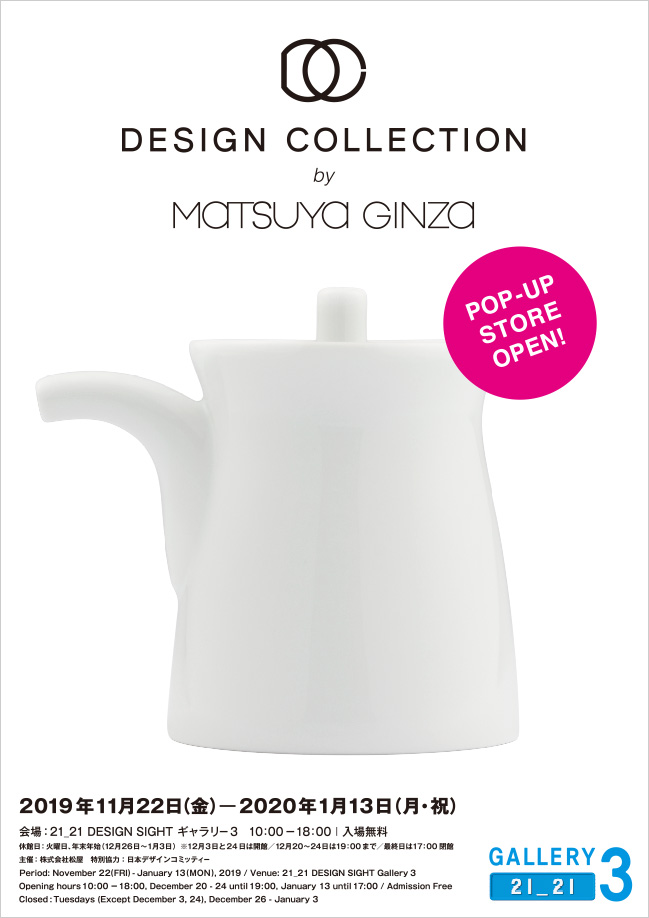 Date: November 22 (Fri), 2019 - January 13 (Mon), 2020
Closed: Tuesdays (Except December 3, 24), December 26 - January 3
Time: 10:00 - 18:00 (December 20 - 24 until 19:00, January 13 until 17:00)
Venue: 21_21 DESIGN SIGHT Gallery 3
Organized by: Matsuya Co., Ltd.
Special Supporter: JAPAN DESIGN COMMITTEE
Space Design: Makoto Koizumi
Inquires: Matsuya Ginza (from within Japan) 03-3567-1211
Related Event in HOBONICHI CultureN
This related event will be held in Shibuya PARCO's 4th floor shop HOBONICHI CultureN, from November 22, 2019 to March 8, 2020. On display will be HOBONICHI logo sketches by Taku Satoh and a special section of "Secret Source of Inspiration." We hope you will wish to visit HOBONICHI CultureN as well as the main exhibition.
Date: November 22 (Fri), 2019 - March 8 (Sun), 2020
Venue: HOBONICHI CultureN (Shibuya PARCO 4F, 15-1, Udagawacho, Shibuya-ku, Tokyo)
Website: https://www.1101.com/hobonichi_culturen/