contents
William Klein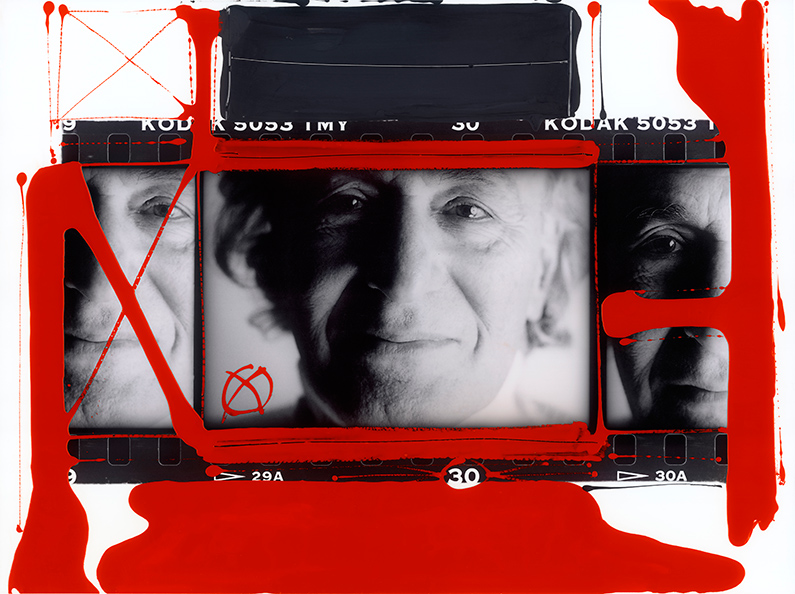 William Klein "Self portrait, Paris 1995 (Painted 1995)"
Photographer, painter, filmmaker and graphic designer, William Klein is one of the most controversial and influential artists of the 20th century.
Klein was born in New York in 1928 and grew up in Manhattan. After completing his university education at 18, he joined the US military. He spent 6 months on duty in Germany, before completing his service with a year spent studying at the Sorbonne as part of a Franco-American friendship program.
Following his demobilization in Paris, Klein devoted himself to painting. He studied with Fernand Léger for a short time, and created hard-edge, geometric murals in Milan.
In 1954, he designed a photographic diary documenting his return to New York. This marked the beginning of a love-hate relationship with his native city and an exploration of the potential of photography, which he deemed to be too conservative and behind other forms of art. Without any conventional training in photography, he ignored what others might consider to be taboo, and made use of wide angles, grain, violent contrasts, accidents and unusual framings. The result was his first book Life is Good & Good for You in New York: Trance Witness Revels, a fiery work of unequaled dynamism and intensity. It was published in Paris, London and Rome in 1956 but not in New York, being too violent and unflattering for the US. It won the Nadar Prize in France.
Following this success, Klein released a series of books dedicated to other major cities around the world, namely Rome with pictures taken in 1956, Moscow with pictures taken between 1959 and 1961, Tokyo with pictures taken in 1961, and Paris with most pictures dating between 2000 and 2002. All these works became best-sellers in the photography world.
In 1958, Klein shot Broadway by Light, which was probably one of the first pop movies, and in the mid-sixties dropped photography for cinema. He shot around 20 documentaries, long feature and fiction movies, including: Muhammad Ali the Greatest (1964-74), The Little Richard Story (1980), Grands soirs et petits matins ('Victories and Disappointments,' 1968), Qui êtes-vous Polly Maggoo? ('Who Are You, Polly Maggoo?', Jean Vigo Prize, 1967), Mister Freedom (1968), a biting tale on the ideological myths of our era Le couple témoin ('The Model Couple,' 1977), The French (1981), Messiah (2000).
In the eighties, Klein resumed photography, exhibiting around the world and publishing a dozen books, including Close Up (1989), Mode In & Out (1994), a reedited edition of New York (1995, new template). In a similar fashion: Roma + Klein (2009). In 2008 he published a collection of his greatest photos revisited through painted interpretations on enlarged canvases. In 2012 his early abstract and painting works were featured in the book Paintings, etc., followed by the publishing of Black and Light in 2015.
Klein has received numerous awards, most notably the "Grand Prix National de France" (Grand National Prize of France), the rank of "Commandeur des Arts et des Lettres" (Commander of Arts and Letters), the Millennium Medal in Great Britain, The Hasselblad International Prize in Sweden, lifetime achievement awards from the American Institute for Arts and the ICP (International Center of Photography) in New York, and an honorary doctorate at Liège.
In December 2005, the Pompidou Centre inaugurated a large retrospective of his works and co-published a 400-page book, Rétrospective. In 2012, the Tate Modern in London celebrated his work with "William Klein + Daido Moriyama" exhibition. Other notable exhibitions since then include the FOAM in Amsterdam (2013), the Saint-Ouen Abbey Church in Rouen, "William Klein + Polly Maggoo" in Hyères, Palazzo della Ragione, Milan (2016), and "Films & Photographs" in C/O Berlin (2017).
Klein's work has left its mark on the history of photography and influenced two generations of photographers and filmmakers. He continues to exhibit throughout Europe and around the world.